7 Images
Pope Francis' small steps to lift liberals' hearts
There have been dozens of Johns, Piuses, Benedicts and Clements, but never a Francis. Granted, the Roman Catholic Church has had only 1,000 years or so to get a Pope Francis; Francis of Assisi wasn't born until 1182. And then there's St. Francis' mystical, mendicant bent, his stigmata and his message from God to "rebuild my church," which might have scared away the hierarchy. Francis wasn't even a proper priest; he was a friar.
Above: "Saint Francis" by Master of Sir John Fastolf, about 1430-1440.
(Used by permission / J. Paul Getty Museum)
Pope Benedict XVI was wrapped in red-watered silk, a gold-embroidered stole and a cross that looked to be emerald encrusted when he made his first appearance on the balcony at St. Peter's. Pope Francis? Much plainer papal whites and an iron cross.
(Arturo Mari, Filippo Monteforte / AFP / Getty Images )
Many a pope, including Benedict, has favored Ferrari-red leather pumps, the flashiest of holy footwear. Francis wears nondescript black.
(Michael Kappeler / MCT; Franco Origlia / Getty Images)
The 10 or so rooms of papal apartments on the edge of St. Peter's Square -- generally described as palatial -- have been made ready for Francis. So far, he prefers a not-so-palatial two-room unit at Casa Santa Marta, the guesthouse where the cardinals stayed during the conclave.
(Johannes Eisele / AFP / Getty Images)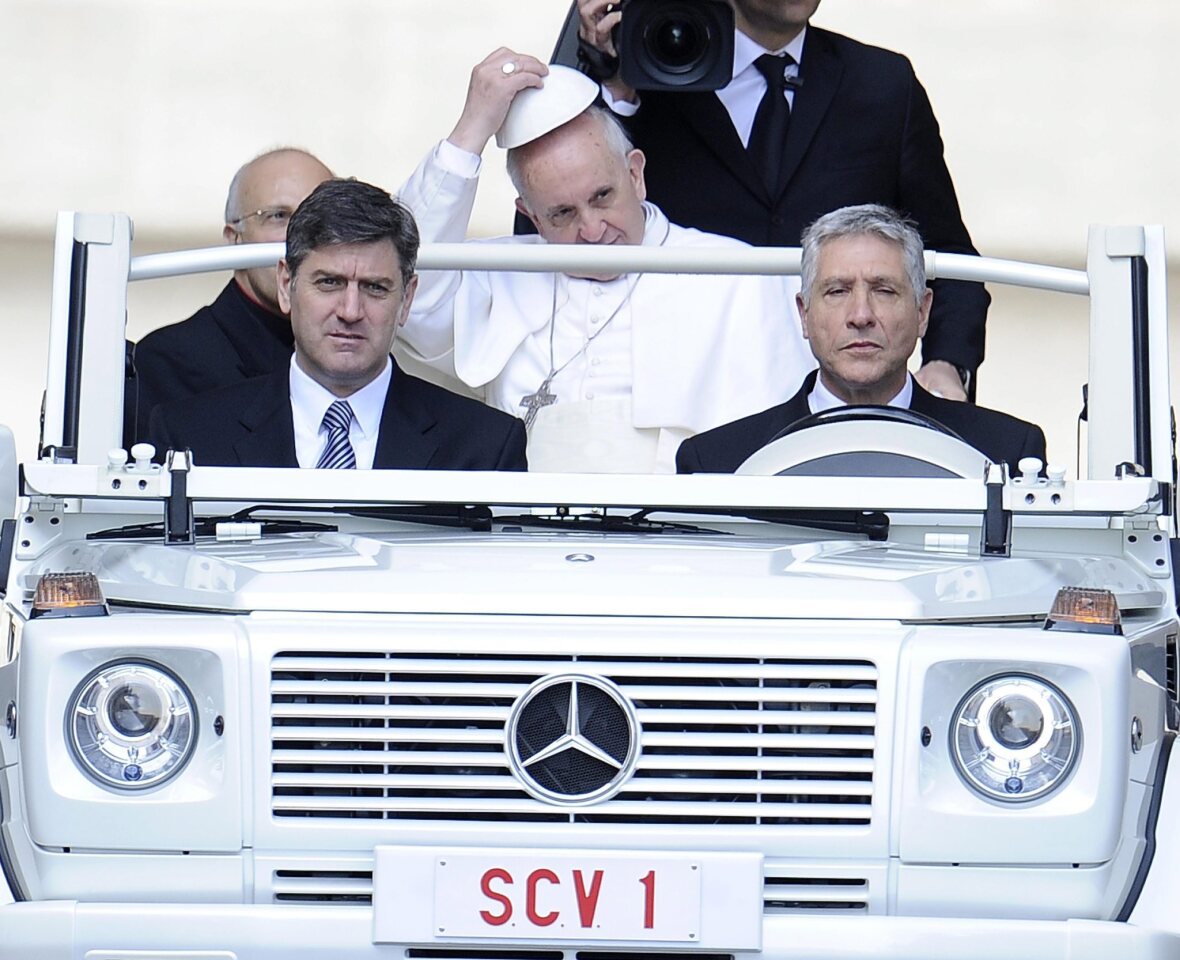 Francis rides through St. Peter's Square in an open Mercedes-jeep popemobile, kissing babies; the bulletproof model may have been retired. On the day after he was elected, he rode in a minivan from Santa Marta to St. Peter's with a bevy of cardinals -- his white beanie among their red beanies -- to say his first Mass as pope.
(Maurizio Brambatti / EPA)
Commemorating Christ's actions at the Last Supper, every pope in recent memory has washed the feet of 12 specially selected priests or laymen -- representing the male apostles -- at the majestic basilica of St. John Lateran. Francis headed for Rome's Casal del Marmo, a youth detention center, where he washed the feet of 12 inmates, among them two girls and one Muslim. The Associated Press quoted a church canon lawyer who feared the girl thing set "a questionable example."
(L'Osservatore Romano / EPA)