Readers React: Trump fans may love 'Roseanne,' but don't count on real values voters tuning in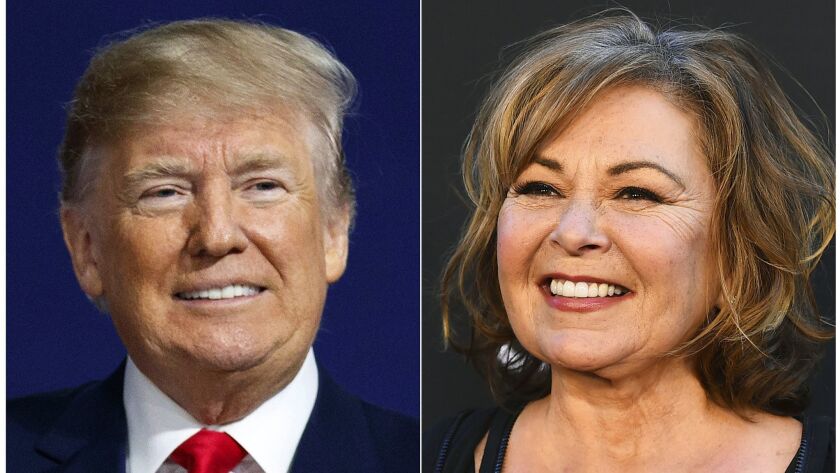 Tuesday's return of the hit sit-com "Roseanne" after a 21-year hiatus may seem like nothing more than another attempt by network executives to resuscitate flagging ratings by dusting off an old favorite. It's certainly not the first '90s reboot in the last year.
But ABC seems to have gotten a bit of a Trump bump from the new "Roseanne." About 18.2 million viewers tuned in for the premiere, many of whom apparently hail from "Trump country" — the states that turned out for The Donald in the 2016 presidential election.
A number of readers picked up on this thread, wondering about the popularity of the reboot and reacting to the comment from former TV executive Preston Beckman ('Roseanne roars again,' Business, March 29): "She's talking to a white working-class audience. What matters to them is family, hard work and faith." Here are a few of their comments.
-- Mariel Garza
Ramona Saenz of Alhambra is not amused: I find former Fox and NBC executive Beckman's premise for the high ratings of Roseanne Barr's return to sitcom TV rather offensive. According to him, Trump supporter Barr is talking to working-class whites who greatly value "family, hard work and faith." The inference here is that these commendable qualities are less important to the people of color in our great country. Not only is this a highly inaccurate presumption, it is also insulting.
Barry Davis of Agoura Hills doesn't see the appeal: My wife and I first looked quizzically at each other in the opening scene of "Roseanne," when she gave her husband permission to "pleasure me." Our family values don't include that kind of vulgarity.
Good for Trump America that they have a new way to spend their evenings watching this claptrap, but if the Nielsens go down because people (like us) who taped the show out of curiosity have now canceled future recordings, I won't be too surprised. I believe that Americans as a whole are better than this.
Maybe viewers are reacting to Barr's Trumpian qualities, notes Carl Falletta of Yorba Linda: Besides being crotch-grabbers, both are foul-mouthed, allegedly like to expose their buttocks, and can't sing a lick.
And finally, Bill Spitalnick in Newport Beach wonders if this means there's a deeper appetite for TV reboots: Familiar TV friends and established names are apparently helping people deal with the current uncertain times the country is experiencing. I would love to see a rebooted version of the old "Vega$" from 1978 to 1981 that starred Robert Urich, Tony Curtis and a guest list of stars that outnumbered a typical clear night.
Follow the Opinion section on Twitter @latimesopinion and Facebook
---
A cure for the common opinion
Get thought-provoking perspectives with our weekly newsletter.
You may occasionally receive promotional content from the Los Angeles Times.