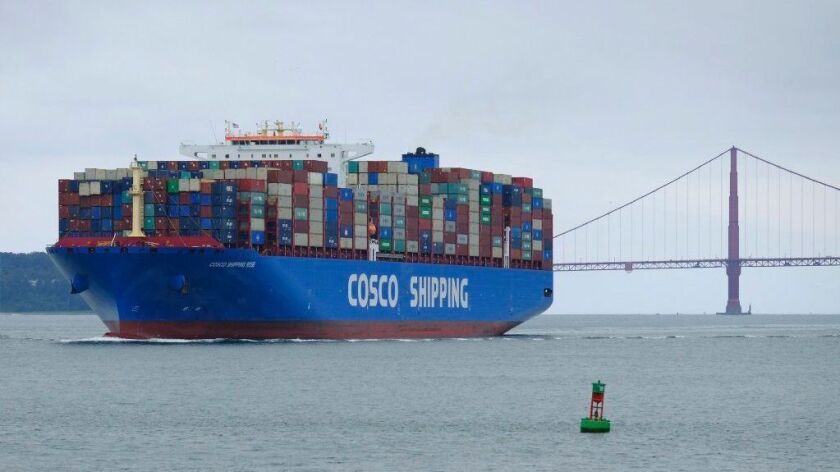 To the editor: There was no doubt China would retaliate when President Trump increased U.S. tariffs on Chinese imports. It was also clear that American farmers would be especially hurt. But before we blame Trump alone for this messy situation, we should look at the history of China's spectacular growth in world trade.
The reason we face this issue now is because of what our politicians did back in 2001 when China was admitted to the World Trade Organization and given easy access to world markets. Since then, China has harmed multiple industries in the U.S. as well all other developed economies with its products priced at ridiculously low levels.
Many factory workers lost their jobs because of China, so it should not have been surprising when Trump took advantage of the inability of the other candidates in 2016 to tackle this problem and won Ohio, Michigan and Wisconsin. Now he is fulfilling his promises in a way that will create more problems than it will solve.
The only practical solution is for WTO members to take a united stand against China. Doing this will bring China to its knees faster than any unilateral action by Trump.
Vijay Jeste, Redondo Beach
..
To the editor: I don't think Trump personally is providing $15 billion in aid to farmers affected by Chinese tariffs. So the print headline on Tuesday should have read, "U.S. taxpayers aid farmers in lieu of Chinese purchasers."
The taxpayers' $12 billion in farm aid last year wouldn't have been necessary if the president hadn't started the trade war with China.
Sarah E. Adams, Rancho Palos Verdes
..
To the editor: You can say what you want about Trump, but at least he had the mettle to confront China for its egregious behavior since it was admitted to the WTO. The underlying question remains whether we can have an open and free trading relationship with a dictatorship.
China has the advantage politically of playing the long game versus our 24-hour news cycle. Americans may have to realize they are in a long war.
Barry F. Chaitin, Newport Beach
Follow the Opinion section on Twitter @latimesopinion and Facebook
---