Opinion: The death penalty is about deterrence, not revenge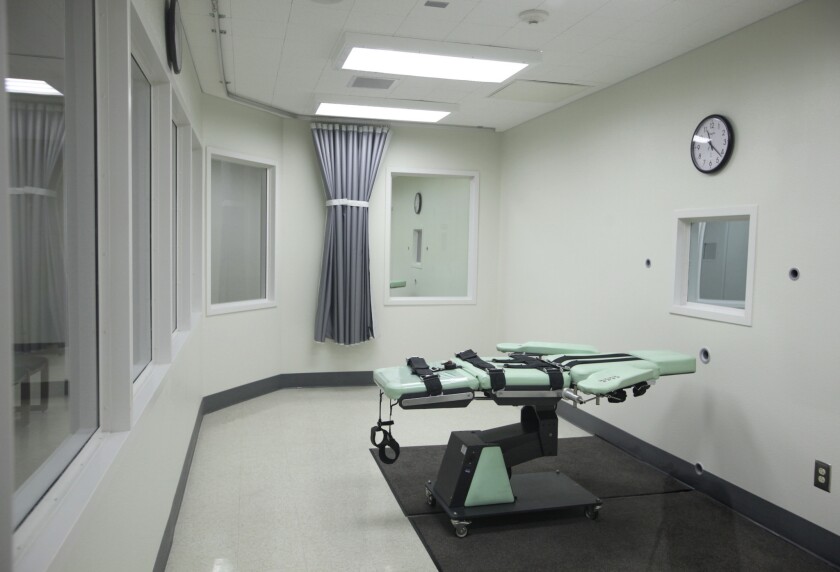 To the editor: Vote no on Proposition 62, the ballot measure that would abandon California's death penalty. It's not about vengeance; it's about deterring someone from killing you. ("Undecided on the dueling death row propositions? Then hear me out: Vote for both," Nov. 3)
Everyone has his or her own private fear, their own private hell. True, some killers might not fear having to pay with their own lives for killing you, but some might. Some killers' worse fear might be spending eternity in prison, and they would rather be executed. Life imprisonment, therefore, should always remain a punishment.
The minute you remove any possible punishment for killing, you are removing a deterrent for some potential killer. Keep the death penalty and keep life imprisonment. It's not about their lives; it is about protecting your own life from those to whom the death penalty is a deterrent.
Robert S. Henry, San Gabriel
The writer is a retired capital case coordinator with the California attorney general's office.
..
To the editor: Realistically, if Proposition 66 were enacted as a way to address California's execution backlog, it could not speed up the death-penalty process as much as it intends.
Much of the time consumed during the process of reviewing death-penalty sentences is taken by habeas corpus hearings in federal courts. Proposition 66 would be a state law and would have no impact on how the cases are handled by the federal courts or the length of time taken.
Darrel Miller, Santa Monica
..
To the editor: Vote on the death penalty initiatives according to how you personally feel criminals should be punished and society should be protected. Give zero consideration to the costs of the current "system" in California.
These high costs have been caused by the prolonging and interfering of a few. Those who caused execution delays now want us to abolish the death penalty because it is too expensive.
Vote your mind, not their deception.
Steve Hawes, Sunland
Follow the Opinion section on Twitter @latimesopinion and Facebook
---
A cure for the common opinion
Get thought-provoking perspectives with our weekly newsletter.
You may occasionally receive promotional content from the Los Angeles Times.