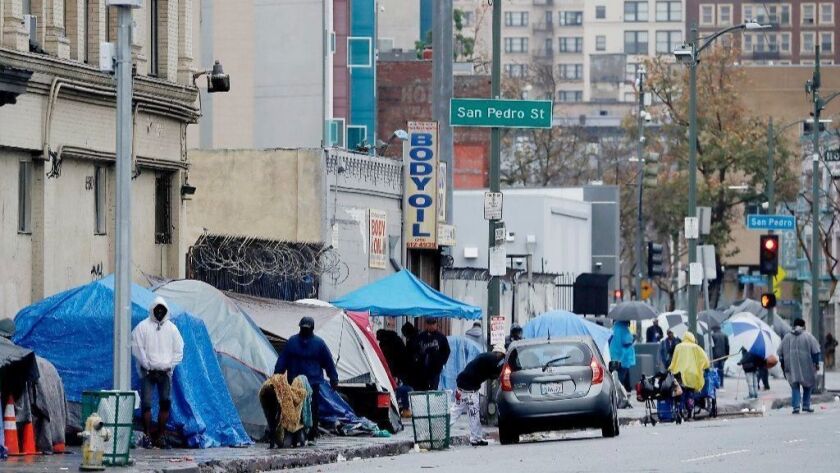 Homelessness is one of those intractable problems — like, say, wildfires — that tends to draw a lot of letters suggesting "simple," clear solutions. It's not hard to understand why: As effective responses to the crisis have eluded civic leaders for years, homelessness is something our letter writers, especially those who live in the city of Los Angeles, have had time to think about.
Some readers believe one recent letter went too far. The offending response — which suggested that homeless people be relocated to vacant land outside cities, an idea expressed in previous letters — included this line: "Fence [the land], guard it and install bathrooms and dumpsters."
Several readers said that came perilously close to advocating for concentration camps; a few wrote to me to say the letter should not have been published. Here are some of the responses.
Charles Kohorst of Glendora says we need to stop thinking of homeless people as a "problem":
One letter writer believes we should move homeless individuals to "remote, vacant county land. Fence it, guard it and install bathrooms and dumpsters." This proposed solution is so timeworn that the English language has a term for it: concentration camp.
The writer highlights a growing tendency observed even among those with noble intentions toward our region's ever growing population: approaching the homeless as a discrete group, whose very existence is a public policy problem that demands a final and definitive solution.
The homeless population has been blamed for crime, trash and, these days, even disease. It is easy to blame the "other," and then just pretend as though they can be disappeared in one swoop. They cannot.
This problem will persist until we recognize the need to structurally reform our economy so that it benefits the most as opposed to the few. That first requires thinking of people as people, not as problems.
Altadena resident Brian Lamb was waiting for a punchline:
I read and re-read this letter thinking that maybe its solution to L.A.'s homelessness problem — moving people to "remote, vacant county land" — was a tongue-in-cheek satire.
We've been down this road before. In addition to the proposed fence, guards, bathrooms and dumpsters, I suggest there also must be some type of roof over the heads of these undesirables. Simply add some barracks and hang a name-sign on the gate. "Manzanar" comes to mind.
Art Peck of Los Angeles expresses his disappointment:
Two consecutive letters regarding homeless people had me in disbelief.
One wants to dispose of what few possessions these people have as "piles of unsanitary trash," and the other suggests we move them to "remote, vacant county land," and that we fence it in and guard it.
Really? Like Manzanar?
Both readers make their homes on the Palos Verdes Peninsula. Life is good.
Follow the Opinion section on Twitter @latimesopinion and Facebook.
---