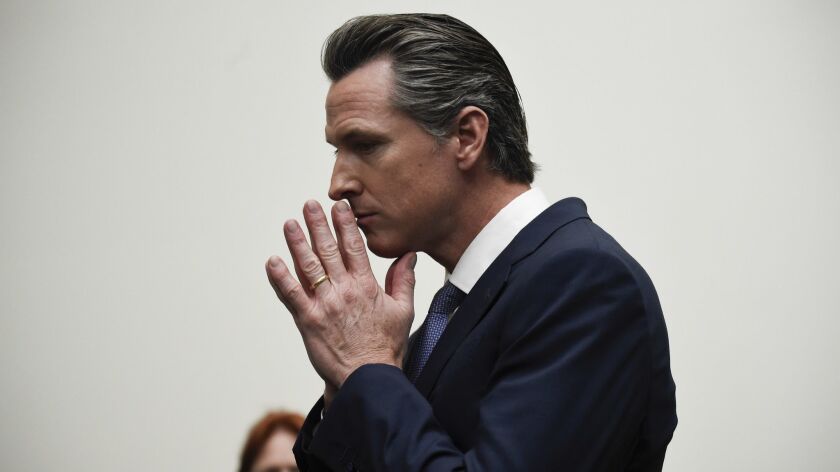 To the editor: So, Lt. Gov. Gavin Newsom is sitting out the debates with his rivals. ("Front-runner Gavin Newsom to sit out governor's race debates until May" March 28)
That's too bad, except for the fact that probably hardly anybody is watching them. Political commentator Dan Schnur said, "the candidates for governor of California gathered to debate less than 24 hours after Stormy Daniels went on television and you wonder why nobody noticed." Since I was lucky enough to hear about the debate, I did tune in. But nobody else I know even had a clue it was on.
As for Newsom, whom I had been previously inclined to support, his non-appearance in the debate caused me to take a closer look at the others and I found someone who really impressed me. Someone who can tell it like it is and knows what she's talking about. I am probably going to vote for her instead. Sorry Gavin, but I don't like to vote for political cowards.
Lenard Davis, Newport Beach
..
To the editor: Unlike Conor Friedersdorf, who is still watching the gubernatorial campaign play out, John Chiang has won my vote. ("Handicapping California's celebrity-free governor's race" March 29)
I went to a fundraiser for him (with a friend who knows his first cousin) where he answered questions on a whole range of topics with specificity and candor. One man gave a complicated introduction to his question and Chiang responded, "I am not familiar enough with that issue to respond. Please email me with both your question and any material you have."
A Sacramento-based legislative aide told me, "The other major candidates are show horses. Chiang is a workhorse."
Carol Mitchell, Marina del Rey
Follow the Opinion section on Twitter @latimesopinion and Facebook
---