Readers React: Why Kim Jong Un will never give up North Korea's nukes: Moammar Kadafi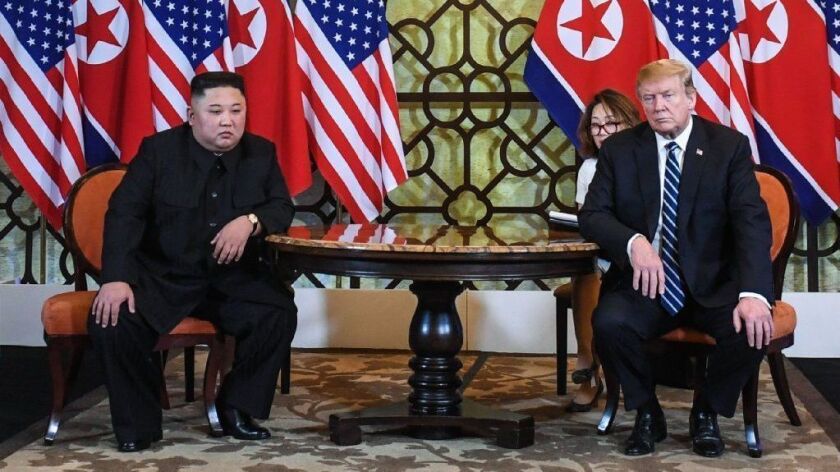 To the editor: I highly doubt that President Trump will ever succeed in convincing North Korean leader Kim Jong Un to give up his nuclear program. Consider another terribly evil dictator, the late Moammar Kadafi. ("'Sometimes you have to walk': Trump's summit with Kim Jong Un ends without a deal," Feb. 28)
President George W. Bush talked Kadafi into eliminating Libya's nuclear weapons program in 2003. Eight years later, under President Obama, the United States and other allied nations attacked Kadafi's fleeing vehicle convoy. When Kadafi tried to flee on foot, he was captured and killed by rebel forces.
If Kadafi had possessed nuclear arms in October 2011, the U.S. would not have helped overthrow his regime. You can be sure that North Korea's Kim is very aware of this history. From his perspective, it would be a very bad move to surrender the protection his nuclear capability affords him.
Who knows what the next U.S. president might do?
James Willis, Oxnard
..
To the editor: What, Trump and Kim cut short their ballyhooed peace talks, dashing hopes of favorable press coverage, if not the Nobel Peace Prize?
Not to worry, it's just a petty lover's quarrel. Soon enough they'll be back to exchanging "beautiful" letters that reconfirm how deeply they "fell in love" last year, as Trump has put it.
Don't expect two narcissists to write each other off, not when they both relish the limelight that indulgent media so reliably provide for them.
Sarah S. Williams, Santa Barbara
Follow the Opinion section on Twitter @latimesopinion and Facebook
---
A cure for the common opinion
Get thought-provoking perspectives with our weekly newsletter.
You may occasionally receive promotional content from the Los Angeles Times.