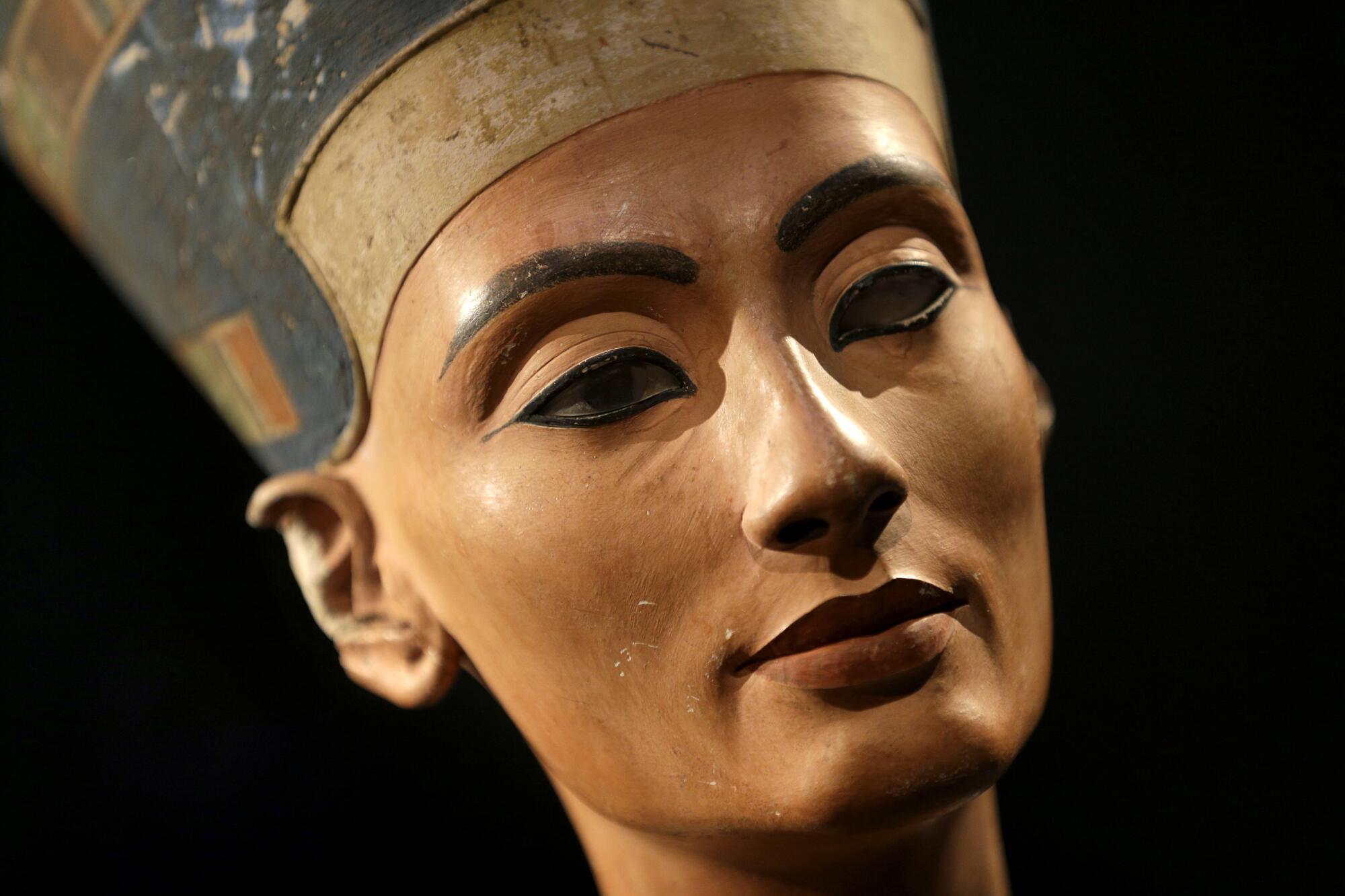 (Michael Sohn / Pool Photo)
Coming of age as a Muslim with Lebanese and Egyptian heritage in the U.K., I was in constant pursuit of connections to my ethnic identity. Against a social backdrop that othered my family and me, I was drawn to Queen Nefertiti's distinctive cat-eye. The ancient Egyptian queen and her lined eyes connected me to a constellation of beguiling non‐Western women, including my ancestors; she sparked my interest in kohl, the earliest iteration of eyeliner.
In searching for eyeliner's meaning in history, I discovered that this simple cosmetic holds stories of profound cultural significance — and even rebellion. I encountered figures and practices beyond those I knew from Western music and film. I observed the pigment in the Arab world's deserts and the savannas of Africa, Iran's hair salons, and the alleyways of Tokyo. I found it on the faces of Indian storytellers and Palestinian activists, and in the Mexican American chola community.
The pressure I feel to post a good selfie is immense, and I'm not a celebrity. I want to feel as OK going without makeup as I do when I'm made up to perfection.
To minorities and people of color, eyeliner transcends aesthetics. Starting in ancient Egypt, this ubiquitous object has been used for myriad purposes. It has shielded eyes from the sun, cured eye infections, warded off evil spirits and honored the gods. I considered kohl my most important makeup item in that it offered protection. For me, it symbolized a rejection of Eurocentric beauty norms and was a celebration of my culture.
During my research, I was drawn to Mexican American women who also wield eyeliner as a tool connecting them to their heritage. The chola aesthetic — featuring bold wings, lip liner, hoop earrings, nameplate necklaces and acrylics, among other attributes — has roots in the Pachuca style of the 1940s. Pachucas were Mexican American women who challenged norms of femininity within their own community and the broader American milieu; some expressed their defiance by wearing zoot suits, pompadours and dark lipstick.
In recent years we've seen a rise in body acceptance and fat inclusivity, but thinness has remained a goal for women.
The aesthetic was partly a response to the discrimination Mexican Americans faced before, during and after the Zoot Suit Riots. Over time, the look evolved into the chola style, which was also influenced by socio-political changes, urban culture (particularly in the barrios of Los Angeles) and broader fashion trends. Eyeliner consequently became an instrument that asserted Mexican identity in the face of the pressure to "assimilate" in the U.S.
Meanwhile, media portrayals erroneously associated the aesthetic with gang culture, bolstering harmful stereotypes. Over the years, many elements of chola style have been appropriated without proper acknowledgement of its cultural significance — see, for example, Gwen Stefani in her "Luxurious" music video.
My understanding of the needs of the unhoused changed when I saw the emotional effect of doing someone's makeup at my makeshift sidewalk salon on skid row.
Outside the U.S., the use of makeup among Mexicans has roots in Central America's Indigenous cultures, including the Maya and Aztecs. Aztec women prettified their faces with natural materials such as wax. While the link between these practices and the chola aesthetic isn't explicit, using makeup around the eyes as a form of self-expression is not new to the region.
The use of eyeliner among some members of the Zapatista movement in Mexico also became emblematic. The group emerged in the 1990s in response to perceived injustices toward Indigenous communities. Zapatista women cover their faces with balaclavas for anonymity and as a symbol of collective identity. With only their eyes typically left exposed, many choose to accentuate them with wings.
The zoot suit was vilified by L.A. authorities during the Zoot Suit Riots in 1943. But its dandy-ish profile continues to influence fashion
Beyond the Zapatistas, eyeliner holds a significant place in popular Mexican culture. During Mexico's golden era of cinema, celebrities such as María Félix boasted prominent wings. Mexican makeup trends have evolved, but cat-eye enjoys a constant presence.
Back in the U.S., I interviewed women who embody chola style or identify as Chola. Winnonah Perez of San Jose stood out. Perez, 48, wears her bold wings to honor her late mother and to channel her Mexican identity. She says it's her "magic," the vehicle through which she communicates "inner strength and power." When she faces racial profiling because of her appearance, she uses the moment as an opportunity to educate.
Her parents' families had emigrated to the U.S. several generations ago, seeking better lives. Perez's father faced discrimination and economic hardship; he would tragically take his own life, years after his wife did, too. Perez has committed her life to upholding their legacies. "I became determined to live out the happiness they couldn't grasp," she told me. "Part of the way I do that is carrying on with their estilo," style.
Though she doesn't identify as chola, Jennifer Torres, a 26‐year‐old model from South L.A., says her eyeliner also connects her to her Mexican ancestors. "When I wear my makeup, and I have eyeliner on, I feel powerful. I feel like it's my armor," she said. "I think of my mother and aunties about how they used this tool to transform themselves into these beautiful brown women, and I feel like a beautiful brown woman myself."
I've come to view eyeliner as a cultural throughline that binds stories of rebellion and identity. Meeting Torres, Perez and others demonstrated there's intersectionality to be found in this calligraphy around our eyes.
Consider Iran, where women are required by law to cover most of their bodies. The face then takes on even greater importance for them, and the deliberate lining of one's eyes becomes a potent form of self-expression — and potential defiance.
Though the contexts are different, countless women across the global south have used this same instrument to proclaim their histories and strength. In diaspora communities, particularly, the act of applying pigment has the power to become political, and a way to resist cultural erasure.
The wings of women like Perez seem to declare, I refuse to minimize myself. It's an ethos I try to embody as an Arab Muslim woman in America, especially when the political climate works to dehumanize my people. When I line my eyes, like Torres, I think of my sister, mother and grandmothers — and the women worldwide who carry forward the legacies of those who came before them.
Zahra Hankir is a writer and journalist based in New York. This essay is adapted from her forthcoming book "Eyeliner: A Cultural History," which will be published Nov. 14. @zahrahankir
A cure for the common opinion
Get thought-provoking perspectives with our weekly newsletter.
You may occasionally receive promotional content from the Los Angeles Times.