Obama's data geeks have made Karl Rove and Dick Morris obsolete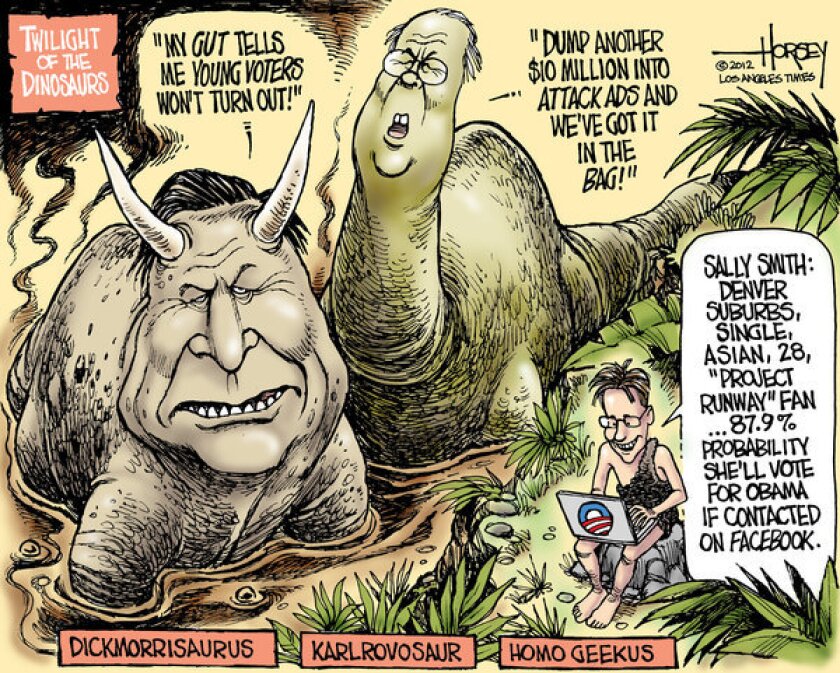 After what the Obama campaign accomplished with a backroom filled with 20-something math geeks, American presidential politics will never be the same.
For decades, candidates have put their faith in political consultants whose gut instincts, ability to read polls and track records of victories made them look like magicians with an astounding array of tricks up their sleeves.
Mitt Romney had one such man at his side throughout the 2012 campaign, a guy named Stuart Stevens who could claim to have helped elect more Republican governors and senators than any contemporary media consultant. He also had the assistance of Karl Rove and his lavishly funded, pro-GOP "super PAC" -- Rove being the man who made George W. Bush governor of Texas and then president. In addition, Romney got all kinds of unsolicited advice from other political gurus, such as Dick Morris, the sleazy character who helped Bill Clinton seize the political center and win reelection in 1996.
PHOTOS: Top of the Ticket cartoons
Men such as Stevens, Rove and Morris built their reputations, careers and fortunes on the perception that they knew more about the mechanics of politics than anyone else, but after this year's election, they and their ilk may be going the way of dinosaurs. The new kids on the block that are pushing them to extinction do not necessarily know that much about history or politics, but they do know numbers.
Los Angeles Times reporters Christi Parsons and Kathleen Hennessey took a post-election peek into a couple of semi-secret rooms located at the Obama campaign headquarters in Chicago. For more than a year, a group of what the reporters described as "math geeks and data wizards" worked long days creating elaborate statistical models to determine which voters were likely to vote for the president. And they were not just working in broad terms -- young people, single women, Asians, et al. They were identifying individuals and providing data to field workers who went to the doors of those people and persuaded them to vote.
The veteran political managers in the campaign took a bold risk by moving beyond traditional techniques and the usual pack of consultants to, instead, put the political fate of the president in the hands of a bunch of numbers-crunching kids. As Parsons and Hennessey wrote:
"For campaign professionals, that is a major leap. Politics long has been ruled by truisms, conventional wisdom and intuition, with millions spent based on a murky mix of polling and focus groups. The shift to data-driven decision-making has been gradual and steady -- becoming increasingly sophisticated as political parties amass more information about individual voters through traditional means, such as polls, and new ones, such as data mining."
The result was obvious on election night. While, on Fox News, Rove was sputtering and fuming, insisting that the result in Ohio could not be true because it did not match his own expectations, and while on the same cable network Morris was flabbergasted that voting patterns had not returned to the norm of 2004, the young math nerds in Chicago were watching state after state fall exactly as they had predicted.
Political romantics like to think of elections in terms of historical trends, big issues, ideological passions and the ebb and flow of momentum. What they have not realized until now is that the underpinning of all those elements, simple human choices, can be sifted, quantified and predicted with remarkable precision if enough data can be amassed.
The Obama team did it and that is how they found a clear path to victory in an election that was not necessarily theirs for the taking. No doubt Republicans will be recruiting teams of young mathematicians and data miners to help them emulate what the Obama crew has done. Meanwhile, a whole generation of political Svengalis may shortly find their status diminished to the level of tarot card flippers and palm readers.
---
A cure for the common opinion
Get thought-provoking perspectives with our weekly newsletter.
You may occasionally receive promotional content from the Los Angeles Times.