Trump arrives in China to talk tough on nukes. But first, some opera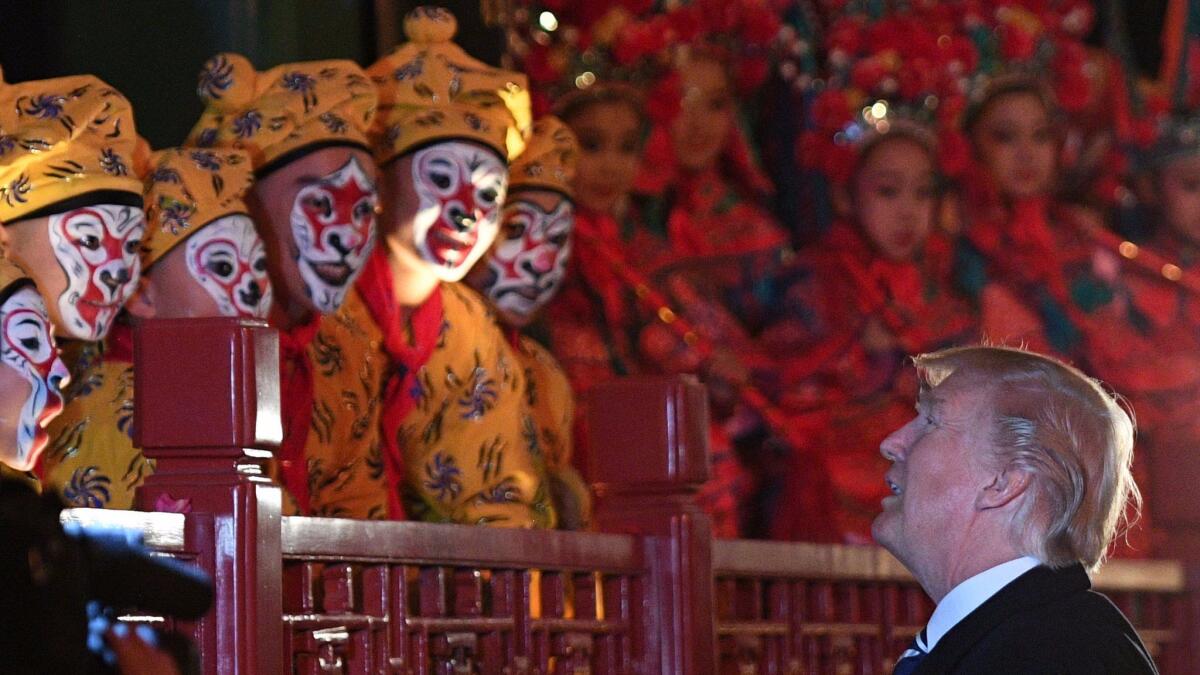 Reporting from Beijing —
President Trump arrived in China on Wednesday afternoon, the centerpiece of a 13-day trip that aides promised would include a stern warning about the North Korean nuclear threat.
"I think the president has been clear that that is at the top of the agenda along with the severe imbalances in the U.S.-China economic relationship," a senior White House official told reporters traveling with the president on Air Force One.
Throughout the trip so far, North Korea has been the dominant topic. Trump's two-day stop in China follows his speech to the South Korean National Assembly in which he offered North Korea's ruler, Kim Jong Un, "a path to a much better future" if he would give up his nuclear weapons.
But before getting down to business, Chinese President Xi Jinping renewed his courtship of the president, taking him on a tour of the Forbidden City, then to a taste of Chinese opera and a private dinner.
Trump's relationship with Xi is the most important one of his Asian tour and one of the most consequential of any in the world, given China's economic and political clout.
As in Japan, where Trump's Asia visit started, the hosts have gone to considerable length to show courtesy to their American visitor.
Trump and his wife, Melania, began their tour of the Forbidden City, the former home of China's emperors, walking through the Gate of Supreme Harmony with Xi and his wife, Peng Liyuan, taking in the view of a vast courtyard surrounded by pavilions.
Trump and Xi chatted before moving on toward one of the several palaces in the complex.
Trump marveled as he examined a series of artifacts, including a musical clock and another clock with a tower.
"Unbelievable," he said.
After that, the group was off to an abbreviated performance of highlights of the Peking Opera, including a dazzling group of children in colorful clothes dancing with peacock feathers and an acrobatics routine called "Monkey King" that made Trump laugh.
"Beautiful," Trump said as the children welcomed him in English and took pictures with the two presidents and their spouses.
Nodding to reporters as he left, Trump indicated that the Chinese effort to woo him was working.
"We're having a great time, thank you," he said.
Twitter: @noahbierman
ALSO
Democrats seize Virginia and New Jersey governorships in elections seen as precursors of 2018 fights
Trump voters disappointed by his presidency threaten the GOP
Senate Republican tax plan may eliminate property tax deductions and delay corporate cut
Get our Essential Politics newsletter
The latest news, analysis and insights from our politics team.
You may occasionally receive promotional content from the Los Angeles Times.