Obama dines with Disney executives, Julia Roberts at glitzy fundraiser in Bel-Air
President Obama and daughter Malia walk across the tarmac to board Air Force One at LAX.
(Gina Ferazzi / Los Angeles Times)
President Obama and daughter Malia depart Marine One at LAX.
(Gina Ferazzi / Los Angeles Times)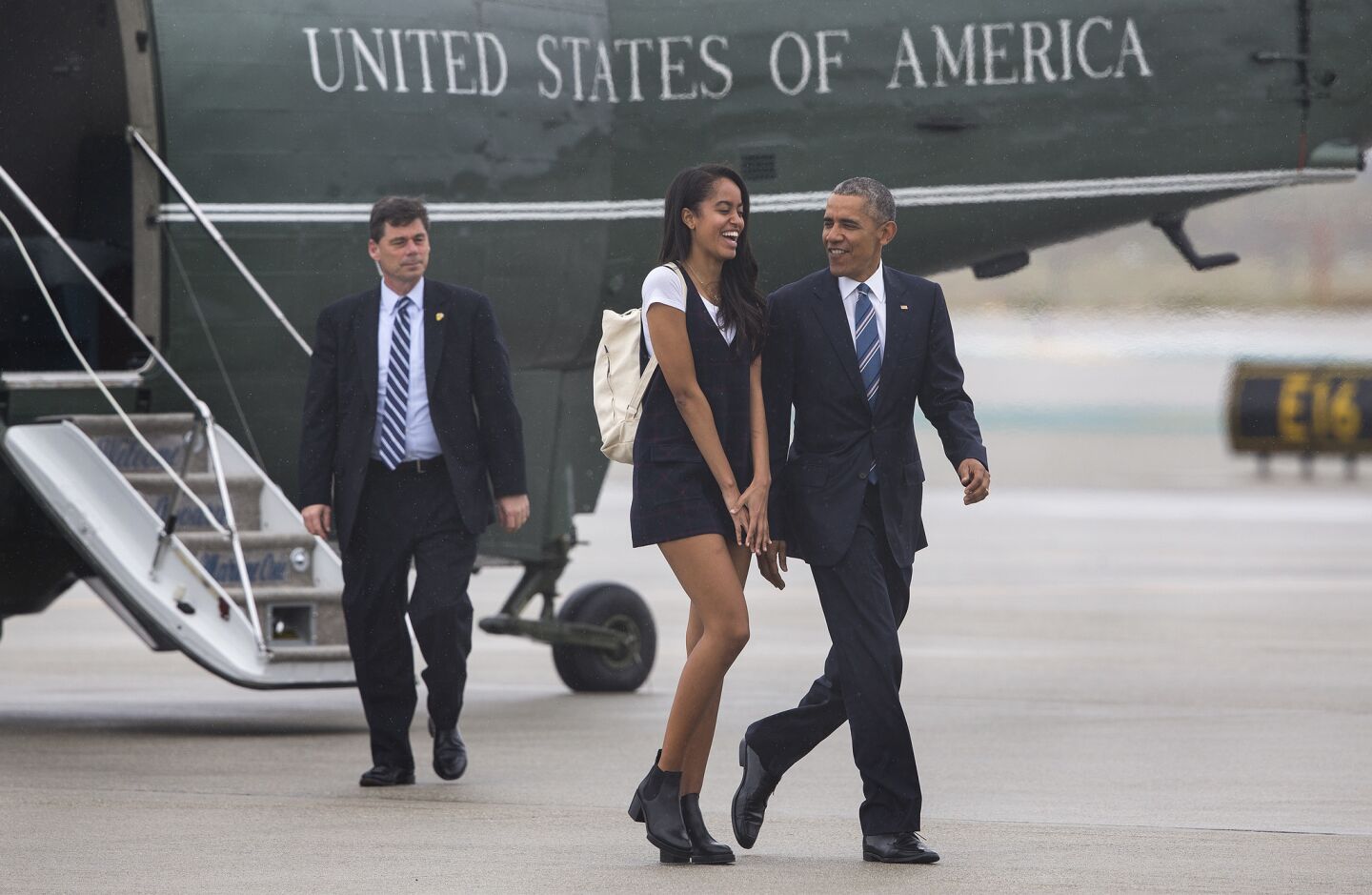 President Obama and daughter Malia walk across the tarmac to board Air Force One at LAX.
(Gina Ferazzi / Los Angeles Times)
President Obama and daughter Malia descend from Air Force One.
(Genaro Molina / Los Angeles Times)
President Obama greets supporters after arriving at LAX.
(Genaro Molina / Los Angeles Times)
Air Force One arrives at Los Angeles International Airport on Thursday night.
(Genaro Molina / Los Angeles Times)
President Obama departs from LAX on Marine One.
(Genaro Molina / Los Angeles Times)
President Obama dined with Hollywood A-listers and top Disney executives in Los Angeles during a quick visit for political fundraisers.
He spent Thursday night in Bel-Air for a Democratic Congressional Campaign Committee reception and dinner with House Minority Leader Nancy Pelosi and the committee's chairman, Ben Ray Luján (D-N.M.).
Calling the election critically important, Obama said there is a "deep obsession" with Republican presidential front-runner Donald Trump. He said neither Trump nor Trump's main GOP rival, Sen. Ted Cruz of Texas, would succeed him in office. The presidenti added that both men are doing Democrats a favor by "laying bare, unvarnished, some of the nonsense we've been dealing with in Congress."
"It gives you a sense of what's at stake in this election," he said.
Tickets for the event ranged from $15,000 to $66,800 per couple. The event was hosted at the Spanish-style home of Alan Horn, Walt Disney Studios chairman, and his environmentalist wife, Cindy Horn.
Gwyneth Paltrow and Julia Roberts were spotted in the crowd.
According to an invitation obtained by The Times, other guests included Julia Louis-Dreyfus and Brad Hall, Katie McGrath and J.J. Abrams, Lyn and Norman Lear, and Barbra Streisand and James Brolin. Guests sat at nine round tables of 10 seats each under a large tent draped in lights. Each had white floral centerpieces and candles.
Cindy Horn introduced Obama and made a Disney joke she said was necessary because both her husband and Disney Chief Executive Bob Iger were in attendance. "When you and the first lady get into the presidential limousine, do you think, 'The beauty in the beast?'"
"I didn't think of that," Obama replied.
The president lauded Pelosi, who was wearing bright green, as his "co-partner in everything we've been able to accomplish." He also took note of the other Democratic lawmakers in attendance: Luján and Reps. Xavier Becerra, Karen Bass, Ted Lieu and Brad Sherman.
"Many of us aren't born partisan. Nancy, maybe," he said, smirking. The crowd laughed.
The money raised will help House Democrats as they try to flip some Republican seats in what many expect to be a strong year thanks to boosted presidential turnout.
On Friday morning, Obama is scheduled to turn his attention to helping Senate Democrats, who have a legitimate chance of reclaiming control of that chamber. He'll appear at a $33,400-per-couple breakfast hosted by Jennifer and Tobey Maguire in Los Angeles. The event has been described by the White House as a "roundtable" and is closed to reporters.
The president landed at Los Angeles International Airport on Thursday at 7:24 p.m. and shook hands and said hello to a waiting crowd.
His daughter, Malia Obama, also was spotted before they boarded helicopters.
Onlookers with cameras lined Los Angeles streets, taking photos and video as the president made his way to his first stop via helicopter and motorcade. A young girl dressed in pink waved as the cars passed.
Obama's motorcade arrived in Bel-Air, creeping up a narrow street lined by palm trees and mansions, at 8:15 p.m.
The president left the fundraiser at 10:12 p.m., with the motorcade driving past UCLA's campus. Students stood outside with their phones at the ready. Some looked like they were dressed to go out, or coming back from Thursday night festivities.
Obama ended his evening at the W Hotel.
---
Earlier Thursday, we offered a Q&A on what was expected. Because even though this is a political story, in Los Angeles, it's also a traffic story. Or at least potentially a traffic story.
Will the president's visit cause an infamous "Obamajam"?
It's hard to know. Some of his visits have caused traffic delays for hours. But his last trip caused relatively little disruption because he moved for parts of the trip by helicopter.
Presidential visits have generated excitement but also grumbling from motorists. After some drivers complained about having to wait in traffic for two hours in 2014, some vented on Twitter using the #obamajam hashtag.
What streets should I avoid?
The White House does not release the president's exact movements in advance, but officials say he will attend two fundraisers before leaving Friday for San Francisco.
Police recommend avoiding the following areas Friday:
Hilgard Avenue between Weyburn Avenue and Sunset Boulevard, from 9:30 to 11 a.m.
Sunset between Loring and Burlingame avenues, from 9:30 to 11 a.m.
Bristol Avenue between Sunset and Westboro Street, from 9:30 to 11 a.m.
North Cliffwood Avenue between Westboro and Highwood streets, from 10:30 a.m. to noon
Sunset between Bristol Avenue and Sepulveda Boulevard, from 11:30 a.m. to 12:30 p.m.
Centinela Avenue between Ocean Park and Pico boulevards, from 11:30 a.m. to 12:30 p.m.
Hilgard will be closed from 4 p.m. Thursday to 1 p.m. Friday. Malcolm Avenue will be closed from 7 p.m. Thursday to 1 p.m. Friday. Cliffwood Avenue will be closed from 10:30 a.m. to 12:30 p.m. Friday.
Isn't Donald Trump visiting L.A. too?

Not now. Trump was scheduled to arrive for a speech Friday at noon at his Trump National Golf Club in Palos Verdes, but the candidate's campaign announced a change of plans Thursday morning.
"Mr. Trump has rescheduled his California trip and will be campaigning in New York. He looks forward to returning to California in the weeks ahead," his campaign said.
Trump's previous visits to Southern California have not resulted in major traffic problems. But they did bring out protesters and counter-protesters.
In July, scores of protesters marched outside a Bel-Air hotel where he was speaking. A smaller group of counter-protesters was also there.
Trump also faced protesters when he gave a talk in San Pedro.
The Associated Press and City News Service contributed to this report.
ALSO
Obama raises money with John Legend
Updates on California politics
---
Life is stressful. Our weekly mental wellness newsletter can help.
You may occasionally receive promotional content from the Los Angeles Times.