New Trump policy may strip unaccompanied migrant children of protected status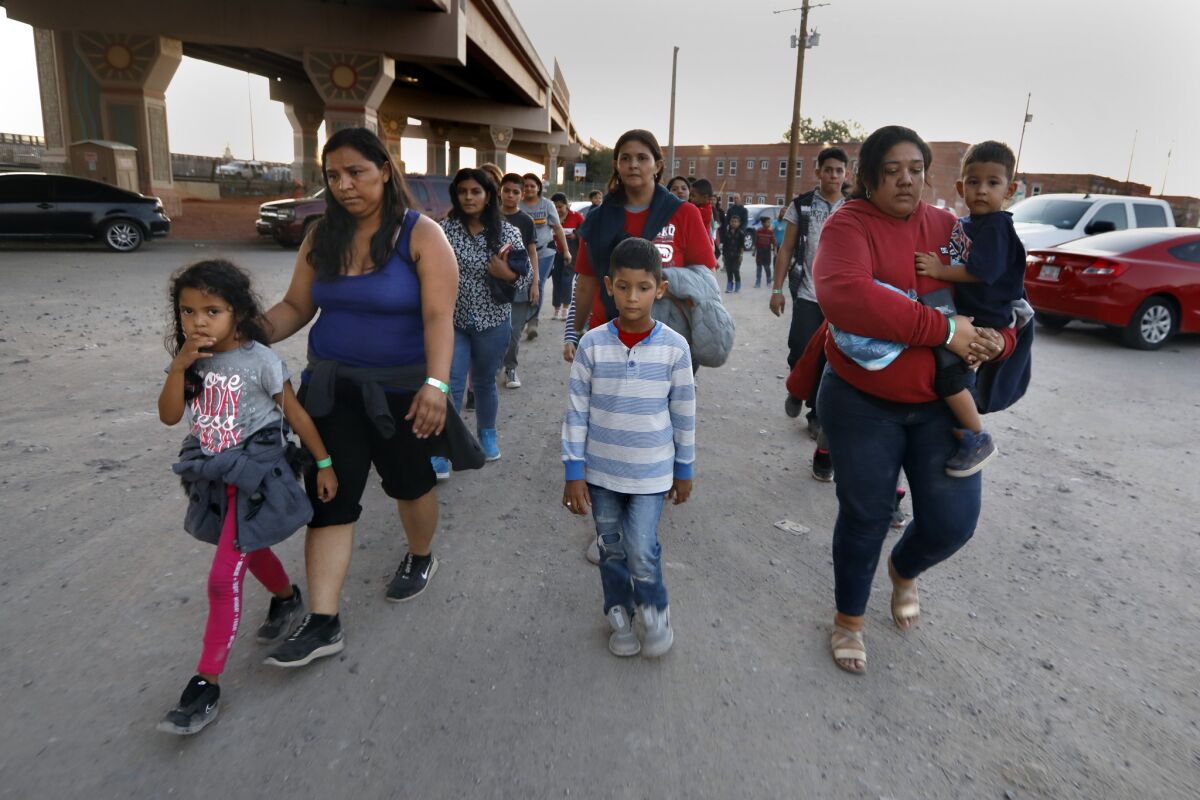 Under a policy set to take effect Sunday, the U.S. government could strip young immigrants of their status as unaccompanied minors, causing them to lose special protections when they apply for asylum and making them more likely to be deported.
The plan is laid out in an internal memorandum sent May 31 by John Lafferty, chief of the asylum division at U.S. Citizenship and Immigration Services, and detailed in subsequent guidance, both obtained by The Times. The shift in policy involves when federal officials determine whether a young migrant is an unaccompanied minor.
According to the memos, an asylum officer with USCIS will have to assess whether the individual at the time of filing for asylum lacked lawful immigration status, was younger than 18 and had no parent or legal guardian in the United States available to provide care and physical custody.
Unaccompanied minors who are in federal custody are often released to sponsors in the United States such as a parent or close relative and could be living with them at the time they file their application — meaning that many may not be considered to be unaccompanied minors under this new policy. From October 2018 to May 2019, more than 46,000 minors were released to sponsors, according to the Department of Health and Human Services.
If the children are found no longer to be unaccompanied minors, they will not be entitled to certain special protections, including an asylum interview with a USCIS officer instead of having to make their case in an immigration court setting.
"USCIS continues to take actions to ensure that we carry out our duties in a manner that is fully in line with the letter of the law," agency spokeswoman Jessica Collins said in a statement. "Ultimately, Congress must reform the law to address the underlying issues fueling the border crisis and encouraging unaccompanied minors to make the dangerous journey to the United States."
In recent years, USCIS officers have considered an asylum applicant to be an unaccompanied minor if that was what Immigration and Customs Enforcement or Customs and Border Protection agents had determined when they first had contact with the migrant.
Under this new policy, which rescinds an Obama-era memorandum, USCIS officers will independently determine whether an individual was an unaccompanied minor when they filed their application.
USCIS is "basically relitigating whether or not a child at the time of filing was an unaccompanied minor or not," said John Amaya, who served as the counselor to the director of USCIS from 2014 to 2015.
Judge Ashley Tabaddor, the president of the National Assn. of Immigration Judges, said that the new policy could potentially have "a profound effect on the children's ability to seek asylum."
"The asylum officer interview is a much less adversarial process that is thought to give the child a better and more comfortable setting," she said.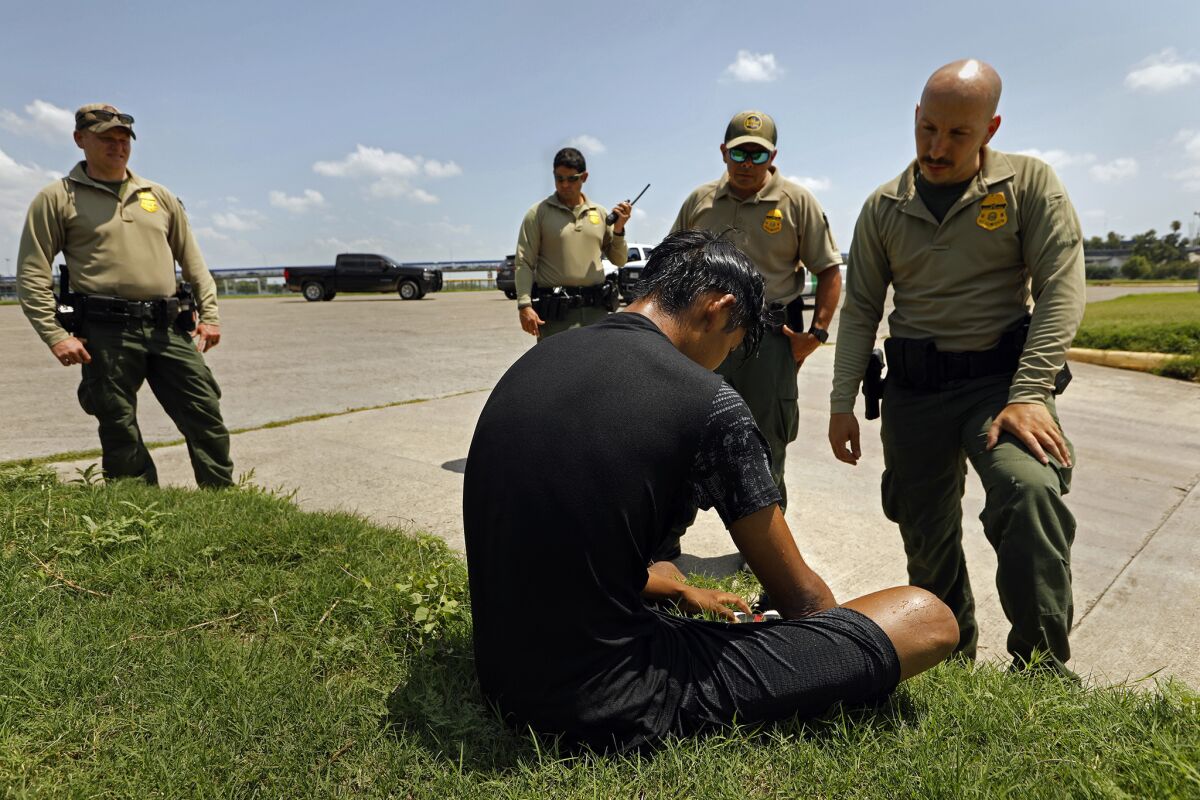 Federal asylum officers have been rushing to process as many unaccompanied minor applications as possible before the change takes effect Sunday, USCIS personnel told The Times, speaking on condition of anonymity to protect against professional retaliation.
The change is the latest in the Trump administration's efforts to make it more difficult for immigrants, including children, to seek asylum.
It comes during a week in which the acting head of CBP announced his resignation amid reports that his agency held some 300 children in unsanitary conditions in a remote Border Patrol station in Clint, Texas. A photograph showing the bodies of a father and his nearly 2-year-old daughter lying face down in the Rio Grande along the border also has gone viral in recent days.
Migrant deaths have continued along the border this year with the number crossing illegally surging to nearly 600,000, more than half of them families.
Federal asylum officers themselves have criticized Trump, saying his policies are putting people, including children, at risk.
On Wednesday, a union representing officers filed a brief in support of a lawsuit against a Trump policy forcing asylum seekers back to Mexico to await their court proceedings in the United States. The policy "abandons our tradition of providing a safe haven to the persecuted and violates our international and domestic legal obligations," the brief states.
USCIS acting Director Ken Cuccinelli, an anti-immigration hard-liner who often casts doubt on asylum seekers as engaging in fraud, slammed his own employees, saying the brief was "an attempt by the union to score short-term political points."
Michael Knowles, president of the union, told The Times his members were "taking the risk" because "we're being asked to do things that are wrong, as a matter of conscience, and our training as federal employees."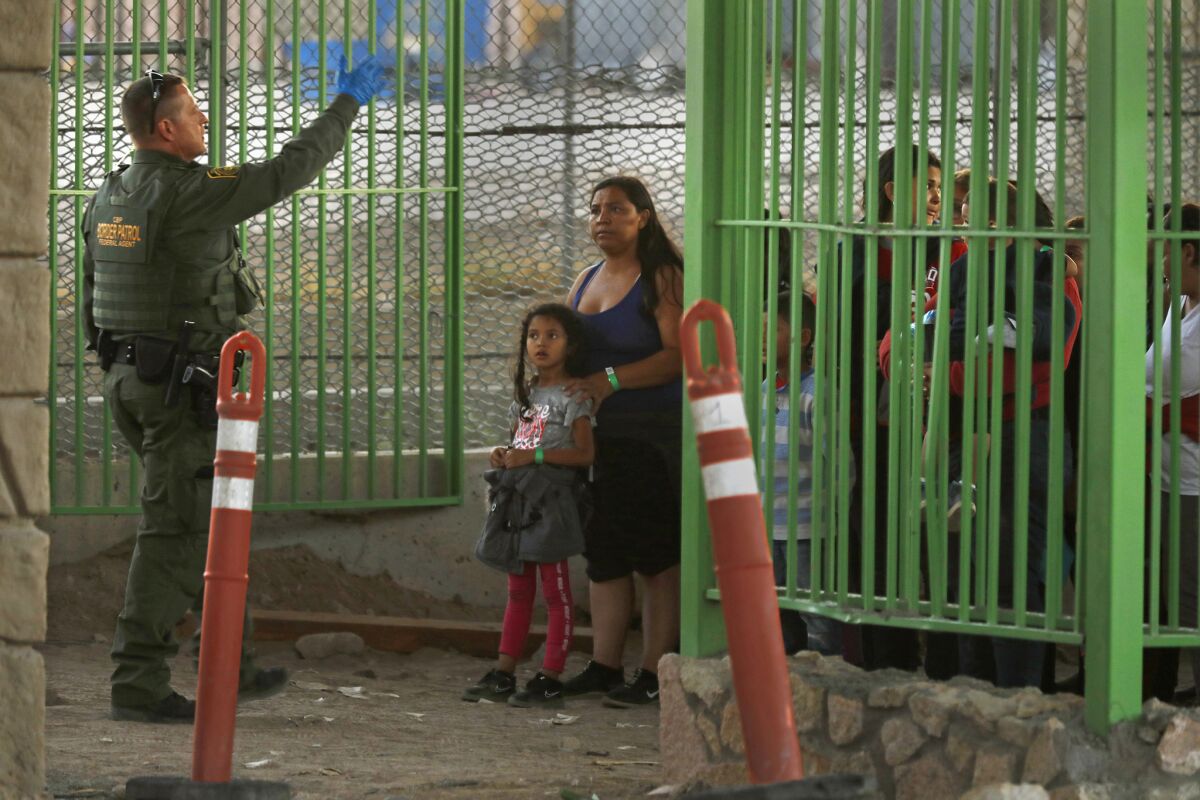 The policy taking effect Sunday reverts to procedures implemented under the 2008 Trafficking Victims Protection Reauthorization Act. At that time, asylum officers made "independent factual inquiries" to determine whether individuals filing applications met the criteria to be designated as unaccompanied minors and were thus under the jurisdiction of USCIS.
Ur Jaddou, a chief counsel to USCIS under President Obama, said that new procedures in 2013 allowing USCIS to adopt prior determinations made by ICE and CBP were implemented because "it was a waste of time and confusing" for USCIS to make a decision on unaccompanied minor status after one was made by other DHS branches.
"This new memo goes backward," Jaddou said.
Lafferty, who wrote the memo, presented the change as one in keeping with a October 2018 decision by the Justice Department's Board of Immigration Appeals. The decision dealt with whether USCIS or an immigration judge has initial jurisdiction over the asylum application of an individual who was previously determined to be an unaccompanied minor but had turned 18 before filing their application. The board held that the immigration judge has jurisdiction to determine that the individual no longer qualified as a minor at the time of filing.
The new procedures may put legal clinics that work with these minors in a tough position. Patricia Ortiz, program director for the Esperanza Immigrant Rights Project, said some of their clients are released from federal custody very close to their 18th birthday, and attorneys may not have enough time to file their application before they become adults.
Unaccompanied minors are currently exempt from the standing one-year deadline to file asylum applications. Ortiz worries that if her clients are no longer considered to be unaccompanied minors, the fact they have not applied within one year would jeopardize their applications. She said some don't apply within a year because they don't have the support necessary to complete an application or may only be comfortable disclosing asylum facts after months of therapy.
Once they are no longer able to have their cases heard by asylum officers, she said, children could be kept in legal limbo with the rest of those whose cases are backlogged in immigration court. This wait could make it more difficult for them to give testimony that helps their cases.
"Children forget," she said. "They forget details; they forget what happened."
Miller reported from Los Angeles and O'Toole from Washington.
---
Life is stressful. Our weekly mental wellness newsletter can help.
You may occasionally receive promotional content from the Los Angeles Times.