California proposes new single-drug method for executions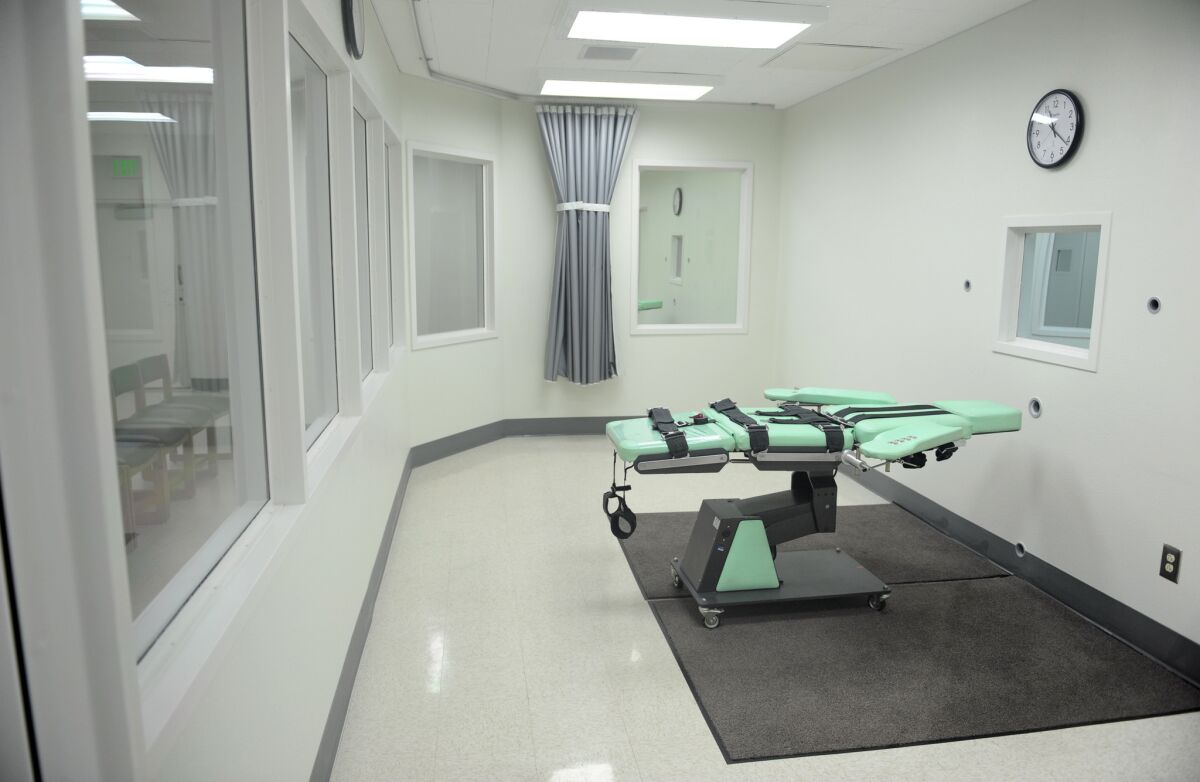 Reporting from San Francisco —
California unveiled a new method for executing prisoners Friday, proposing a "humane and dignified" single-drug injection protocol that could restart capital punishment after a nearly 10-year hiatus.
The regimen would replace a three-chemical method the state used in the past. That mixture was struck down in 2006 by a judge who said it could cause inhumane suffering if one of the drugs failed to work.
The new proposal stems from a lawsuit filed against the state by crime victims' families who favored the death penalty and wished to see it enforced. A settlement of the suit, brought by the Criminal Justice Legal Foundation, required the state to devise a new lethal injection method by this month.
Executions are not likely to resume immediately, however. Public vetting of the proposal could take a year, and court challenges may follow. In addition, voters may see one or more ballot measures on the death penalty next year.
More than 30 states and the federal government use lethal injection as their primary method of carrying out executions, according to the Death Penalty Information Center, a group that has been critical of the way capital punishment has been administered.
Eight have used a single-drug method, and six others have announced plans to do so.
The new California protocol would allow a choice of four barbiturates for lethal injection: amobarbital, pentobarbital, secobarbital and thiopental. The selection would be made on a "case-by-case basis, taking into account changing factors such as the availability of a supply of chemical," according to the proposal, published online Friday by the California Department of Corrections and Rehabilitation.
Difficulty in obtaining drugs has led to the postponement of executions in other states.
The single-drug protocol creates "a better flexibility, a better system of options," said Michael Rushford, who heads the foundation that filed the suit.
Rushford expressed chagrin over the state's decision to use the regulatory process, which allows two months for public comment and will delay the resumption of executions.
He said officials had dragged their feet in crafting a new policy. He attributed that to Gov. Jerry Brown and Atty. Gen. Kamala D. Harris, who oppose the death penalty although they have said they would enforce it.
"If we had a different governor and a different attorney general, these wouldn't be problems," Rushford said.
Harris' office did not immediately respond to requests for comment. Corrections spokeswoman Terry Thornton, speaking for the Brown administration, ascribed the delay to the developing national debate over execution methods, not resolved until a U.S. Supreme Court ruling in June.
At least 16 death row inmates in California have exhausted their appeals and could be executed if the protocol is adopted. The inmates range in age from 49 to 78. One was condemned for crimes that took place 36 years ago.
Some condemned prisoners were stoic when told about the impending arrival of a new execution protocol.
"In the meantime, I have my life," Clifton Perry, 46, said in a recent interview, noting that legal challenges could drag on for years.
He was sentenced to death for the 1995 killing of a convenience store owner during a robbery.
California has 749 inmates on death row, the most in the country. Since 1978, the state has executed 13 prisoners, 68 condemned offenders have died from natural causes and 24 have committed suicide.
------------
FOR THE RECORD
1:46 p.m.: An earlier version of this post reported that 66 California death row inmates had died of natural causes since 1978. There have been 68 such deaths.
------------
An average of two people a month in California are sentenced to death. As a result, the mammoth building at San Quentin State Prison set aside for condemned men—the state's few condemned women are housed at a prison near Chowchilla—is at capacity.
The state has not executed anyone since 2006, when the court found that California's procedures violated the Constitution's ban on cruel and unusual punishment.
The Department of Corrections and Rehabilitation proposed another method and had a new execution chamber built, but a state appeals court said the state had failed to vet the new protocol properly.
In proposing the new injection method, California corrections officials said they sought "a humane and dignified execution."
Supporting materials released with the proposed regimen said the single-drug method "reduces the risk of pain and possible complications, and addresses constitutional concerns."
They also show that the state sought guidance from academic studies and public policies on assisted suicide, including a review of Oregon's Death with Dignity Act.
California voters narrowly defeated a ballot measure in 2012 that would have abolished the death penalty. Eight states have rescinded capital punishment laws since 2000.
Death penalty opponents have proposed an initiative for the November 2016 ballot that would replace capital punishment with life without the possibility of parole. Legislative analysts this week said such a move would save California some $150 million a year, by reducing the costs of capital punishment trials and subsequent penalty appeals.
A competing measure, sponsored by law enforcement and victim groups, also has been submitted for state review. That measure would propose changes to speed up executions.
Around the country, executions have declined in recent years as prisons have been unable to obtain lethal injection drugs.
Manufacturers, pressed by death penalty opponents, have refused to sell the anesthetics to prisons. Compounding pharmacies are an alternative but would be vulnerable to boycotts if their identities were disclosed. They also could have trouble procuring the chemicals to make the drugs.
Opponents of the death penalty said Friday that even if the proposed new injection regimen withstands public review and court challenges, the killing of prisoners "is doomed to fail in California."
"There are so many flaws in the system—the cost, the risk of executing an innocent person"—that make capital punishment unworkable, said Ana Zamora, criminal justice policy director for the ACLU of Northern California.
The corrections department will take public comment on the new proposal until Jan. 22, 2016, by email at LI.comments@cdcr.ca.gov.
Twitter: @mauradolan and @paigestjohn
ALSO
Two Californians appointed to negotiate final highway bill
Here's what California can expect from Congress' highway bill
California GOP sitting out Senate race in conservative-leaning swing district
---
Life is stressful. Our weekly mental wellness newsletter can help.
You may occasionally receive promotional content from the Los Angeles Times.