From the Archives: Pastor's remarks about women lawmakers with young children spark furor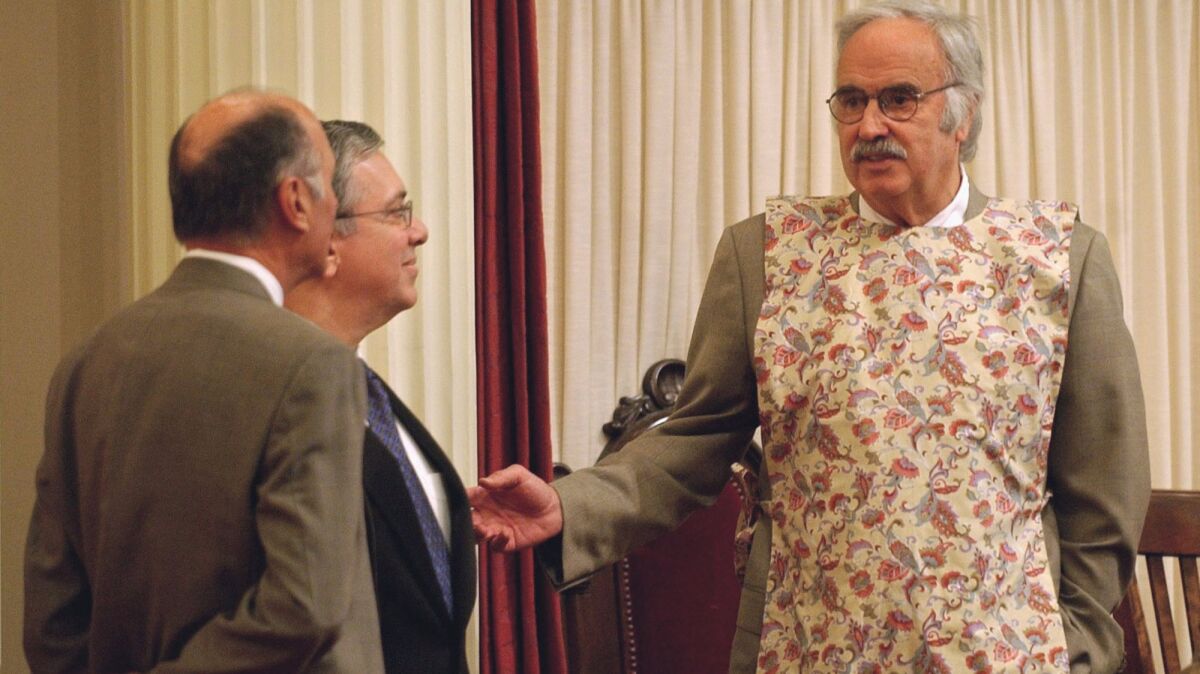 Reporting from Sacramento —
Though he ministers to Capitol politicians, who tend to vet even the least controversial ideas through polling and focus groups, pastor Ralph Drollinger lets his thoughts loose with a minimum of hedging.
Like a few weeks ago, when he wrote in a Bible lesson that women lawmakers with young children at home are sinners.
"It is one thing for a mother to work out of her home while her children are in school," wrote Drollinger, president of a national Christian evangelical group known as Capitol Ministries and a former UCLA basketball player. "It is quite another matter to have children in the home and live away in Sacramento for four days a week. Whereas the former could be in keeping with the spirit of Proverbs 31, the latter is sinful."
Not a big hit with the legislative women's caucus.
The comments have created a flood of, well not quite biblical proportions, but enough to have some legislators questioning whether Drollinger should continue being allowed to lead weekly Bible study classes in a Capitol conference room. Especially since only a few months ago he declared that Catholicism "is one of the primary false religions of the world."
That one cost Drollinger's group its study space in the governor's suite of offices, prompting him, eight to 15 lawmakers and many more staff to move to a place farther from the governor and his wife -- both Catholics.
"I wasn't trying to say something about Maria Shriver or anything," he said. But "I could see where that caused problems."
Members of the study group say Drollinger is merely delivering a strict interpretation of the Bible. And if critics don't like it, so be it.
"I think it is perfectly appropriate," said Assemblyman Ray Haynes (R-Murrieta), a regular member of the group. He said that the study sessions are now attended only by Republican lawmakers, but that Democrats have participated in the past.
But some lawmakers are saying the minister has gone over the line.
"We discussed it yesterday in the women's caucus and we were deeply offended, insulted, mortified -- there's not enough adjectives to express our feelings," said Sen. Liz Figueroa (D-Fremont). She is chairwoman of the caucus, which counts all 23 female legislators among its membership. She is also the mother of two.
"I don't think this gentleman has a clue about the contribution women have made to this state," she said. "It's a little ironic coming just at the time Maria Shriver and the governor open the museum across the street honoring all the contributions women have made. It's a slap on the face of the efforts the administration is producing in terms of demonstrating the importance of women."
Figueroa said the caucus would "seriously look at" Drollinger and discuss his position with "the proper leadership."
Some legislators found the comments too outlandish to be shocking.
"I'm having trouble answering because I'm laughing too hard," said Sen. Debra Bowen (D-Marina del Rey), also a mother of two.
"I guess we're supposed to stay barefoot and pregnant," she said. "What about dads who live in Sacramento four days a week? Is that sinful?"
Drollinger says his group believes that husbands are free to hold leadership roles outside the home but should be "extra sensitive" about being away for too long. "I have often counseled male legislators who have children at home to move their wife and children to Sacramento because of the length of session."
Haynes said Drollinger's role as a pastor "is to study and put forth one interpretation of the Bible. If the women's caucus doesn't like it, my response is, 'Fine.' If you want to argue with his interpretation, argue from the Bible."
"If this got the women's caucus into the Bible, he would welcome that," Haynes said.
In an interview Thursday, Drollinger referred to himself as a missionary. He said he was sent to the Capitol under the authority of the board of elders at Grace Community Church in the San Fernando Valley. He lives in Santa Clarita.
His routine involves flying to the Capitol every week the Legislature is in session.
"I've chosen to live the same lifestyle they do, so they can see how I deal with the tensions of geographical distance," he said. "I have a wife and children as well."
The organization he belongs to also sends ministers to the state capitols of Oregon, Pennsylvania, North Carolina, Nebraska, South Carolina, Tennessee and Virginia.
According to the organization's website, Drollinger's vision is "to train and place 50 skilled ambassadors for Christ, one in each state capitol in the coming 10 years."
And by his account, Drollinger -- a former two-time national champion UCLA basketball player under legendary coach John Wooden -- has sacrificed a bit to carry it out.
Upon graduating from college, the website said, Drollinger turned down offers to play in the National Basketball Assn. to join Athletes in Action, a team of evangelicals who traveled the world preaching at halftimes of their games.
He began his trips to Sacramento in 1997, the website said, when he "sensed a need to begin to reach a different 'people group' with the Gospel, the politicians." He now serves as the Ministry Leader for the California State Capitol and works with more than 40 elected officials.
Drollinger has learned that politics can be a contact sport as well.
After the Roman Catholic comment, which he said was grounded in a centuries-old dispute about the relationship between the church and Scripture, the pastor decided to smooth over any problems he may have created with Gov. Arnold Schwarzenegger.
"Out of deference, we politely moved to another room outside the governor's office," he said.
"He is a former athlete, we have a lot in common. I would rather not be seen at odds with him in the newspaper," Drollinger said. "We both decided not to talk to the media about that."
In response to the women's caucus reaction, however, Drollinger said:
"Who should I try to please: female legislators frustrated with me across the street or the child?" he asked. "I don't mind people arguing with me when it is from Scripture. But when it's ad homonym or their source is something other than Scripture, then Scripture would trump."
Follow me: @evanhalper
Get our Essential Politics newsletter
The latest news, analysis and insights from our politics team.
You may occasionally receive promotional content from the Los Angeles Times.