Thousands displaced by Northern California's wildfires now face the region's housing shortage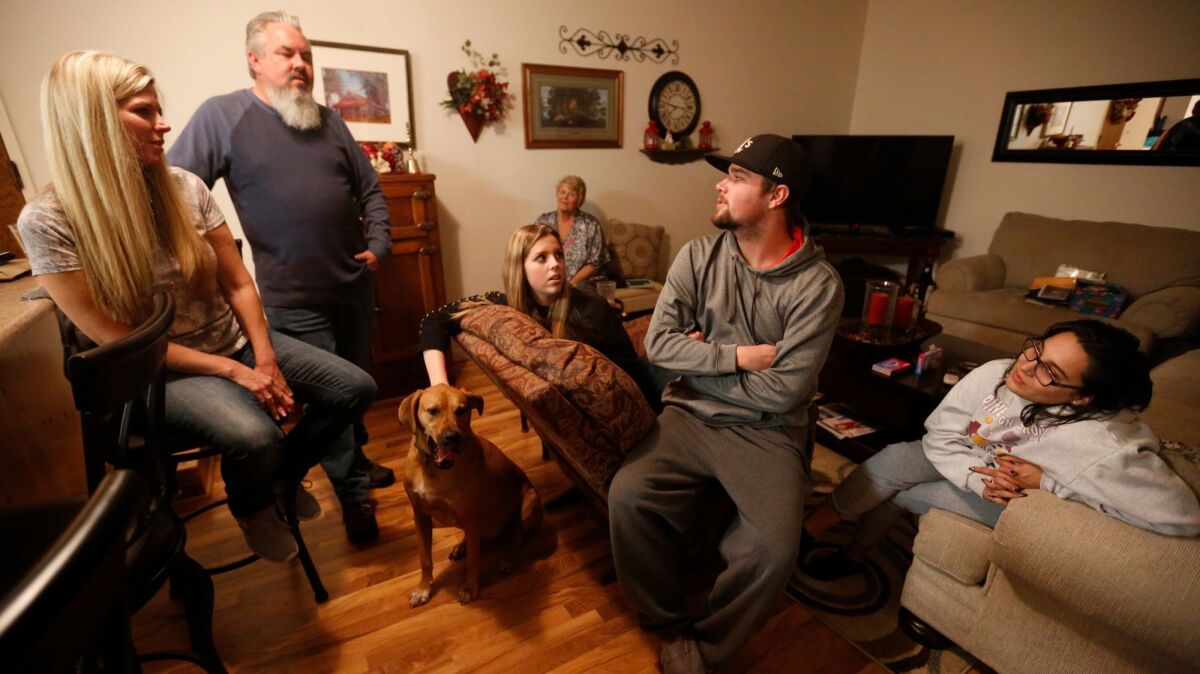 Reporting from Santa Rosa, Calif. —
Shelly Lanning, her husband and two children are staying with her mother in Ukiah, an hour from where her home burned down the morning of Oct. 9. She's not sure where she's going to live next.
Lanning, 46, ran a day-care center and her husband a catering company out of their home in Santa Rosa's Coffey Park neighborhood. Fire destroyed the entire community, including the apartment building down the street from Lanning's home, where her 23-year-old son lived. Lanning would like to find a new place that will fit her whole family, including their Labrador retriever mix Jax. But she can't.
"We've been looking everywhere," Lanning said. "If there's anything available, they're gone in seconds."
Lanning is one of thousands of residents who have lost their homes in a region that has faced some of the worst effects of the state's housing affordability crisis. A limited housing supply fueled by the San Francisco Bay Area's booming job growth and decades of slow construction has forced home values and rents to near record highs.
Now, with Coffey Park and other neighborhoods devastated across the region — estimates of damage to residential properties have topped $3 billion, and Santa Rosa lost 5% of its homes — the number of new families flooding the market is giving rise to fears of widespread displacement and even higher costs.
"The scope and magnitude of the rehousing is unfathomable," said Larry Florin, chief executive of the nonprofit Burbank Housing, one of Santa Rosa's largest low-income housing providers. "If you take 3,000 units being demolished in a market that was already dramatically constrained, it's hard to imagine what's going to happen, where people are going to go."
The fires threatened many of Burbank Housing's properties, which are generally reserved for families of four making less than $71,000 a year, or equivalent salaries for smaller or larger families. Residents from almost 1,000 Burbank Housing units faced evacuation orders during the worst of the blazes, and 14 of its houses in the Coffey Park neighborhood were destroyed. Even before the fire, 15,000 people were on wait lists for Burbank Housing homes.
The region's housing struggles affect more than its neediest residents. Sonoma County's $599,000 median home price is almost triple the national average. Demand has far outstripped new construction in the region, with the number of homes for sale decreasing by at least 10% in the last year in many of the neighborhoods most affected by the fire, according to an analysis by real estate website Zillow. The median monthly rent in Sonoma County stands at $2,633, double the national average and almost 5% higher than the 2016 median.
A year ago, the City Council in Santa Rosa, the region's largest city with 175,000 people, declared a state of emergency over rising housing costs. City leaders realized thousands of restaurant and hospitality workers could no longer afford to live in the community even though they earn more than their counterparts around the country, said Julie Combs, a Santa Rosa city councilwoman.
A passenger rail service connecting cities in Marin and Sonoma counties that opened this summer has boosted hopes of traffic relief and more home building along the transit corridor. But the region has been having trouble attracting drivers to operate the trains because housing costs are too high, Combs said.
In response, Santa Rosa has been weighing plans to reduce permitting times and allow developers to build more homes in exchange for reserving some of them for low-income residents. The City Council approved a plan to implement rent control in the city, but voters overturned that decision in a special election over the summer. The city has recently approved some projects taller than one story in historic neighborhoods over the objections of some community members.
Santa Rosa's leaders realized they needed to make room for more people, Combs said.
"That's been our role in our county and in the North Bay region," she said. "It's been to accept growth."
But thousands of residents added to the housing market over the last week make the burden much heavier. The estimated 6,700 homes lost in fires across all of Northern California over the last two weeks is roughly half the Bay Area's annual housing production from recent years, according to the state Department of Housing and Community Development.
Rebuilding efforts will come as the area faces a construction labor shortage and rising costs for home-building materials, a situation exacerbated by hurricane recovery efforts in Texas and Florida, said Robert Eyler, an economics professor at Sonoma State.
And while Santa Rosa officials have worked recently at their housing problems, North Bay residents have had a traditional reluctance to approve new homes — the city and other communities in Napa and Sonoma counties have fallen short of meeting the state's growth targets. Beyond that, Eyler said, the region will probably face tension over how much new home building it should accept, including whether it should rebuild at all in areas at risk of wildfire devastation.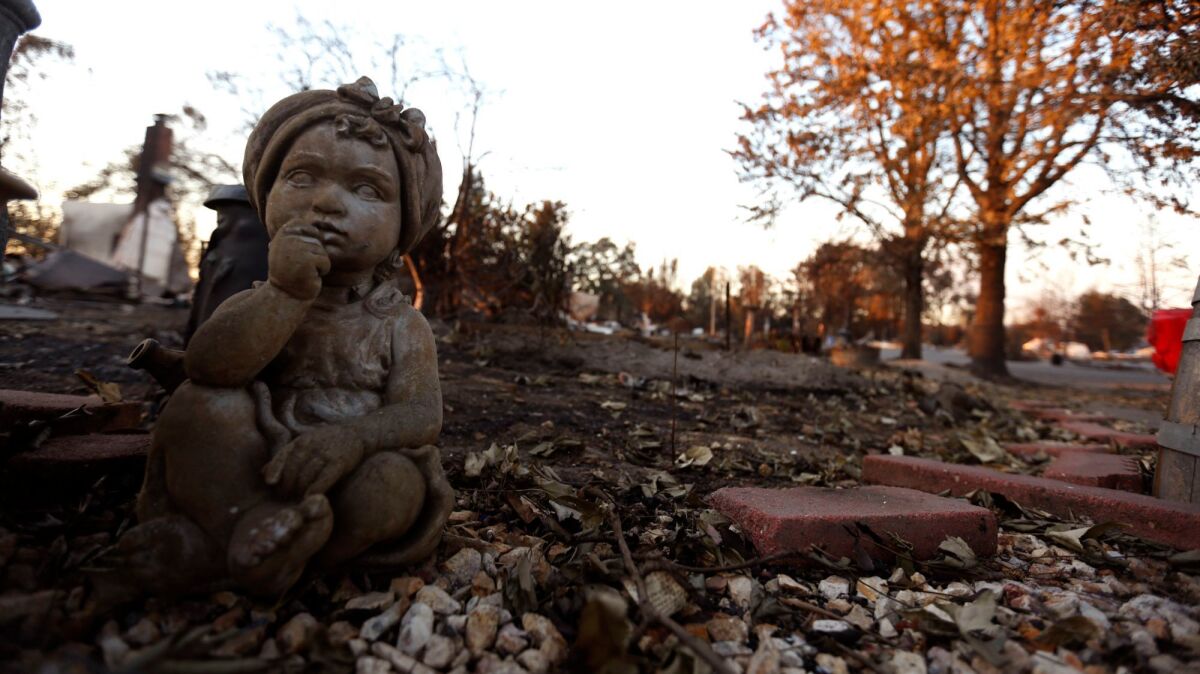 "The policy reaction could be that we need to make sure something like this never happens again," Eyler said.
For now, Combs said the city is considering rolling back restrictions against people sleeping in their cars and making it easier for churches and other organizations to establish havens for homeless residents in their parking lots. She also wants to change city codes to allow people to live in temporary structures on their property while homes are being rebuilt.
In the longer term, she said, Santa Rosa is looking into allowing developers to rebuild entire neighborhoods, instead of building homes one by one, to lower costs and increase efficiency. When that happens, Combs would like to help homeowners add additional standalone second homes, known as granny flats, on their properties to ease overall housing concerns.
"We're going to have to figure out how to facilitate rebuilding and rebuilding more units than we lost," Combs said.
Before any large-scale construction happens, the region faces a lengthy cleanup effort, said state Sen. Mike McGuire (D-Healdsburg), who represents the area. Federal and state environmental officials have to clear toxic ash and debris from residential properties and remove up to six inches of soil before its safe for people to live on those properties again. McGuire said such efforts would be the largest in California's history.
After that, he said the state would need to boost spending on housing. This year, lawmakers approved a package of legislation that would raise $250 million annually for low-income construction subsidies with an additional $4 billion in subsidies possible if voters support a bond measure on the November 2018 ballot. But those dollars will barely dent the state's widespread affordability problems.
McGuire praised Gov. Jerry Brown's and state disaster officials' response to the fires and hoped for the same once it came time to rebuild.
"Gov. Brown has opened up the checkbook and written a blank check to make sure we have the necessary resources to tame this beast," McGuire said. "And we're going to take the same approach to rebuilding our communities."
In the meantime, the region's housing shortage has led to soaring rents — some to levels that may be illegal. Widespread reports have detailed complaints from displaced residents about landlords raising their prices far beyond the 10% allowed under the law after an emergency. Soon after the fires broke out, Lanning saw a home advertised at $2,400 a month, but two days later the price had risen to $3,000 — about double her monthly mortgage payment.
Now, based on the real estate listings she's scanning from Napa, Sonoma and as far away as Ukiah and Marin County, Lanning expects to pay around that amount while her family waits to rebuild.
"At this point," Lanning said, "we would take just about anything."
ALSO
Despite clear risks, Santa Rosa neighborhood that burned down was exempt from state fire regulations
Gov. Brown just signed 15 housing bills. Here's how they're supposed to help the affordability crisis
Get our Essential Politics newsletter
The latest news, analysis and insights from our politics team.
You may occasionally receive promotional content from the Los Angeles Times.