Smoke-filled room, meet Silicon Valley: Techies see opportunity at GOP convention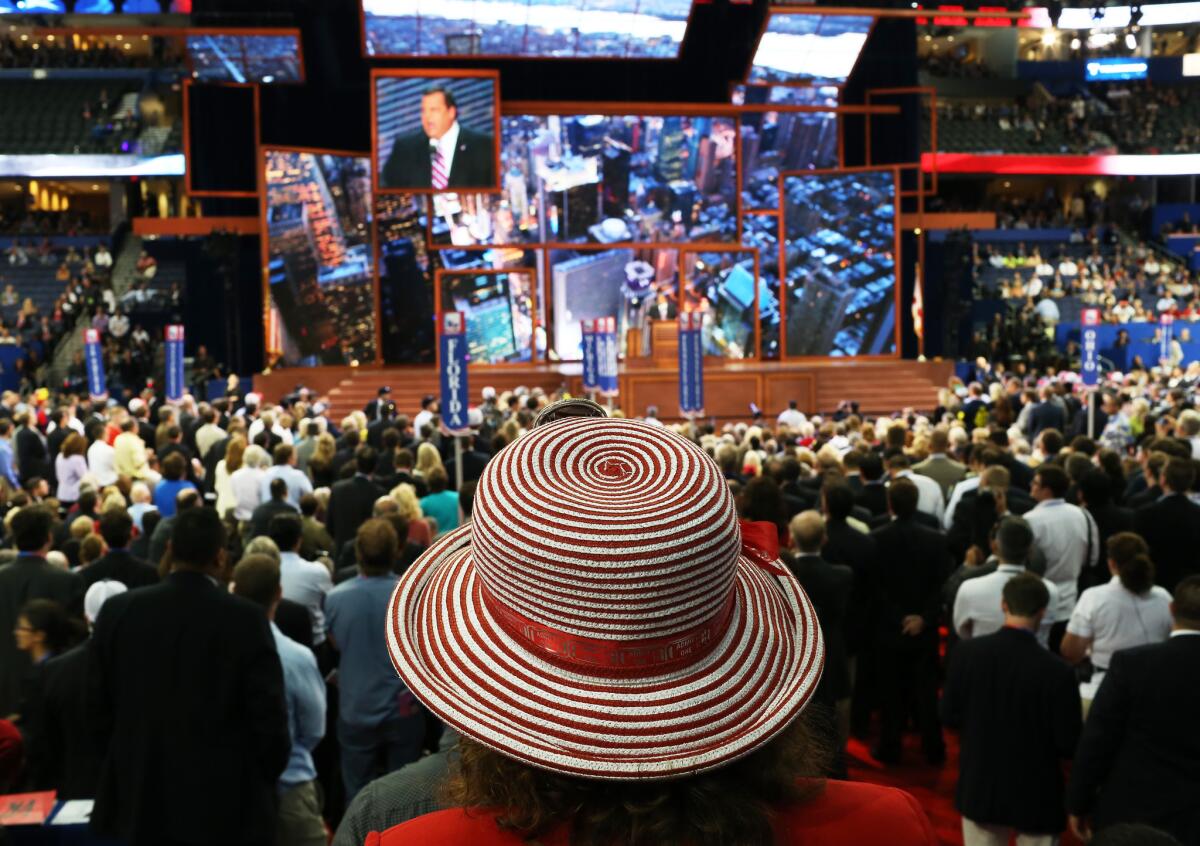 Few things scream throwback like a contested political convention, an event that calls to mind conniving party bosses, clouds of stale cigar smoke and throngs of activists in Uncle Sam hats passionately waving homemade signs.
But while some of those retro touches will surely present themselves if Republicans arrive in Cleveland for their national convention in July with no clear nominee, the X factor in the fight could be an entirely new frontier of politics: the new technology of hunting for delegates.
A cottage industry of political techies already has emerged to pitch their wares to campaigns. They're promising that in the weeks leading up to the convention they can enable candidates to find and persuade the right delegates and then arm deputies on the convention floor with thousands of data points about delegates' ideological leanings, social media proclivities and even TV viewing habits.
TRAIL GUIDE: All the latest news on the 2016 presidential campaign >>
A contested convention would test the extent to which technology can be leveraged to push the outcome of a political event and the speed at which such technology could be built and deployed.
"Every possible service you can think of, some vendor is going to try to sell to every campaign involved," said Benjamin Ginsberg, former general counsel to the Republican National Committee and national counsel to the campaigns of Mitt Romney and George W. Bush.
"There will be lots of efforts to sell new products that may or may not work to accomplish a task with which nobody is really familiar. This is so unknown."
The last time Republicans had a contested convention was in 1976, when Ronald Reagan and Gerald Ford squared off in an arena in Kansas City, Mo. Rotary telephones were still in vogue, and Apple's Steve Jobs and Steve Wozniak had just formed their partnership in a garage in Los Altos.
There were no iPads. There were no iPhones. There were carbon paper and typewriters.
This time, if a contested convention happens, it will unfold in an age of data analytics and micro-targeting and social media scraping, where it is not unusual for campaigns to target voters through magazine subscriptions and grocery purchases. Candidates will walk into the convention hall with tools unimagined four decades ago that they can use in a race to, among other things, find out everything they can about every delegate and develop a lightning-fast platform on which to share that knowledge with floor whips at crunch time.
"There will be tons of [companies] crowding this space," said Brittany Kaiser, director of program development for Cambridge Analytica, a firm that has accumulated thousands of data points – from Starbucks preferences to vacation histories – on each of about 240 million Americans. "It is going to be incredibly important to understand everything possible about every single delegate."
See more of our top stories on Facebook >>
Kaiser's firm -- although not Kaiser herself -- already has been working with the campaign of Sen. Ted Cruz of Texas, who is likely to head into the convention with the second-largest bloc of delegates committed to him.
Cruz campaign insiders say tech already has been key to the edge Cruz has been gaining in delegates even in states where he lost the election to Donald Trump.
Many of the delegates who will be officially representing Trump from Louisiana, Georgia, Virginia, Arizona and North Dakota -- all states won by the New York businessman -- are actually Cruz sympathizers. Under convention rules, those delegates would be bound to Trump for the first round of delegate voting in Cleveland. But if no candidate receives a majority on the first ballot, many delegates will become free agents. Depending on state laws, others will be become free to vote for any candidate they choose after a second ballot or a third.
More than 2,400 delegates could ultimately end up coming up for grabs on the convention floor if no candidate clinches the nomination after the initial balloting. Some may already have revealed on their Facebook pages that they were fans of Terminator movies. So a call from Arnold Schwarzenegger could be the nudge that wins them over. Or perhaps they are gun enthusiasts, in which case they might be awed by a convention floor chat with Wayne LaPierre, president of the National Rifle Assn.
Cambridge Analytica claims to have developed a "psychographic" profile of every one of the delegates chosen so far. Such profiles, which are rooted in reams of consumer and personal background data acquired by the company, put people into such categories as "stoic traditionalist" or "extroverted leader" and are already being used to target voters.
But Kaiser says such profiles also have helped clients devise sophisticated lobbying strategies to move stubborn legislators, an application not dissimilar to what candidates would face as they set out to persuade delegates in Cleveland.
"It helps you understand where each delegate stands, how persuadable they are to change their mind," said Kaiser.
There are also more nuts-and-bolts considerations for campaigns -- knowing where any particular delegate stands at any particular moment, for example.
"Speed is going to kill when votes are taken, and the campaign that can best use data quickly will have a huge advantage," said Mark Stephenson, who was Scott Walker's chief data officer during the Wisconsin governor's short-lived presidential campaign.
"You have to be able to persuade people fast, with that data at your fingertips. Technology enables you to be relevant when you are talking to your targets," he said.
Digital strategists expect the campaigns to leave nothing to chance. They will come armed with backup wireless capability in the event the network at the Quicken Loans Arena gets balky. The technology will work online or off. The Trump campaign, according to a report in Politico, is even building its own hardware.
Yet Trump is likely to have significant catch-up work ahead of him. The Cruz campaign already has proved adept at using technology to narrowly target its operations, whether in building psychological profiles of voters or apps that caucus precinct captains can fire up on election night to herd every possible vote.
The Cruz campaign's obsession with tracking and monitoring which potential delegates might be sympathetic to their candidate began months ago, and it is already paying dividends.
"This is stuff the Cruz campaign has been doing since last year," said Josh Putnam, a lecturer at the University of Georgia who studies the delegate selection process. "Other campaigns are playing catch-up."
Still, much of the technology that would be used on the convention floor does not yet even exist in beta form. As the GOP race tightens, and the likelihood of a contested convention increases, some political technologists foresee a weeks-long hackathon taking shape, as firms rush to get a piece of the business.
Patrick Ruffini, one of the few Republican digital strategists who has actually developed software successfully used by a candidate in a convention – albeit at the state level, in Virginia – said he anticipates a stampede.
The challenge for the campaigns, he said, will be sorting out the useful pitches from the deluge of marketing malarkey that tech firms tend to muster around such occasions.
"I expect to see a lot of people arguing they have just the thing to solve your brokered convention problem," Ruffini said.
For more on Campaign 2016, follow @evanhalper
ALSO
Clinton goes on offense in battle with Sanders for New York
Sanders, Cruz claim Wisconsin victories, ignore daunting math
Get our Essential Politics newsletter
The latest news, analysis and insights from our politics team.
You may occasionally receive promotional content from the Los Angeles Times.