Sanders wins Michigan in an upset; Clinton takes Mississippi
Reporting from DETROIT —
Bernie Sanders muscled his way to an upset victory Tuesday in Michigan, establishing the Rust Belt as a beachhead for the resurgence of his campaign and dragging Democratic presidential front-runner Hillary Clinton back into a race in which she must focus her energy on what now threatens to be a prolonged primary battle.
His victory, even though it was narrow, overshadowed a decisive win for Clinton in Mississippi. Clinton's victory there meant that she extended her already formidable lead in the race to win a majority of the delegates to the Democratic convention this summer.
Nonetheless, it was the Michigan result that played an outsized role in determining whether the front-runner could shift her campaign into general-election mode.
The state posed a crucial test for both candidates. Clinton, who had led in the preelection polls, had hoped to show that her winning coalition of voters extended beyond the South and into the Rust Belt. Instead, she fell short.
Election 2016 | Live coverage on Trail Guide | March 8 election results | Sign up for the newsletter
Sanders was able to establish the manufacturing states of the Midwest as a staging ground for a lengthy fight in which he hopes to regain momentum and erode the delegate lead Clinton has amassed.
"We repudiated the pundits who said Bernie Sanders is not going anywhere," Sanders told reporters in Miami as election returns began disproving what the public opinion polls had shown. "This has been a fantastic night."
Sanders declared the Michigan vote had proven "the political revolution we are talking about is strong in every part of the country, and frankly we believe that our strongest areas are yet to happen.... What we have done is create the kind of momentum we need to win."
The Mississippi result had been widely anticipated. More than two-thirds of the Democratic primary voters in the state were black, according to the exit poll conducted for the major television networks and the Associated Press. Clinton won about 90% of their votes. Sanders had not campaigned there at all.
Michigan was more complicated.
Clinton's campaign had been consistently nervous about the state. Sanders invested heavily here, relentlessly pounding away at the trade agreements Clinton has lent her support to over the years and the Wall Street banks that have paid her handsomely for delivering speeches and invested millions in her run.
It was a message that connected with many voters in a part of the country devastated by the turn the economy has taken over the last few decades. The exit polls indicated that by roughly 2 to 1, Democratic voters here believed international trade had cost American jobs.
Although Clinton won the black vote in Michigan, her margin was considerably smaller than it had been in the South. Sanders ran even with her among the youngest black voters, opening a generational gap similar to those that had been seen in other states among Latino and white voters.
Democratic presidential candidate, Sen. Bernie Sanders acknowledges his supporters on arrival at a campaign rally.
(Alan Diaz / Los Angeles Times)
Republican presidential candidate Donald Trump speaks during a news conference at the Trump National Golf Club in Jupiter, Fla.
(Lynne Sladky / Associated Press)
Hillary Clinton campaigns in Detroit. Tuesday is primary day in Michigan.
(Bill Pugliano / Getty Images)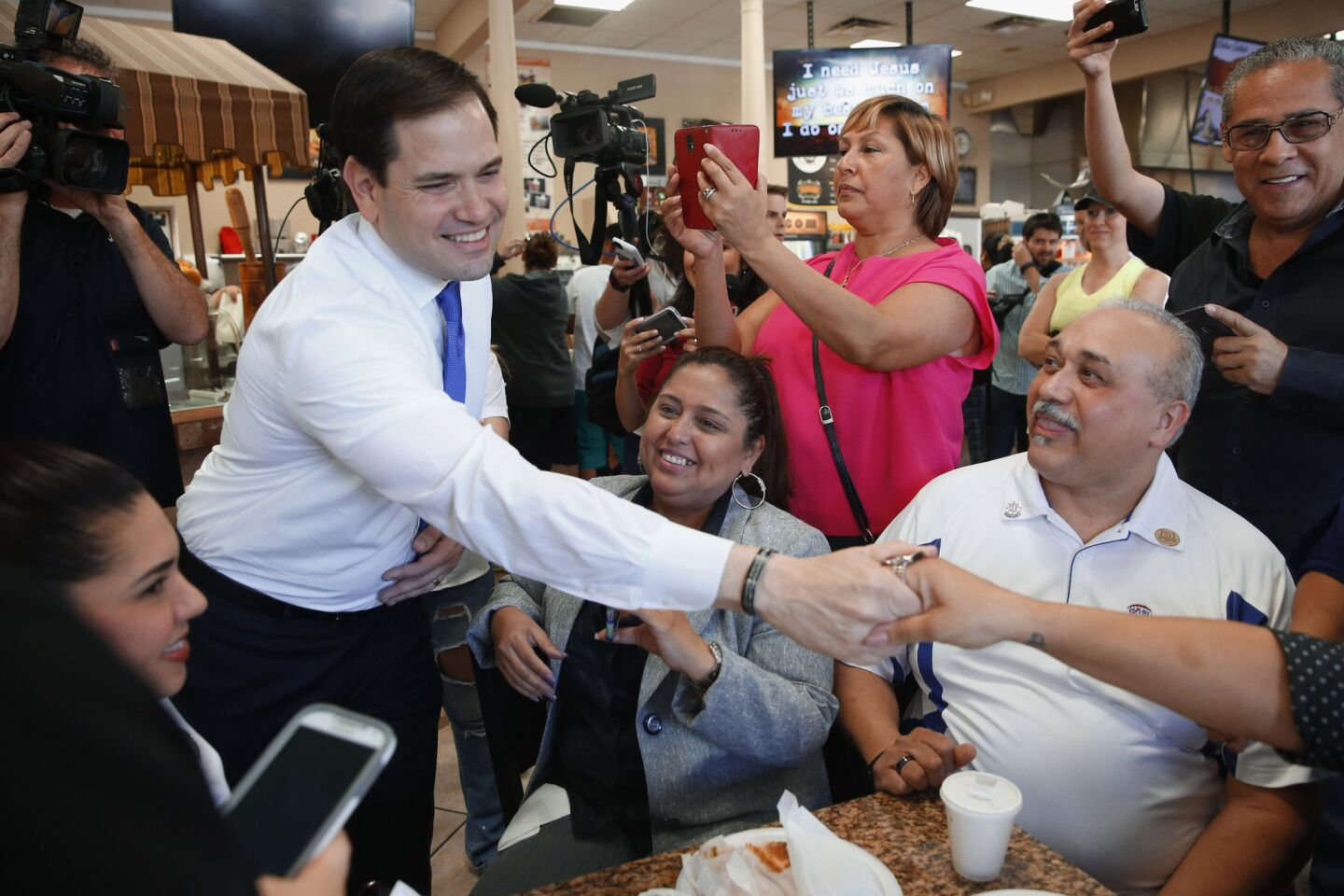 Republican presidential candidate Marco Rubio talks with patrons at a bakery in Kissimmee, Fla.
(Paul Sancya / Associated Press)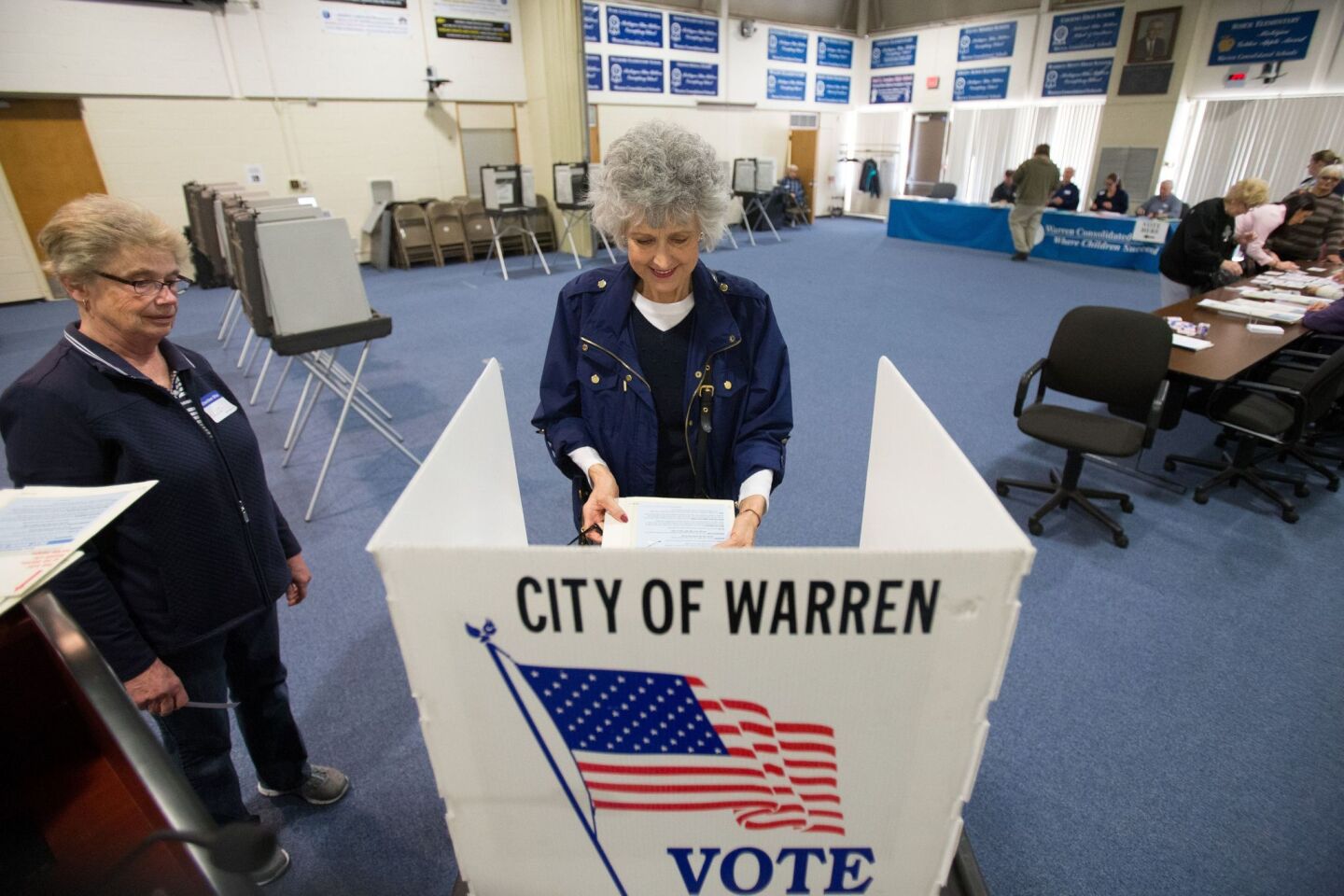 People vote in Warren, Mich., in the state's presidential primary.
(Geoff Robins / AFP-Getty Images)
Republican presidential candidate John Kasich campaigns in Lansing, Mich.
(Scott Olson / Getty Images)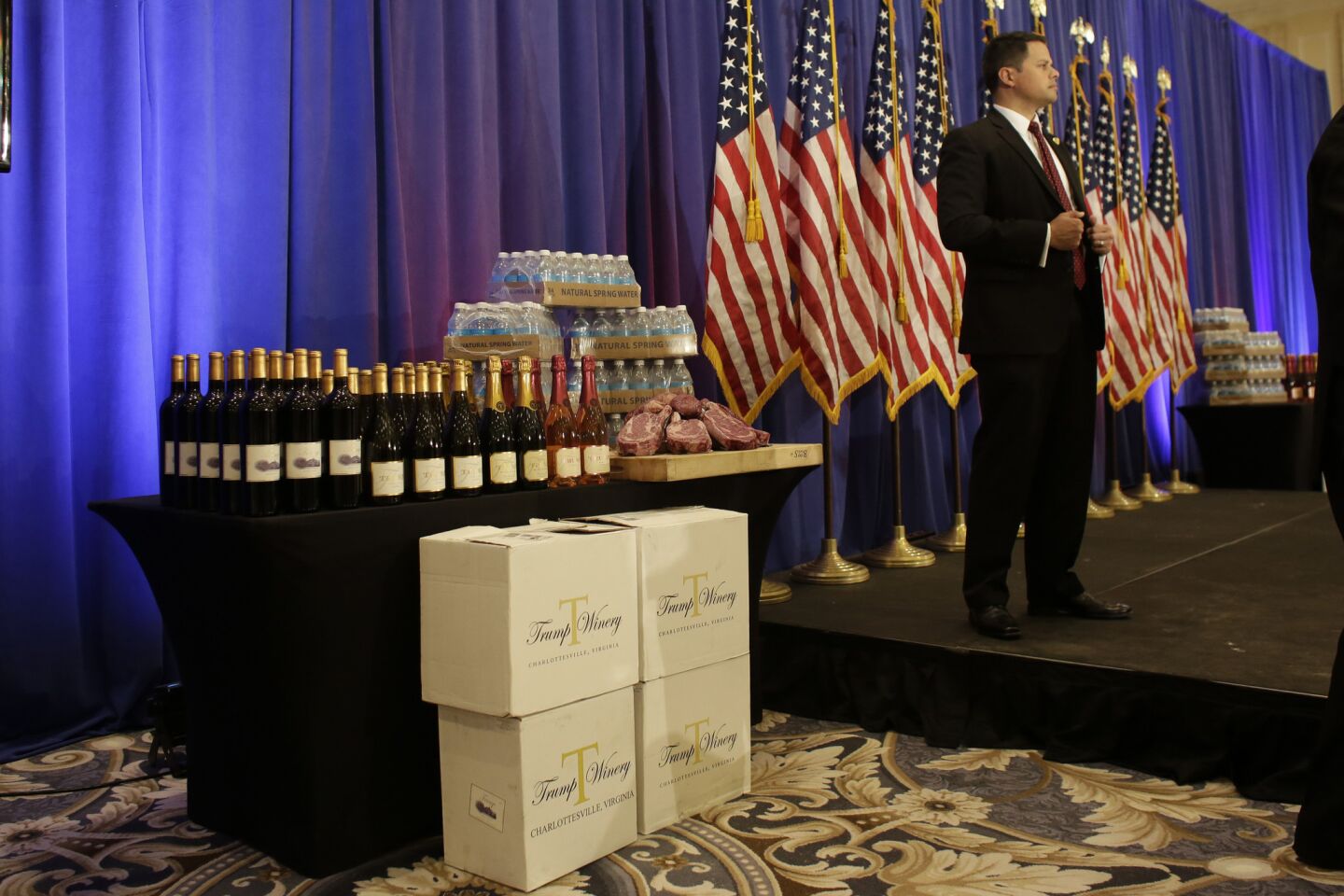 A Secret Service agent stands on the stage before a Donald Trump news conference in Jupiter, Fla.
(Lynne Sladky / Associated Press)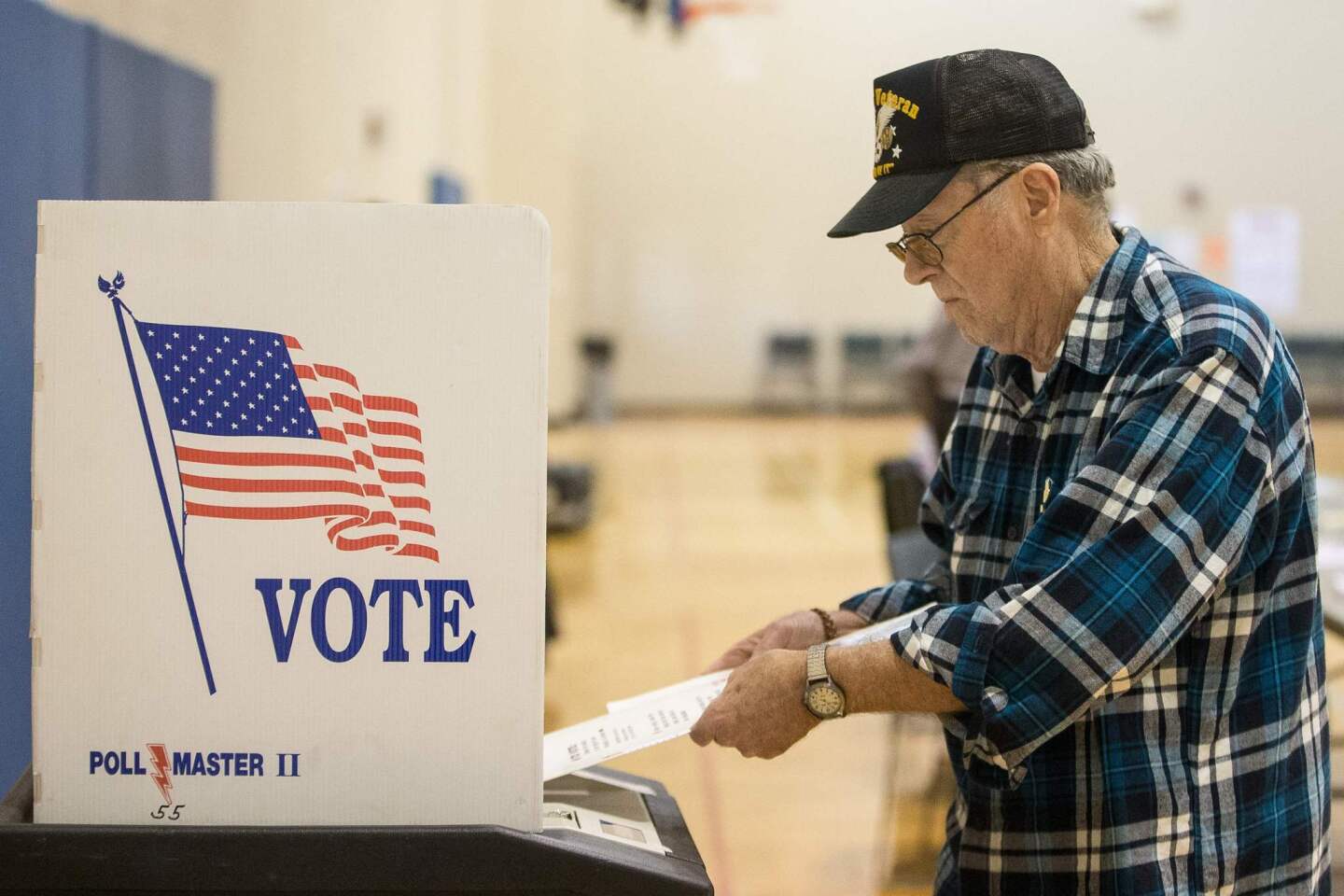 Voting in Warren, Mich.
(Geoff Robins / AFP-Getty Images)
Hillary Clinton visits a bakery in Detroit.
(Bill Pugliano / Getty Images)
A poll worker instructs voters at a polling station in Warren, Mich.
(Geoff Robins / AFP-Getty Images)
Ted Cruz greets supporters in Kannapolis, N.C.
(Gerry Broome / Associated Press)
Clinton, speaking in Ohio, which holds its primary in a week, focused on criticizing the Republicans and offered praise for the tone of the campaign Sanders has run.
Although she and Sanders disagree on some issues, "those differences pale in comparison to what's happening on the Republican side," she said. "Every time you think it can't get any uglier, they find a way."
"The divisiveness and the mean-spiritedness, that's not going to move us forward. We need to stand united," she added.
At times Clinton sounded much like Sanders, taking aim at unscrupulous corporations and the wealthy.
"We're going to stand up to corporations that seem to have absolutely no loyalty to this country that gave them so much in the first place," she said.
In the close-in Detroit suburb of Grosse Pointe Woods, a mixed-income and racially diverse city that was once heavily Republican but lately has been shifting to the middle politically, it was clear from talking to voters as they walked into the polls that Clinton had not sewn up the race.
"I feel like I trust him," Karlyta Williams, a development coordinator for a nonprofit group, said of Sanders. "He is very levelheaded, and I like that. I don't need a lot of emotion out of my
candidates." Williams, 34, said she worries about how she is going to afford to send her 11-year-old to college. Sanders' plan to have government cover the cost is a big draw.
Another Sanders voter, Diane Skibinski, put it more succinctly. "We need change," said the 50-year-old property manager. Another voter, who only gave her first name, Liz, was even more succinct: "Revolution, man."
Clinton continued to benefit from support among black voters.
"I like Hillary, Bill, Chelsea and Charlotte. I love them all," Barbara Mason, 71, a letter carrier in Southfield, said of the Clintons, including Chelsea's young daughter. Mason was among several black voters interviewed who expressed puzzlement at the recent effort by Sanders to damage Clinton's standing in Michigan by taking aim at some of the landmark achievements of her husband's administration.
"As a first-generation immigrant, all the things I acquired in this country were because of the good administration of Bill Clinton," said Cyril Tony Nwagurul, who moved to Farmington Hills from Nigeria. "I have some sympathy for Bernie, but when he starts talking about [President] Obama and Bill Clinton, it is like a house divided against itself, and I don't like it."
See more of our top stories on Facebook >>
Outside a Hillary Clinton rally at the Charles H. Wright Museum of African American History in Detroit on Monday night, hip-hop producer Jerry Flynn Dale was on the verge of exasperation as he tried to talk a trio of college students out of voting for Sanders.
"Look up in the sky," he demanded in response to their argument that college should be fully paid for by government. "Is that the pie you are going to eat?"
The argument then shifted to the auto industry bailout, which has been a point of bitter contention in the last few days. Clinton has repeatedly called out Sanders for voting against the bill widely credited with saving the industry from collapse. Radio ads produced by her campaign highlight the vote and the impact it could have had on a state built on car manufacturing.
Sanders responded with an ad of his own, pointing out that he pushed for a bill that would have bailed out the auto industry but left out the provisions that also bailed out Wall Street investment banks.
Across the state in Grand Rapids, which Clinton visited early Monday to talk with a group of software developers, most of them younger than 30, she was already laying the groundwork to move past the primary. She talked extensively about how she would reach out to Sanders supporters were he to drop out of the race, recalling how difficult it was for her supporters to back Obama after she dropped out in 2008.
"I had a lot of passionate supporters who did not feel like they wanted to support then-Sen. Obama," she said. "I worked as hard as I could. I nominated him at the convention. I made the case, because he and I shared a lot of the same views."
Sanders made clear Tuesday night that he does not anticipate making a similar pitch to his supporters anytime soon. Instead, he had other plans: winning other big states where it not long ago looked like he did not stand a chance.
Times staff writer Chris Megerian in Sacramento contributed to this report.

For more on Campaign 2016, follow me: @evanhalper
ALSO
Who's winning the race for delegates in both parties?
Super PAC consultant who spent $100 million on Jeb Bush is unapologetic
Get our Essential Politics newsletter
The latest news, analysis and insights from our politics team.
You may occasionally receive promotional content from the Los Angeles Times.