Kansas ponders a Democratic shift as the governor's race between Kris Kobach and Laura Kelly goes down to the wire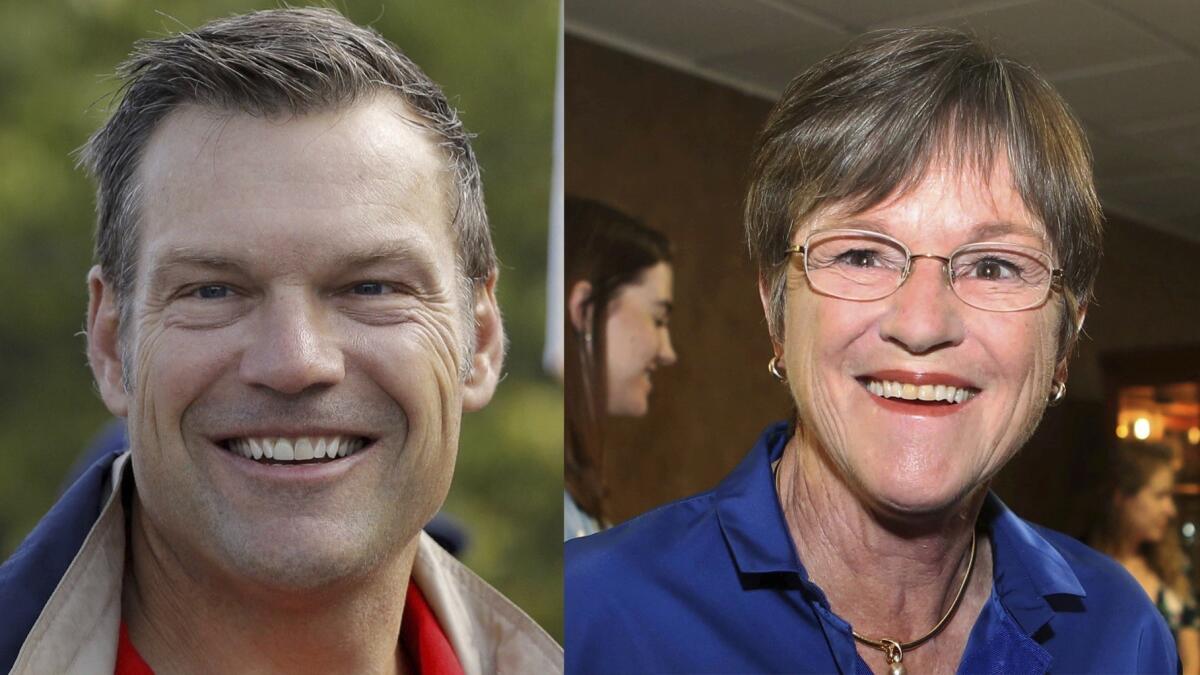 Reporting from Hutchinson, Kansas —
On Monday, former Kansas Gov. Bill Graves, a Republican, did what a lot of former elected officials do: He hit the trail again to campaign on behalf of an up-and-coming candidate.
Except there was something highly unusual about the candidate, Laura Kelly, who arrived with Graves at a bookstore in this small town in central Kansas.
Kelly is a Democrat. Graves was trying to help defeat the candidate from his own party, Kris Kobach, the secretary of state.
"Every vote is going to count, and we just can't let this one get away from us," Graves said, urging the crowd holding Kelly signs to get their friends to the voting booths.
Kansas, where Republicans outnumber Democrats by at least 14%, is poised to shift leftward for Tuesday's election, with Democratic candidates polling competitively in the races for governor and two of the state's four congressional districts.
In the congressional races, Kansas Democrats have undoubtedly benefited from the national surge of energy from liberals seeking to win Democratic control of Congress as a check on the Trump administration.
In the governor's race, the momentum to the left is more homegrown. It traces back to conservative Republican Sam Brownback, a former governor whose 2012 tax cuts sent the state government into a financial and political tailspin and made him deeply unpopular.
Many conservative legislators who supported Brownback were swept out of office in 2016, as weary Kansas voters defied the national pattern that brought Trump to power and voted in more moderate Republican and Democratic legislators.
The tax cut was repealed soon afterward. Brownback left office early this year when Trump named him ambassador-at-large for religious freedom and Lt. Gov. Jeff Colyer took over temporarily.
Now, the conservative and moderate wings of the state's Republican party are at odds over Kobach, whose hard-line positions on immigration and voting laws align him closely with Trump.
Kobach, a nationally known figure, enjoys near universal name recognition in the state, but a recent Fort Hays State University survey of Kansas adults found he is burdened by a 49% disapproval rating compared with 17% disapproval for Kelly, a soft-spoken state senator from Topeka. The latest polls showed the two candidates in a statistical tie.
Even among Republicans, Kobach has "unusually high negatives," said Patrick Miller, a political science professor at the University of Kansas. "In the polling, he's losing about 20% of Republicans to Laura Kelly. … There is a chunk of his own party that does not care for him."
At a busy GOP campaign office in Wichita filled with volunteers, Kobach was dismissive of Graves' campaigning for his Democratic opponent.
"He was a very liberal Republican governor," Kobach said of Graves. "It's a recurring theme, these so-called Republicans say they're endorsing the Democrat."
Kelly has won an endorsement from a second Republican former governor, Mike Hayden.
Running on a message of stabilizing the state education budget and other public services hurt by the economic chaos of the Brownback years, Kelly rejected the idea that the election was a referendum on Trump.
"No, this election is all about Kansas, if anything it's a referendum on the Brownback administration," she said. "That's what got us where we are, and I think that's what people want to slam the door on."
The outcome of the election will probably determine whether Kansas expands Medicaid coverage under the Affordable Care Act. Moderate Republicans in the state Legislature allied with Democrats to pass expansion only to see it vetoed by Brownback. Kelly supports expansion and Kobach opposes it.
"The support for Medicaid expansion all across Kansas has been a surprise. That's a bit of a change from several years ago," Kelly said in an interview in Hutchinson, attributing part of the reaction to rural hospitals in the state shutting down over financial woes. "People are very, very enthusiastic about that."
Which is one reason that Kelly has the support of John Buser, a 77-year-old retired refrigeration engineer from Arlington who wears a cowboy hat and identifies as an independent.
"We've got to keep our hospitals," he said.
FULL COVERAGE: Election Day 2018 »
The X-factor in the race is a third candidate, Greg Orman, a well-known businessman running as a centrist independent.
Polling between 8% and 9%, Orman is thought to be hurting Kelly more than Kobach, by presenting an option for anti-Kobach Republicans who still don't want to vote for a Democrat.
Last week, Orman's treasurer, former state senator Tim Owens, an anti-Kobach Republican, resigned from the campaign for exactly that reason.
"It is time to unite behind Senator Laura Kelly and stop Kris Kobach," Owens said in a statement, adding: "This is a critical election for Kansas. We cannot risk the future of our state."
And someone out there appears to be trying to drive Kelly supporters into Orman's camp. Two Kelly supporters showed the Los Angeles Times duplicate campaign-style text messages they had received Monday on an issue that matters deeply to many Kansans.
"Laura Kelly used to have an A rating from the NRA," it said. "Greg Orman has consistently supported common sense gun laws. Vote Greg Orman. It matters." (Kelly received the gun association's A rating in 2008 but has since been given an F rating for embracing some gun-control policies.)
The messages were sent from separate phone numbers, both of which were "disconnected" when The Times tried to call.
Nick Connors, a spokesman for the Orman campaign, said the message did not come from the campaign — and speculated, without providing evidence, that it was some kind of ploy by Democrats or Republicans to discredit Orman.
Connors rejected the idea that Orman was a "spoiler" and predicted Orman would win the election, despite his low poll numbers.
"The Democrats and Republicans aren't entitled to anything," Connors said. "You can't be a spoiler when the system is already rotten."
Twitter: @mattdpearce
ALSO
Get our Essential Politics newsletter
The latest news, analysis and insights from our politics team.
You may occasionally receive promotional content from the Los Angeles Times.