Don't eat pizza with a fork, and other lessons from the New York primary
Reporting from New York —
If it's New York, it's all about the food.
The five remaining candidates have skipped around the state for the last few weeks ahead of Tuesday's presidential primary, showing their kinship with the locals by eating an enormous amount of food. Preferably, definitively New York food.
Bernie Sanders, the senator from Vermont, showed up at Nathan's Famous to chow down a hot dog with mustard and sauerkraut, in full view of the cameras, bracketed by his wife, Jane, and Michael Stipe, the bearded former lead singer of R.E.M. and one of Sanders' celebrity endorsers.
Earlier, the senator confessed to thousands gathered for his rally on the nearby Coney Island boardwalk that he'd eaten an inordinate amount of the dogs during his Brooklyn childhood.
Hillary Clinton ordered beef-on-weck, a roast beef on a soft roll confection, at Buffalo's Charlie the Butcher restaurant not long ago, and reminded all in hearing range that it was not her first trip there. She later hit the iconic Junior's Cheesecake in Brooklyn.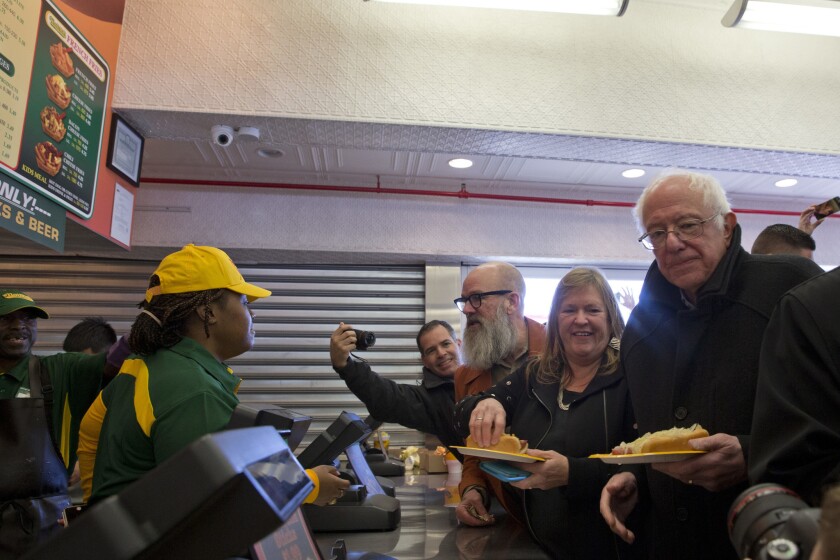 "Oh my goodness," Clinton said as slices of plain, strawberry and pineapple cheesecake were placed in front of her. She gazed at them longingly. But there would be no eating in public.
"I learned early on not to eat in front of all of you," Clinton said. "So, I'm sitting here just pining. Pining for a bite!"
Ohio Gov. John Kasich, a Republican candidate, hadn't learned that lesson--to his detriment two weeks ago when he used a fork to eat pizza at Gino's Pizzeria in Queens.
"Look, look, the pizza came scalding hot, OK?" he later explained on ABC's "Good Morning America."
"Not only did I eat the pizza, I had the hot sausage. It was fantastic."
There were repercussions.
"Kasich's pizza-gate in NY: He used a fork!" brayed a headline on CNN's website.
"John Kasich Humiliates Himself, Eats Pizza Like an Idiot," GQ's website added.
Kasich was later seen eating pizza with his hands.
He might have learned from Donald Trump, the Republican front-runner. In 2011, he was scalded by the tabloids when he and his companion, former Alaska Gov. Sarah Palin, ate their pizza with forks in Manhattan.
"Use Your Hands!" the New York Daily News demanded in a story about what it called their "pizza-eating faux pas."
On Saturday, thankfully, pizza was not on the menu. Kasich arrived in the afternoon at a P.J. Bernstein's deli in the Lenox Hill area of Manhattan, and promptly dove into a bowl of kreplach, a Jewish dumpling soup.
This being New York, fellow diners felt the urge to chime in.
"Governor, is this better than Corky and Lenny's Deli in Cleveland?" said one woman, part of an émigré couple from Ohio.
Kasich declined to compare the two. "I make enough mistakes on my own," he said as he demurred.
The couple soon left as television cameras and fellow diners circled Kasich.
"I just wanted to make him feel at home," the male half said as he passed by.
The restaurant sent over a pastrami sandwich, which Kasich forwarded to an aide. The governor talked to reporters—about delegates and Tuesday's primary—at times armed with a pickle.
"I really want another pickle but I don't want to read about it," he declared after eating two.
Kasich ordered apple strudel for dessert—"not the whipped cream or any of that other fattening stuff," he said. He asked that it be sliced into thirds, to share, and then he got ready to take off for the next stop.
"I commend this restaurant," he said, knowing it would not be the last one he visits this campaign season.
Follow me on Twitter: @cathleendecker. For more on politics, go to latimes.com/decker.
ALSO:
Hillary Clinton fights for African American voters in New York
In brawling Brooklyn debate, Clinton and Sanders define big differences
Obama likely to sit out Democratic primary altogether, White House aides say
---
Get our Essential Politics newsletter
The latest news, analysis and insights from our politics teams from Sacramento to D.C.
You may occasionally receive promotional content from the Los Angeles Times.