Julian Castro calls for surge in federal spending to end homelessness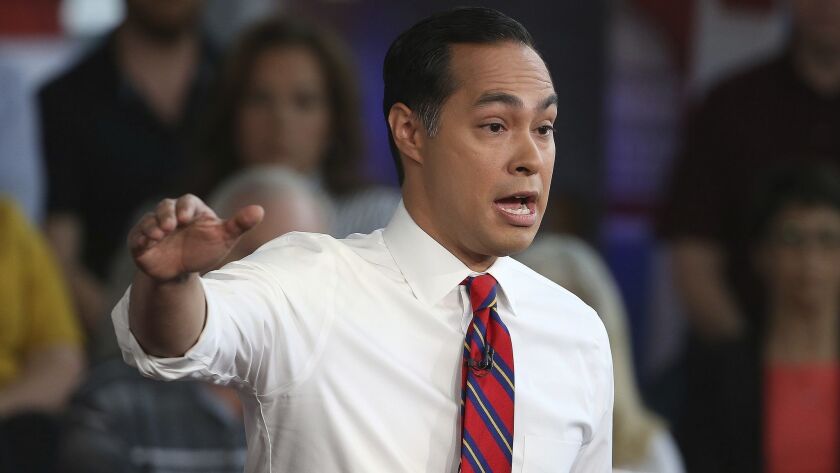 Democratic presidential candidate Julian Castro called for a sharp rise in federal spending on housing for millions of Americans who are living on the street or struggling to pay rent.
Castro, who was secretary of Housing and Urban Development under President Obama, on Monday proposed a federal guarantee of housing for the poor.
"I see housing as a human right," he said in an interview. "Especially in the wealthiest nation on Earth, I don't think there's anybody who should go without a safe, decent place to live."
A former mayor of San Antonio, Castro, 44, said he would quadruple the size of the federal Section 8 rent voucher program, which subsidizes the housing of nearly 5.3 million Americans in low-income households.
The program serves only 25% of eligible households. Castro called for expanding it to the remaining 75%, transforming the program to "a fully-funded entitlement program" similar to food stamps or Medicaid.
Castro said his housing agenda could be funded by repealing President Trump's tax cuts and closing tax loopholes.
He predicted his plan would end homelessness for veterans and children by the end of his first term and put a stop to chronic homelessness by the end of 2028.
Homelessness is a crisis in California. Why are 2020 candidates mostly ignoring it? »
Castro also proposed tripling the government's homeless assistance grants to $7.5 billion. He would also offer a new tax credit for low- and middle-income tenants whose rent exceeds 30% of their income. He plans to detail the rest of his housing agenda Tuesday and Wednesday. It includes protections against housing discrimination, relief from gentrification, support for homeownership and steps to punish abusive lenders.
"This is a huge endeavor," he said.
All told, Castro's housing plans would cost at least $970 billion over 10 years, including $410 billion to expand the rent voucher program, according to his campaign.
Homelessness is widely seen as a growing crisis in California, Oregon, Washington, Nevada, Hawaii and other parts of the country where rising rents have locked the poorest Americans out of the housing market.
A recent survey of homelessness in Los Angeles County found a dramatic increase over last year. The report, released jointly by the county and city of Los Angeles, found the homeless population countywide jumped 12% to nearly 59,000. In the city, it increased 16% to more than 36,000.
Castro, who has struggled to break into the top tier of nearly two dozen Democrats running for president, is the only candidate to make homelessness a major focus of his campaign.
"Obviously, this is an issue that I care a lot about, having seen the effects of both homelessness and this affordability crisis," Castro said.
Julian Castro's run for president banks on Latinos, but it's a steep climb to White House »
---
For reporting and exclusive analysis from bureau chief John Myers, get our California Politics newsletter.
You may occasionally receive promotional content from the Los Angeles Times.