Are Democrats helping Trump by promising healthcare to undocumented migrants?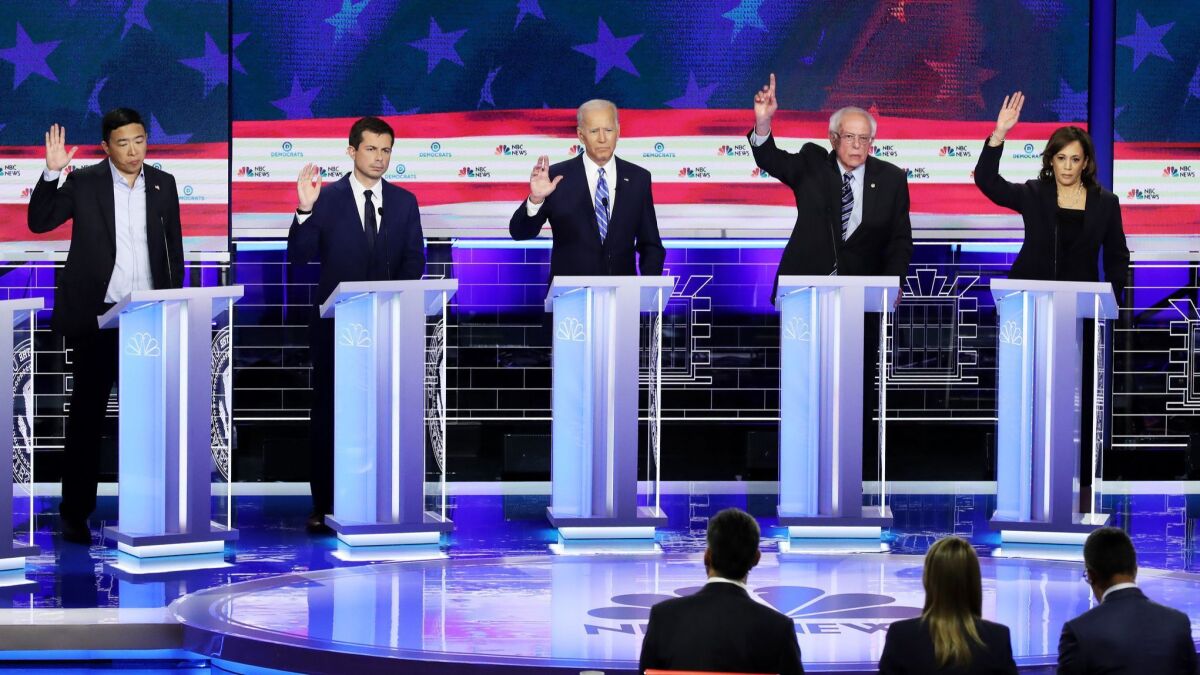 With a sharp left turn, Democrats are risking a backlash on an issue of raw emotional and political sensitivity: providing government healthcare to millions of people in the country illegally.
Ten of the party's roughly two dozen presidential candidates stood on a debate stage last month and, without hesitation, raised their hands pledging themselves to the policy shift. Most others in the field have also expressed their support.
"This is not about a handout," said South Bend., Ind., Mayor Pete Buttigieg. "This is an insurance program. We do ourselves no favors by having 11 million undocumented people in our country be unable to access healthcare."
The promise was consistent with the prevailing sentiment of the party's liberal base. But some worry the candidates have staked themselves too far left, boosting President Trump's reelection prospects.
"There's the question of how you provide healthcare for citizens of the United States and how you provide healthcare for residents of the United States," said Peter D. Hart, a longtime Democratic pollster, who sees an important distinction between the two.
"To make them equivalent is probably a position that is not going to sit well with the mainstream of the electorate," Hart said.
Trump would certainly agree.
The Democratic contestants hadn't even left the debate stage when he weighed in. "How about taking care of American Citizens first!?" Trump said on Twitter.
Days later, he elaborated. "We're going to stop it," he told reporters of the promise to expand coverage to undocumented migrants, "but we may need an election to stop it."
Judges appear skeptical of Obamacare, putting future of law in doubt »
We do ourselves no favors by having 11 million undocumented people in our country be unable to access healthcare.
— South Bend, Ind., Mayor Pete Buttigieg
In crafting the Affordable Care Act, Democrats were acutely sensitive to the fraught politics surrounding immigration and healthcare. To defuse opposition they included language barring undocumented immigrants from enrolling in insurance plans created by the law, even if they were able to pay the full cost.
When President Obama pitched the Affordable Care Act to Congress, he assured lawmakers the landmark legislation would exclude millions of people in the country illegally.
"You lie!" hollered Republican Rep. Joe Wilson of South Carolina, a rejoinder that not only shredded protocol but underlined the emotionalism surrounding the issue.
(Wilson was not only rude but factually off base when he interrupted Obama's 2009 speech and assailed the president.)
Politics aside, advocates say there are practical reasons to extend healthcare coverage to every American, regardless of immigration status.
Hospitals are obliged by federal law to offer emergency treatment to anyone who comes through the door, whatever their immigration status or ability to pay. Historically, that has placed a substantial burden on many urban providers of last resort, such as L.A. County-USC Medical Center.
"We already pay for the healthcare of undocumented immigrants," Julian Castro, one of the Democratic presidential hopefuls, noted on ABC. "It's called the emergency room."
Beyond that fiscal reality, there are public safety considerations.
Many physicians, hospital officials and public health leaders say it makes little sense to deny coverage to undocumented immigrants, warning, for example, that infectious diseases may spread more quickly if people are discouraged from seeking medical care.
The debate over government healthcare for those in the U.S. illegally has long vexed policymakers, marrying fiscal concerns with the tensions surrounding immigration, both legal and illegal, and the demographic changes remaking the face of the country.
In most states, undocumented immigrants are barred from government-subsidized healthcare programs, such as Medicaid, the federal program for the poor and disabled.
California is a notable exception. Since 2016, the state has provided Medicaid to children under 18 regardless of their immigration status. In its new budget, California goes even further by extending the program to low-income immigrants until they turn 26.
The move has been largely greeted with a shrug. A March survey by the nonpartisan Public Policy Institute of California found nearly two-thirds of those surveyed supported Medicaid coverage for young adults without legal status.
"We've gotten relatively little, if any, organized opposition," said Anthony Wright, executive director of the left-leaning advocacy group Health Access. He said the political hurdles faced in covering all undocumented migrants stemmed more from fiscal arguments than philosophical concerns.
That accepting attitude, however, isn't widely shared.
A CNN poll conducted after the Democratic debate found nearly 60% of those surveyed nationwide opposed government-provided health insurance for undocumented migrants. While liberal Democrats were strongly in favor, nearly two-thirds of independents were opposed, as were 61% of self-described moderates.
Those, not incidentally, are the swing voters who tend to decide close elections.
"Most Americans want to make sure that their candidate for president cares about what's good for the whole country, not just what's good for one subset of people," said Lanae Erickson, a politics and policy analyst at Third Way, a center-left Washington think tank.
Trump has consistently used the immigration issue to portray Democrats as weak on border security and more concerned with immigrants than the country as a whole, Erickson said, and candidates "need to be careful they're not making his job easier."
Debate takeaways: Sparks from Biden and Harris, honesty from Buttigieg »
Yet even as Democrats push for greater access to coverage — through "Medicare for all" or marketplaces created under the Affordable Care Act — Trump has moved in the opposite direction.
Recently, the administration unveiled its so-called "public charge" regulation, which could deny green cards — a step toward citizenship — to immigrants who receive certain forms of government assistance, such as Medicaid.
That further concerns public health officials and medical leaders who see immigrant parents forgoing health insurance for their children — even if their offspring are U.S. citizens — for fear that seeking care could jeopardize their chances of securing a green card.
Some believe Trump's pugnacious policies and the humanitarian crisis on the border with Mexico have softened attitudes toward undocumented immigrants and made voters more sympathetic to their plight.
Celinda Lake, a Democratic strategist who has done extensive research on healthcare issues, professed not to worry about a voter backlash, so long as presidential candidates make clear they're not just concerned about people in the country illegally.
"The biggest risk for Democrats is not being too liberal but not talking about things that deliver for working- and middle-class families," Lake said. "The people in these debates were pretty good … with a ready answer about 'what are you going to do about healthcare for my family?'
"It's not 'either-or,' it's 'both,'" Lake said, "and we're much better getting 'both' out there."
Barabak reported from San Francisco and Levey from Washington. Times staff writer Melanie Mason contribution to this report.
---
Life is stressful. Our weekly mental wellness newsletter can help.
You may occasionally receive promotional content from the Los Angeles Times.