Hillary Clinton's expected claim of the nomination and other things to watch for in Tuesday's primaries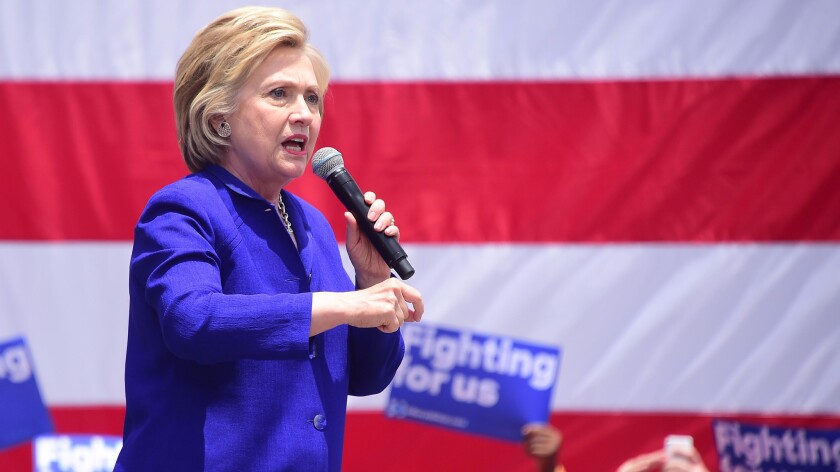 We're almost there, the end of the line. Voters in California and five other states – New Jersey, New Mexico, North Dakota, South Dakota and Montana – cast ballots Tuesday in the final big round of primaries in the battle between Hillary Clinton and Bernie Sanders for the Democratic presidential nomination.
Here's what we're watching for:
History will be made.
In 57 U.S. presidential elections, no major party has nominated a woman for president. Clinton is on track to be the first, and the Associated Press reported Monday night that she had secured enough delegates to clinch the Democratic Party's nod. Clinton is expected to solidify her hold on the nomination once polls close in New Jersey at 8 p.m. Eastern. She's holding a rally in Brooklyn, N.Y., to mark the occasion.
Superdelegates, superdelegates, superdelegates.
Expect a lot of talk about Democratic superdelegates, elected officials and party leaders who can choose which candidate to support. Although the overwhelming majority of them plan to back Clinton, they don't vote until the convention in July, so Sanders has insisted Clinton should not be considered the presumptive nominee.
Such an argument ignores both recent history and the popular vote. Presidential candidates can ascend to presumptive-nominee status after securing a majority of pledged delegates, as Clinton is on track to do, not just when competing candidates have dropped out.
It's also unlikely that Sanders will be able to sway superdelegates to his side. Clinton has won more votes, more states and more pledged delegates, meaning superdelegates would have to be willing to override the preference of the majority of the electorate to support him. In addition, superdelegates are members of a Democratic establishment that has been solidly behind Clinton since the beginning of the race.
Election 2016 | Live coverage on Trail Guide | Track the delegate race | Sign up for the newsletter
Can Sanders win California?
Although Clinton is widely expected to have claimed the nomination before polls even close in California, the state is still the single biggest delegate prize of the day. Sanders has been campaigning nonstop here, hoping a victory will strengthen his hand for influencing the party platform at the convention and show the staying power of his political coalition.
The reaction from Sanders in the coming days could signal how hard he's still willing to press his case.
During the 2008 campaign, Clinton dropped out in June after a hard-fought race and threw her support to Sen. Barack Obama. Sanders, however, has pledged to fight until the party convention in July in Philadelphia. But decisive outcomes have a way of changing candidates' behavior, even those who vowed just days or hours earlier to fight on until the end. See Texas Sen. Ted Cruz's about-face after the Indiana GOP primary last month or even former Florida Gov. Jeb Bush's exit from the race after losing in South Carolina, despite having announced a schedule of campaign events in Nevada.
In recent days, Sanders has added new criticisms of Clinton to his standard attack lines. He has said she has a conflict of interest because of donations from foreign governments to the Clinton Foundation, which was set up by her husband. Democratic leaders will be watching to see if he keeps making a case against Clinton, or starts laying the groundwork for a unified front against Donald Trump, the presumptive Republican nominee.
Does President Obama get the green light?
Obama was considered the presumptive nominee in 2008 once a mix of pledged delegates and superdelegates put him over the threshold, so he'll likely apply the same thinking to Clinton. He's been eager to hit the campaign trail against Trump, but has mostly stayed on the sidelines while waiting for the Democratic primary to play out.
Although he's hinted at his support for Clinton, this week might be his chance to make that explicit. Obama appears likely to only make a move once the after-effects of Tuesday's results have settled, including whether Sanders reiterates his vow to press on to Philadelphia or backs away from it.
Twitter: @chrismegerian
ALSO:
Analysis: Clinton and Sanders are a study in contrasts on the final weekend of campaigning
Donald Trump's attack on judge and other racial comments stir trouble for the Republican Party
How President Obama is campaigning for a philosophy, not just a candidate
---
Get our Essential Politics newsletter
The latest news, analysis and insights from our politics teams from Sacramento to D.C.
You may occasionally receive promotional content from the Los Angeles Times.