Avenatti firm's bankruptcy petition is rejected by judge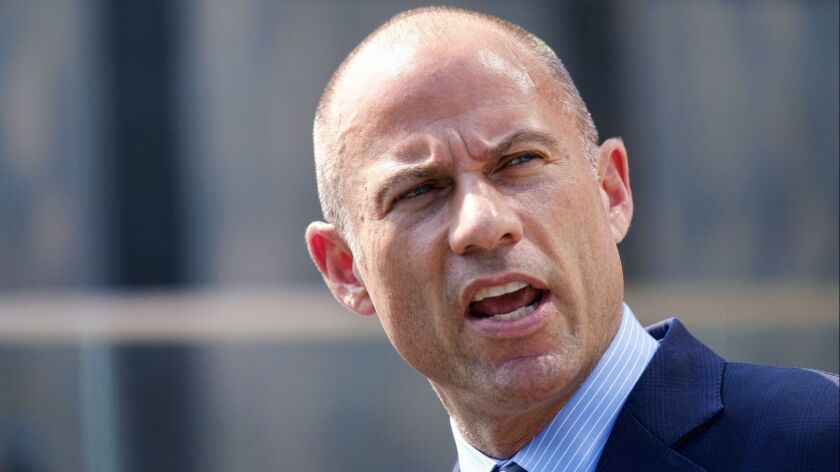 A federal judge has dismissed the bankruptcy petition filed last week by Michael Avenatti's longtime firm Eagan Avenatti and raised the prospect of sanctioning the celebrity lawyer.
Judge Catherine Bauer of U.S. Bankruptcy Court in Santa Ana ordered Avenatti to testify May 8 at a hearing on allegations by creditors of the firm that he submitted its petition for bankruptcy protection in bad faith.
Bauer's quick dismissal of the case came at the request of Jason Frank, a former Eagan Avenatti lawyer who alleged in court papers that the petition was "fraudulently filed" in a maneuver to thwart Frank's collection of a $10-million judgment against the firm.
"Mr. Frank is pleased that the judge dismissed Mr. Avenatti's bad-faith bankruptcy petition," Frank lawyer Andrew Stolper said.
Frank had previously filed papers accusing Avenatti of hiding millions of dollars from the judge in 2017 when Bauer was overseeing the firm's previous bankruptcy. Frank withdrew the papers when Avenatti agreed to the appointment of a receiver to take control of the firm's financial affairs.
Under a court order, the firm's receiver had sole authority to file for bankruptcy. Avenatti filed for bankruptcy in defiance of the receiver, who had told him that he lacked the power to do so.
Avenatti, who denies wrongdoing, said he did not expect to be sanctioned.
"Much ado about nothing — old law firm," he said by email.
Avenatti no longer identifies his law practice as Eagan Avenatti, but continues to use an Eagan Avenatti email address and still features the firm's former Newport Beach office on his website.
The office landlord, the Irvine Co., which evicted Eagan Avenatti in November for nonpayment of rent, filed court papers backing Frank's motion for dismissal of the bankruptcy. It cited Avenatti's acknowledgment in the petition that Eagan Avenatti still owed the Irvine Co. more than $500,000.
In the bankruptcy petition, Avenatti listed a new address for the firm, on Sunset Boulevard in Echo Park. Eagan Avenatti is currently fighting an eviction proceeding for those offices, too.
On Friday, Avenatti is scheduled to testify in Los Angeles Superior Court in another Frank debt collection proceeding. Frank is trying to collect a $4.85-million personal judgment that he won against Avenatti for the portion of the firm's $10-million debt that the latter had personally guaranteed.
---
Get our Essential Politics newsletter
The latest news, analysis and insights from our politics teams from Sacramento to D.C.
You may occasionally receive promotional content from the Los Angeles Times.