How being a dad made Obama a feminist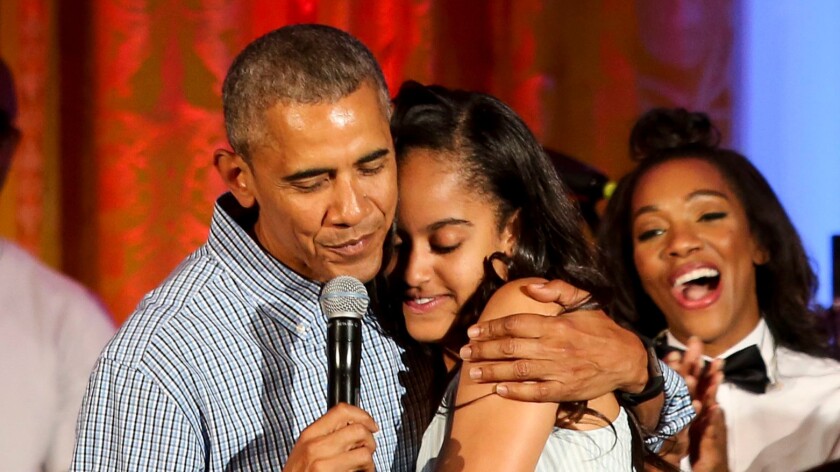 To celebrate his 55th birthday, President Obama penned a piece for Glamour magazine about being a feminist.
"This is an extraordinary time to be a woman. The progress we've made in the past 100 years, 50 years, and, yes, even the past eight years has made life significantly better for my daughters than it was for my grandmothers," he wrote. "And I say that not just as president but also as a feminist."
Obama is the first sitting president to publicly declare himself a feminist. A few more things he acknowledges in his article:
He considers a woman who ran for president his personal heroine.
No, not that woman. In 1972, African American Congresswoman Shirley Chisholm launched a presidential campaign for the Democratic Party's nomination.
Two other name-checked inspirations: his mother and grandmother.
"The most important people in my life have always been women," he wrote.
I'd like to think that I've been pretty aware of the unique challenges women face — it's what has shaped my own feminism.
President Obama
He recognizes the missteps he's made as a dad and husband.
Obama wrote that while daughters Sasha and Malia were young, he knew his wife, Michelle, was under more parenting pressure than he was.
"I've seen how Michelle has balanced the demands of a busy career and raising a family. Like many working mothers, she worried about the expectations and judgments of how she should handle the trade-offs, knowing that few people would question my choices," he wrote.
But at the same time, his busy schedule didn't allow for a lot of hands-on time.
SIGN UP for our free Essential Politics newsletter »
President Obama speaks at the Democratic National Convention.
"The reality was that when our girls were young, I was often away from home serving in the state legislature, while also juggling my teaching responsibilities as a law professor," he said. "I can look back now and see that, while I helped out, it was usually on my schedule and on my terms. The burden disproportionately and unfairly fell on Michelle."
Today, though, that's different: He jokingly gloated about how his commute has been cut down to 45 seconds — the amount of time it takes to walk from the living room to the Oval Office.
"As a result, I've been able to spend a lot more time watching my daughters grow up into smart, funny, kind, wonderful young women," he wrote.
He got a unique perspective on feminism after having daughters.
"When you're the father of two daughters, you become even more aware of how gender stereotypes pervade our society," Obama wrote. He talks about how growing up, his dad wasn't around, and he had to figure out what it meant to be a man all on his own, but didn't give a lot of thought to what it meant to be a woman. Watching his own daughters, he sees the challenges they face.
"You see the subtle and not-so-subtle social cues transmitted through culture," he wrote. "You feel the enormous pressure girls are under to look and behave and even think a certain way."
Ultimately, he wrote, it's up to men and women to work together to end sexism and give both genders equal opportunity.
"That's what twenty-first century feminism is about: the idea that when everybody is equal, we are all more free."
Find Jessica Roy on Twitter @jessica_roy.
ALSO
Obama says Trump is 'unfit to serve,' and Trump threatens to walk away from leading Republicans
Watch: Michelle Obama on the historic nature of Clinton's nomination
Malia Obama will take a gap year, then attend Harvard in 2017
---
Get our Essential Politics newsletter
The latest news, analysis and insights from our politics teams from Sacramento to D.C.
You may occasionally receive promotional content from the Los Angeles Times.