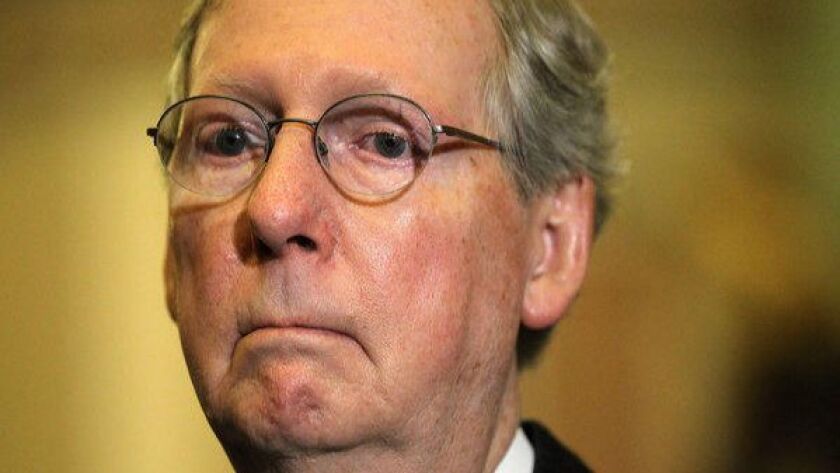 Reporting from Washington —
Senate Republican leaders on Thursday abruptly scrapped a vote on the nomination of Ryan Bounds for the U.S. 9th Circuit Court of Appeals, a reminder of how a single GOP senator's objection can derail a judicial confirmation when all Democrats unite against it.
The White House chose to pull the nomination rather than have it fail, Senate Majority Whip John Cornyn of Texas said.
It was a rare setback in President Trump's otherwise impressive record of appointing judges to the federal bench.
And it comes as Republicans are embarking on an effort to quickly confirm Trump's nominee to the Supreme Court, Judge Brett Kavanaugh, ahead of the midterm elections.
Democratic senators have so far refused to even meet with Kavanaugh, saying they first want assurances that the Senate Judiciary Committee will have broad access to records and papers related to his long history of activity in Washington, including with Kenneth Starr's probe of former President Clinton.
The nomination of Bounds, 45, currently an assistant U.S. attorney for the District of Oregon, appeared to be headed for confirmation earlier in the day, despite the objections of both of Oregon's Democratic senators.
But Sen. Tim Scott of South Carolina, the Senate's only African American Republican, said he had reservations about some of Bounds' college writings, which dealt with racial divisions on campus. The Alliance for Justice, a liberal legal advocacy group, said Bounds used "racist and offensive language" in writings while at Stanford University.
"Ryan Bounds is the author of offensive material about people of color, rape survivors, LGBTQ people and others — material he hid from Oregon's judicial selection commission in an attempt to evade thorough vetting," the group said Thursday.
In his writings, Bounds compared diversity training to a "pestilence," ridiculed multiculturalism and criticized race-based groups on campus.
Bounds apologized during his May confirmation hearing, saying he used "overheated" language. "I share the concerns of many that the rhetoric I used in debating campus politics back in the early '90s on Stanford's campus was often overheated, overbroad," he said at the time.
As the Senate moved toward a vote, Oregon's Democratic Sens. Jeff Merkley and Ron Wyden pleaded with Republican colleagues late into the night Wednesday, urging them to vote no and saying Bounds had not disclosed the writings to their in-state judicial nominee review committee.
"The candidate essentially believed particular offensive writings weren't available online and so nobody would know about them," Wyden said. "As we talked to senators, they came away saying, 'That's not fair play.'"
The Senate was at a standstill for nearly an hour Thursday as Majority Leader Mitch McConnell of Kentucky and fellow Republicans tried to reach a resolution behind closed doors. McConnell eventually came to the Senate floor to deliver the news, simply stating, "The nomination will be withdrawn."
It was the first time President Trump has been forced to withdraw a nomination to an appellate court, though several nominations to district courts have been withdrawn amid questions about experience.
Republicans hold a slim 51-seat majority in the Senate, and with Sen. John McCain (R-Ariz.) absent while he battles brain cancer at home, they can't afford to lose any GOP members, assuming Democrats all vote against a nominee.
The same math will apply to Kavanaugh, who began making the rounds on Capitol Hill last week. But no Democrat has sat down with him, pointing to the ongoing debate over how much of Kavanaugh's lengthy career in Washington, including several years in the George W. Bush White House, they should be able to review before a vote can be called. His writings could amount to as many as a million pages.
California Sen. Dianne Feinstein, the highest ranking Democrat on the Judiciary Committee, said the Bounds withdrawal is proof senators need to review everything.
Feinstein has compared Democrats' request to see Kavanaugh's full record to Republicans' request to review Justice Elena Kagan's record at the Clinton White House during her confirmation process. At that time, Republicans did not refuse to meet with Kagan until their document request was fulfilled.
"If Republicans agreed that Bounds is not qualified because of what he wrote in college, how could they possibly argue that material from Brett Kavanaugh's time in the White House and as a political operative aren't relevant?" she said. "If Republicans are so concerned about the speed at which Kavanaugh is considered, they should get on board with a request for all documents related to Kavanaugh's record as soon as possible."
Senate Minority Leader Charles E. Schumer of New York has urged Democrats to not meet with Kavanaugh until Republicans show a willingness to negotiate over the release of the records.
More stories from Sarah D. Wire »
Follow @sarahdwire on Twitter
Read more about the 55 members of California's delegation
---
UPDATES:
2:20 p.m.: This article was updated with more details about Bound's writings and the Kavanaugh confirmation process.
This article was originally published at 12:50 p.m.
---