5 things to watch for in California's tight congressional races that could decide control of the House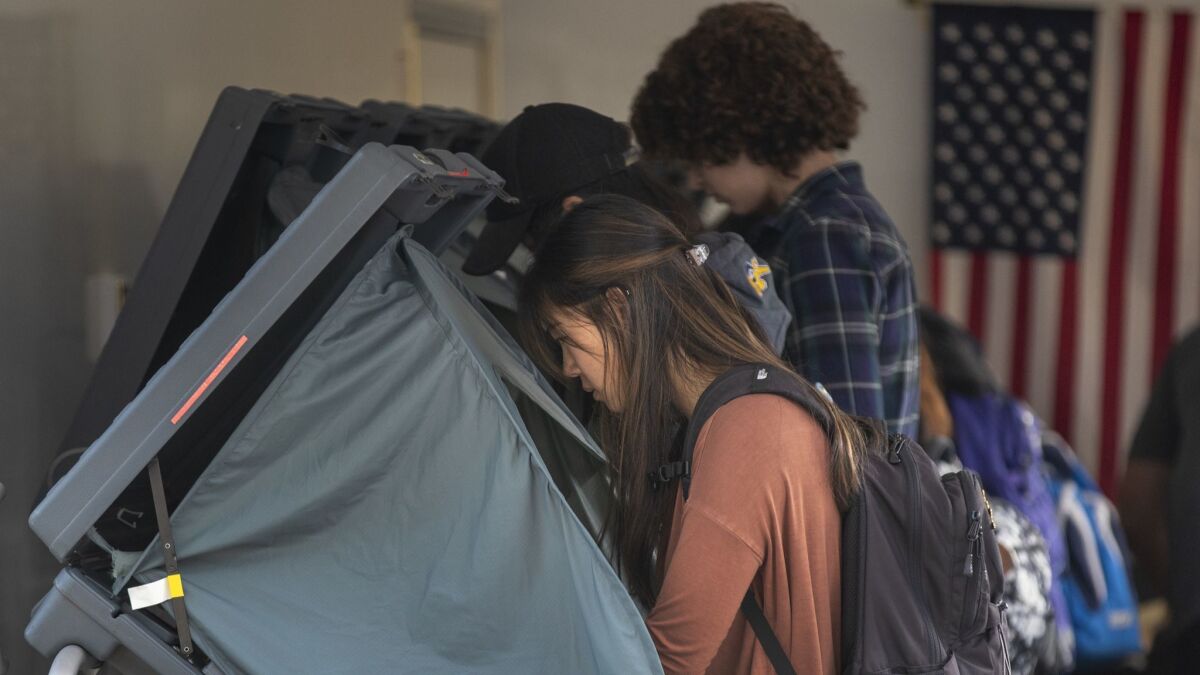 Of all the things nobody can predict in the epic congressional contests in California on Tuesday, the biggest is just who will show up to vote and who won't.
Nearly 4 million Californians cast their ballots early, mostly by mail. That suggests higher-than-average turnout for a midterm, but short of a presidential-election spike.

For the record:
8:05 p.m. Nov. 6, 2018An earlier version of this story incorrectly reported that San Clemente is in California's 48th Congressional District. It is in the 49th.
Voters who lean toward Democrats are most prone to skip elections, strategists say, so the higher the turnout, the better the prospects for Democrats.
"If you're having a big turnout, it's coming from somewhere, and it's more likely to be coming from the low-performing universe of voters historically," said Bill Carrick, a Democratic consultant in Los Angeles.
The Republican Party holds just 14 of California's 53 House seats, and that turf could shrink still further Tuesday if the voter backlash against Donald Trump's presidency is as strong as polls suggest.
Most of the nearly $300 million spent on the state's House campaigns has gone to just a half-dozen races, according to the nonpartisan California Target Book election guide. In all six of those districts, Republicans are defending a seat that Democrats are trying to snatch away.
The concentration of spending in districts now held by Republicans is a sign of the lopsided state of play nationwide in the battle for control of the House.
In Orange County, where four of the party's House seats are in jeopardy, and in other suburbs from coast to coast, many voters repelled by Trump are shifting toward Democrats, endangering the Republican majority, polls show.
GOP leaders have all but given up on one of the races, offering virtually no help to Diane Harkey, the Republican vying against Democrat Mike Levin to succeed GOP Rep. Darrell Issa in the coastal 49th Congressional District straddling San Diego and Orange counties.
Democrats need to gain 23 seats across the country to win control of the House, giving California an outsize role in the battle for control of Congress. California's vote count is notoriously slow, so the results in multiple contests could remain uncertain Tuesday night.
"This thing could stretch out for weeks," said Kevin Spillane, a Republican strategist in San Diego.
Here are five things to watch for in the California contests:
How many besieged Republicans will survive the early-vote test?
Shortly after the polls close at 8 p.m., the first tallies to be released will be the mail ballots that arrived before election day.
Republicans tend to outperform Democrats among voters who cast ballots early by mail, so the evening's first tally should not look too bad for the GOP, said Paul Mitchell, vice president of Political Data, a nonpartisan firm that tracks voting patterns.
Voters who cast ballots in person typically skew toward Democrats, so the outlook is unlikely to improve for Republicans once the initial numbers are reported, Mitchell said.
If Republicans "are losing any of those seats in the early vote, they are going to lose the seat," he said.
Can party loyalty save Rep. Dana Rohrabacher?
In coastal Orange County, GOP Rep. Dana Rohrabacher faces a storm of attack ads by Democrat Harley Rouda and his allies in the 48th Congressional District.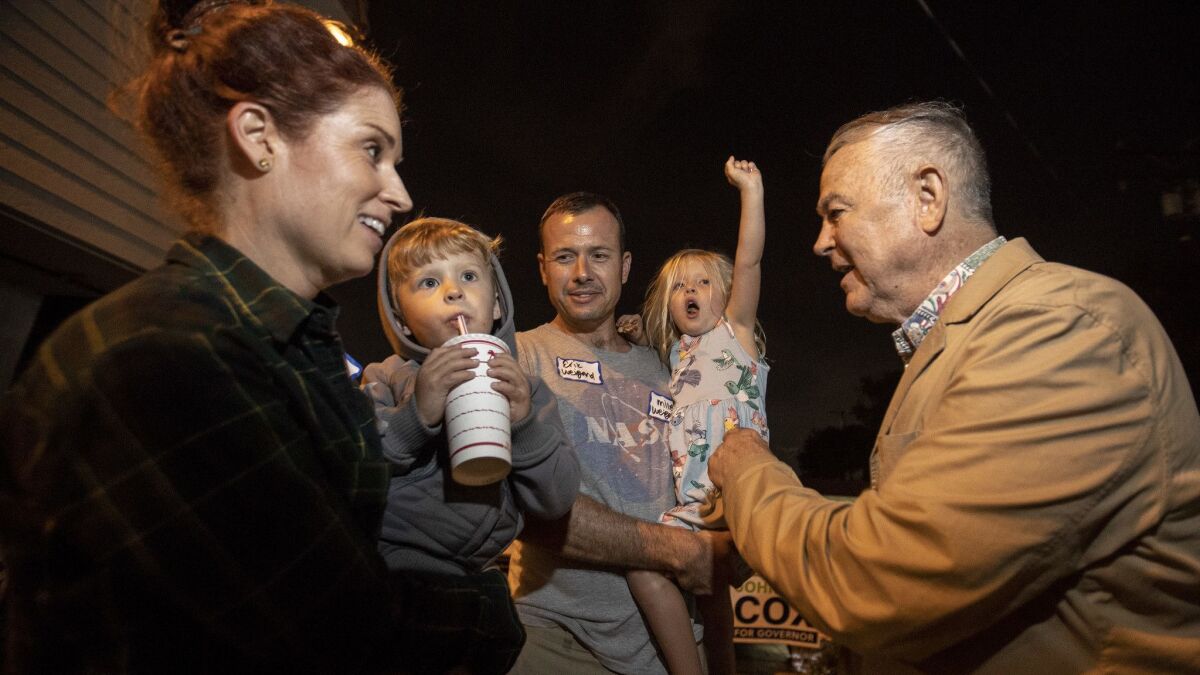 Rohrabacher, who has weathered years of sour headlines over his friendly posture toward Russia, has been badly outspent, and he has attracted less help from national party leaders than similarly endangered Republicans.
But Republicans hold a 10% advantage in party registration over Democrats in the district, giving the incumbent a stronger foundation than any of the other five GOP candidates in close races in Southern California and the Central Valley.
Conservative bastions like Newport Beach and Huntington Beach voted for Trump in the 2016 presidential election, even though Rohrabacher's district as a whole favored Democrat Hillary Clinton. Will they stick by Rohrabacher?
Will Latinos vote in large numbers?
The rising clout of Latino voters is the primary reason California has drifted from the Republican Party over the last two decades. It's also one of the main forces eroding Orange County's standing as a GOP stronghold.
But interest in the midterm election among Latino voters hasn't matched the intense levels seen among white voters with college degrees, especially women.
Latinos are a younger population, on average, with less voting history. In past contests, many have focused on the election only in the final weeks. A big Latino turnout on Tuesday could put Democrats over the top in key races.
One of them is in the 10th Congressional District in the Modesto area, where 28% of registered voters are Latino. Republican Rep. Jeff Denham is trying to fend off a challenge from Democrat Josh Harder.
Will party leanings transcend ethnicity?
Latinos typically favor Democrats in California and, for the most part, so do Asian Americans.
In the 39th Congressional District race to succeed retiring GOP Rep. Ed Royce of Fullerton, philanthropist Gil Cisneros, a Latino Democrat, is facing Republican Young Kim, an immigrant from South Korea.
The inland Orange County district's voters are 24% Latino and 21% Asian. If Kim, a former state Assembly member who was a longtime aide to Royce, can attract an unusually high number of Asian American voters, it might be enough to keep this seat Republican.
How badly will Democrats perform with white blue-collar voters?
In upscale suburban districts like the 45th in the Irvine area of Orange County, white voters with college degrees pose a major threat to the GOP incumbent, in this case Rep. Mimi Walters. Those voters have turned especially hard against Trump, and their support for Democrat Katie Porter, a consumer lawyer, could cost Walters her seat.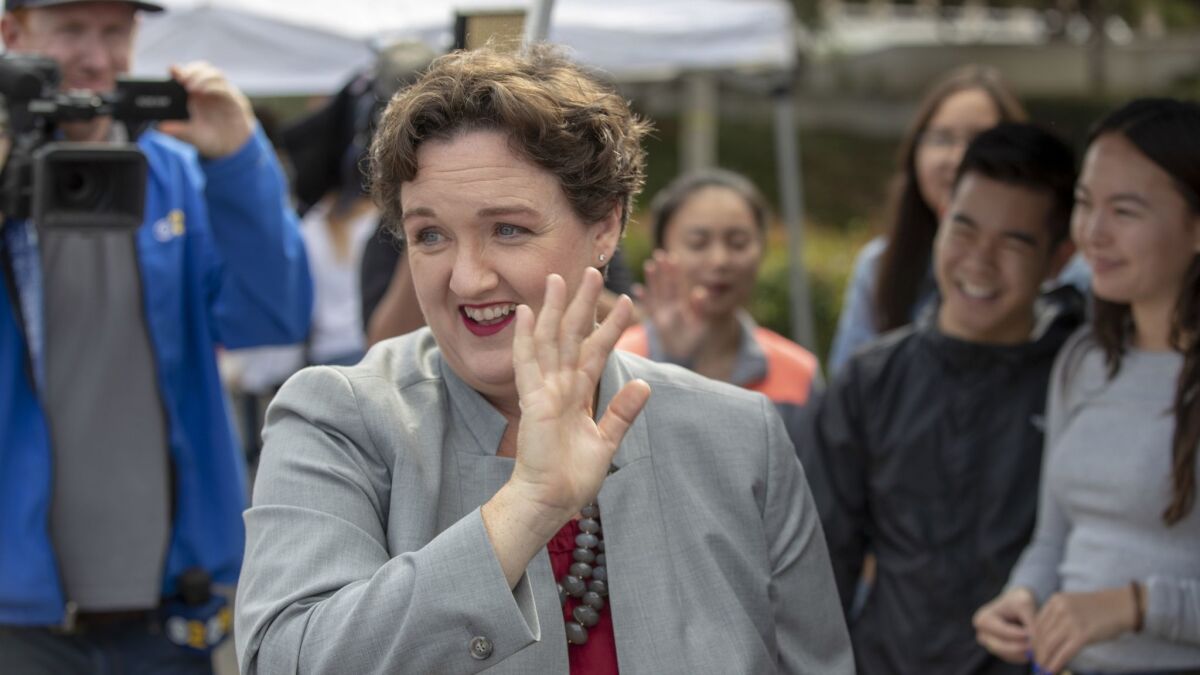 But more blue-collar suburban districts, such as Republican Rep. Steve Knight's in the 25th Congressional District on the northwest edge of Los Angeles County, could be a tougher challenge for Democrats. Trump's strongest base of support is white men with no college degree.
Knight's Democratic rival, Katie Hill, a former leader of a nonprofit that provides services to the homeless, has attracted more than $18 million in independent spending by Democratic groups, in part to help her overcome this obstacle.
Twitter: @finneganLAT
---
Life is stressful. Our weekly mental wellness newsletter can help.
You may occasionally receive promotional content from the Los Angeles Times.