Trump tempers talk of emergency at border, but eyes California projects for wall funds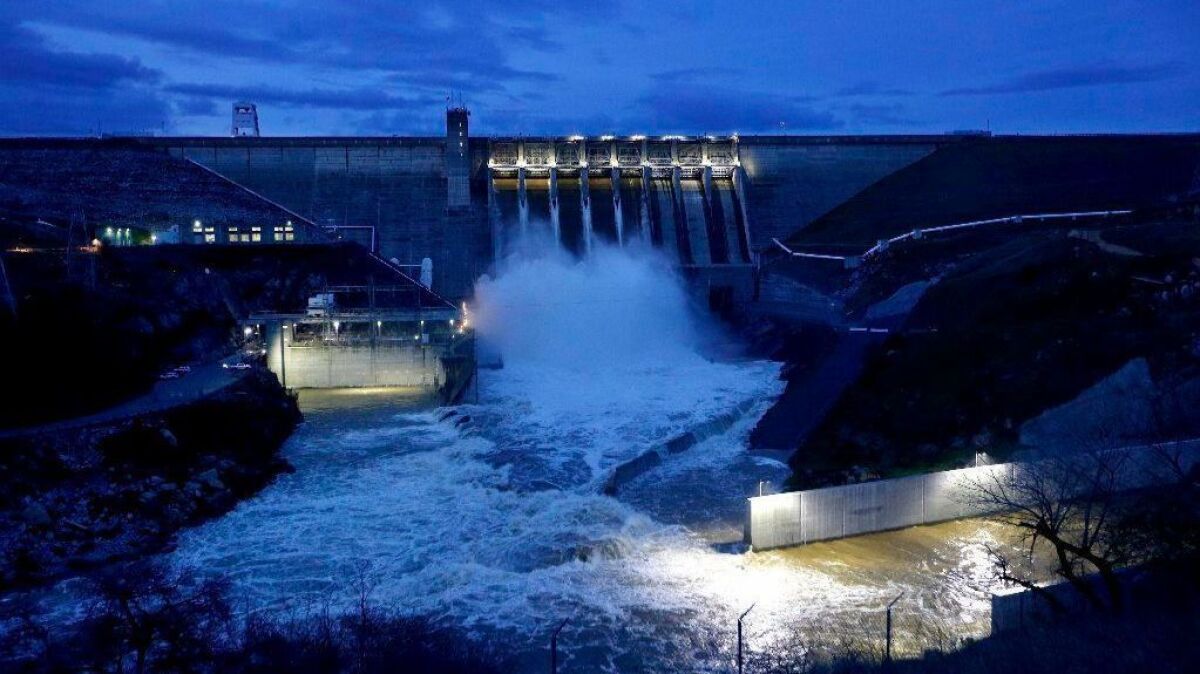 Reporting from Washington —
As the federal government's partial shutdown became tied on Friday for the longest one ever, President Trump tempered his talk of declaring a national emergency on the southern border that could free him to spend money on a wall there.
The president insisted on his power to make the declaration, which could allow him to divert federal funds for other purposes to a wall. Yet after days of resistance from some congressional Republicans, he no longer sounded notes of urgency about taking such action.
"I'm not going to do it so fast," Trump told reporters at the White House.
"We want Congress to do its job" he added. "What we're not looking to do right now is national emergency."
Still, the president has been considering diverting billions of dollars in funds designated for U.S. Army Corps of Engineers projects in California and Puerto Rico. By declaring a national emergency on the U.S.-Mexico border, he could claim power to tap such previously approved military funds.
On his way to the border in Texas on Thursday, Trump was presented with a list of 13 Corps of Engineers projects for which Congress has allocated money, but which have not yet been put under contract, according to Rep. John Garamendi (D-Walnut Grove).
The president first suggested a week ago that he might declare a national emergency, and while in Texas he said several times that he was strongly inclined to do that, declaring it his "absolute right."
Members of Congress in both parties have said that would be an abuse of executive power, but many also have noted that a declaration would seem to make moot the issue at the center of the government-funding impasse that's shuttered many federal agencies for three weeks — Trump's demand for $5.7 billion to build a 234-mile stretch of wall.
Once the president got his money elsewhere, Congress could pass -- and he could sign -- legislation funding the quarter of the federal government for which spending hasn't been approved for the remainder of this fiscal year, through Sept. 30.
Yet White House officials on Friday could not say whether Trump would do so. On Saturday, the shutdown will be in its 22nd day, making it the longest ever. The previous record was set by a shutdown that began in late 1995 and extended into the new year.
This week, for the first time, about 800,000 federal employees did not receive a paycheck; several hundred thousand of them are considered essential to public safety and must work anyway.
The House voted 411 to 7 on Friday to provide back pay to workers furloughed by shutdowns; the Senate had already passed the bill, and Trump said he would sign it. The House Republicans who opposed the bill were Reps. Justin Amash of Michigan, Andy Biggs and Paul Gosar of Arizona, Glenn Grothman of Wisconsin, Thomas Massie of Kentucky, Chip Roy of Texas and Ted Yoho of Florida.
Administration officials confirmed Thursday that they were looking at a range of government accounts that Trump potentially could tap into if he declares an emergency, but they would not comment on which projects were being eyed.
Garamendi, who serves on the House committee that oversees water projects, said he had been told that specific California projects totaling $2.46 billion were targeted, including some in his district north and west of Sacramento, as were $2.5 billion worth of projects in hurricane-ravaged Puerto Rico. He would not say who provided the information.
Several of the projects on the list, Garamendi said, have been in the works for years if not decades, and some are in their final stages. They include raising the height of Folsom Dam on the American River in Northern California, protecting Lake Isabella in Kern County from leaking as a result of earthquakes, enlarging the Tule River and Lake Success in the Central Valley and building shoreline protections in south San Francisco.
"Each of these flood-control projects are specifically designed to save the lives of millions of Americans," Garamendi said. "If it's not done this year, or next year, will it make a difference? Maybe not, or maybe it will make all the difference."
"Word came to us" that Lt. Gen. Todd Semonite, the commanding general of the Army Corps of Engineers, "accompanied the president to Texas to specifically discuss projects that could be reprogrammed to provide $5 billion for Trump's wall," Garamendi said. "I know that these projects were identified. I do know that these projects were presented to him."
Dozens of water projects across the country are funded with Army Corps money, and other lawmakers on the House committee that has jurisdiction say they have concerns about which ones might lose appropriations.
"Floods usually do not follow political boundaries, so I think you would have ... a lot of bipartisan concern," said the House Transportation and Infrastructure Committee chairman, Rep. Peter DeFazio (D-Ore.).
Democratic and Republican representatives said they had received little to no guidance from the White House.
The ranking Republican on the House tax-writing committee, Rep. Kevin Brady of Texas, says the administration is looking at a variety of places for money, but he's confident that Army Corps disaster relief or disaster prevention projects will not be the source.
"They are assessing throughout the breadth of government what are the unobligated funds and what could be tapped in the short term," Brady said.
Californians in Congress from both parties said Thursday they'd oppose taking funds from the state projects.
"It's a declaration of war on Californians if he were to do that," said Rep. Jared Huffman (D-San Rafael). Rep. Doris Matsui (D-Sacramento), has contacted the Army Corps about the importance of the projects to strengthen levees along the American and Sacramento rivers and to raise the level of Folsom Dam. She said, "Sacramento really needs this lifesaving funding to increase our resiliency against flooding."
Rep. Doug LaMalfa (R-Richvale) said he was concerned about taking money from projects in Puerto Rico as well as from flood control in California, and that any move needs careful consideration.
"Let's do a cease-fire on this stuff — have everyone turn off their Twitter for seven days," LaMalfa said.
Trump has remained adamant that a wall is needed to solve what he calls a "crisis" at the border, fighting harder than he has at any time in the last two years, when Republicans controlled both chambers of Congress. Democrats, now a majority in the House, are just as dug in that a wall would be costly and ineffective.
Negotiations to resolve the shutdown broke down earlier this week, and Sen. Lindsey Graham of South Carolina, one of Trump's closest Republican allies, urged the president in a statement Friday to "declare a national emergency now. Build a wall now."
In his comments Friday, the president said he could easily issue an emergency order, but inevitably a court battle would ensue, as it did with the travel ban on people from Muslim-majority countries that he imposed after taking office. That order was initially blocked by federal courts but, after significant revisions, was upheld by the Supreme Court.
Democrats have said they will challenge any such move in court. Several of Trump's advisors and Republican members of Congress have cautioned against it, fearing he would lose in court or that the attempt to use emergency powers would set a precedent that a future Democratic president could use to bypass Congress.
Trump asserted that his opponents would go to the U.S. 9th Circuit Court of Appeals, which covers California and is known as liberal-leaning, and that it would overturn an emergency order.
"Fortunately, we have a Supreme Court that's treated us very fairly," he added, referring as he often does to the high court's conservative majority, solidified by Trump's two appointees.
Pictures in the News | Friday Jan. 11, 2019 »
The president emphasized that he'd prefer that Congress act. "I don't care what they name it," he said of a wall, reiterating that he doesn't care if it's made of cement or steel, if that's what his opponents want. "They can name it Peaches," he said.
Political advisors and media figures who favor Trump's hard-line immigration positions have been telling him since his election that his political fate was tied to the wall, and that now he has no choice but to act alone, given not only Democratic opposition but also tepid support from Republicans.
"I said this in the first three weeks: 'You do not have a wall and you will not be president in 2020,'" said Stephen K. Bannon, Trump's former campaign chief and White House strategist. "There is zero probability you will be elected."
"There's no doubt he's going to declare the emergency," Bannon added. "The traditional appropriations process has shown him that he's not going to get a penny for the wall."
Times staff writers Noah Bierman and Jennifer Haberkorn contributed to this report.
More stories from Sarah D. Wire »
Twitter: @sarahdwire
---
Life is stressful. Our weekly mental wellness newsletter can help.
You may occasionally receive promotional content from the Los Angeles Times.