Can climate-friendly cuisine help save the planet? Welcome to Zero Foodprint week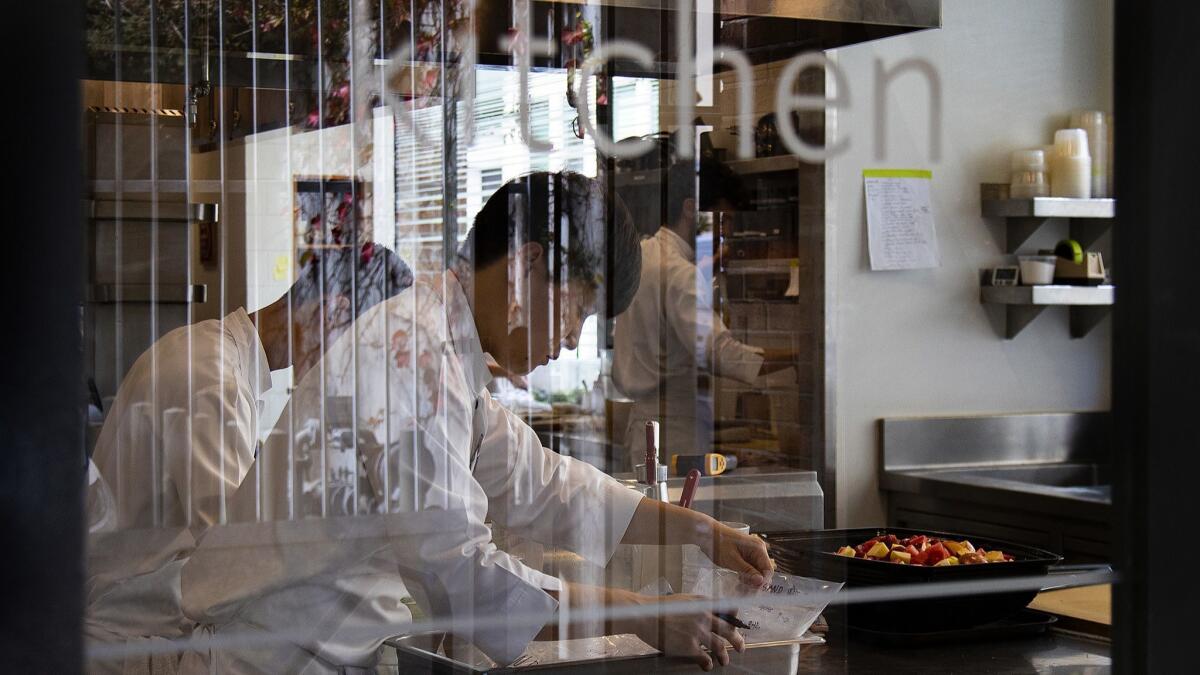 Reporting from San Francisco —
No one was surprised that the cows were a major culprit. But quail eggs? That was unexpected.
When the fashionable San Francisco eatery In Situ did a top-to-bottom review of its carbon footprint, they found a lot of issues. That was the point.
Now it is among 60 restaurants promising a carbon-free dining experience this week. Why? Because this is San Francisco, and chefs want to ensure that Gov. Jerry Brown's global climate summit is fit for foodies, complete with esoteric menus worth a cameo on "Portlandia."
But the movement is no joke. Food is fast emerging as one of the more intractable — and overlooked — climate problems. Hence Zero Foodprint week.
The three-day summit is embracing the food challenge whole hog, enticing delegates with carbon-neutral menus, holding climate cuisine seminars for restaurateurs, and soliciting governments for weighty pledges focused on sustainable soils and waste reduction.
"We learned that none of the climate action plans drafted to date address the issue of food," Gwyneth Borden, executive director of the Golden Gate Restaurant Assn., said in an interview Wednesday. "We are eager to bring it into the conversation and set some benchmarks and goals the industry can agree on."
A day earlier Borden had spoken at a seminar affiliated with the climate summit and geared toward food professionals. Among the panels: "Chew-sing the right ingredients." As in choosing.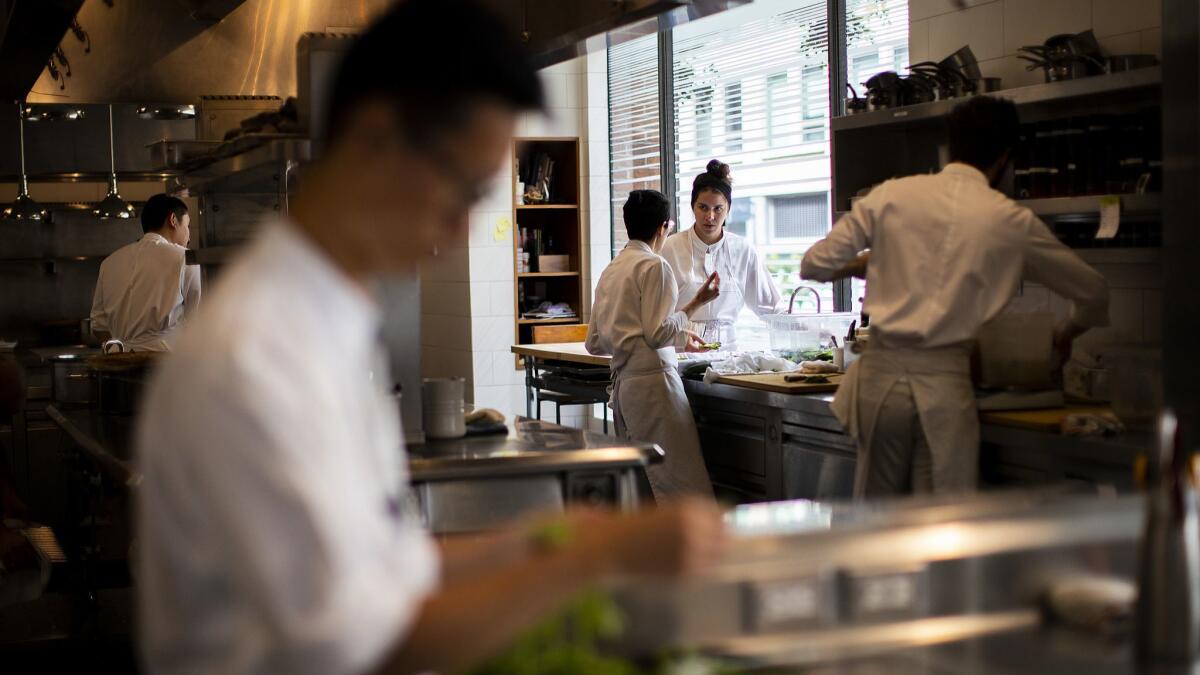 But there is a much bigger conversation about food happening at the summit.
The event is built on five pillars, and food sustainability is one of them. Food waste alone creates about 8% of all human-caused greenhouse gas emissions. In the U.S., that is the equivalent of the emissions spewed by 43 million cars.
Some 1.3 billion tons of produce, meat, seafood and grain get thrown out or spoil on the farm or during distribution — theoretically more than enough to feed every undernourished person on the globe.
The political leaders at the summit are exploring options to dramatically cut such waste, and to shift agricultural practices to more sustainable models that promise considerably lower emissions.
Restaurants taking part in Zero Foodprint week aim to set an example that the rest of the food industry can embrace — not just high-brow establishments selling such items as the "Apocalypse Burger," a tasty creation built around a modest grass-fed beef patty that is plated to look like a charcoal briquette — a no-no because it's pure carbon.
"The dish is an allusion to the backyard barbecue — the iconic symbol of American leisure and wastefulness — with the briquette serving as the physical embodiment of carbon, stored prior to release into the atmosphere," says a menu note from the creator of the dish, chef Anthony Myint.
"A lot of people are still thinking in terms of Farm to Table 1.0," said Myint, co-founder of the Zero Foodprint organization. "It's, 'Oh I want to know about the farmer.' It's quaint. I don't think people are thinking about it like, 'Oh, this is actually the most practical and biggest-impact choice I can make on a daily basis.' We need to get Farm to Table 2.0."
Myint obsesses over every stage of the food that lands on the tables of his restaurants, which include the Perennial and Mission Chinese Food, and how it affects the planet. If everyone else in the food business were as meticulous, he argues, it would help reduce the emissions that lead to global warming.
His diners can afford the added cost of carbon-neutral dining. Now he and other like-minded restaurateurs are trying to figure out how to export the climate-conscious culture to more modest establishments.
The Apocalypse Burger is on the menu this week at In Situ, the sophisticated restaurant tucked into the San Francisco Museum of Modern Art that Myint does not own but that embraces his philosophy. And In Situ's "thousand year" quail eggs that emerged as so climate-unfriendly? They still rotate in, too.
But the restaurant offsets the impact they cause by investing in a sustainable ranch in Marin County that claims a pioneering approach for raising cattle, one that scientists say could help reduce methane from cows and other greenhouse gases from the world's expanding beef consumption were it embraced by industrial beef producers.
Diners who order the $13 Apocalypse Burger are charged an extra buck to cover the offsets. A note on the menu explains it.
"The note often sparks conversation," said Jasmine Peterlin, project manager at In Situ. "People ask, 'What is Zero Foodprint cuisine?' They are curious."
Everyone else pays a flat offset fee to dine in the carbon-neutral restaurant. At In Situ, that's 25 to 35 cents a person. Sister restaurants Benu, which has three Michelin stars, and Monsieur Benjamin also charge a flat fee, along with a small group of other restaurants in San Francisco and around the world.
Their footprint is measured by the Zero Foodprint organization. Restaurant owners fill out a survey listing their ingredients, energy usage and other factors, and a firm called 3Degrees completes an assessment of their emissions.
"We would like every burger and fast food restaurant to be in the same place," Borden said. "The idea is to change an entire industry's thinking about this."
As unrealistic as that sounds, the participation in the climate summit of mega-companies like McDonald's opens the possibility that they can be nudged along. They may not be selling Apocalypse Burgers anytime soon, but a small change in practices by such giants can go a long way in climate mitigation.
As for the impact of Zero Foodprint week, it is not insignificant. As of Wednesday evening, its organizers claimed credit for averting roughly the same amount of emissions as 928,000 gallons of gasoline.
"You have to start somewhere," said Pete Pearson, senior director of food loss and waste at the World Wildlife Fund. "These restaurants being engaged doesn't hurt. Everyone needs a good example."
The latest look at the Trump administration and the rest of Washington »
More stories from Evan Halper »
evan.halper@latimes.com | Twitter: @evanhalper
Get our Essential Politics newsletter
The latest news, analysis and insights from our politics team.
You may occasionally receive promotional content from the Los Angeles Times.