Judge casts doubt on ex-Trump lawyer's request for a gag order to stifle Michael Avenatti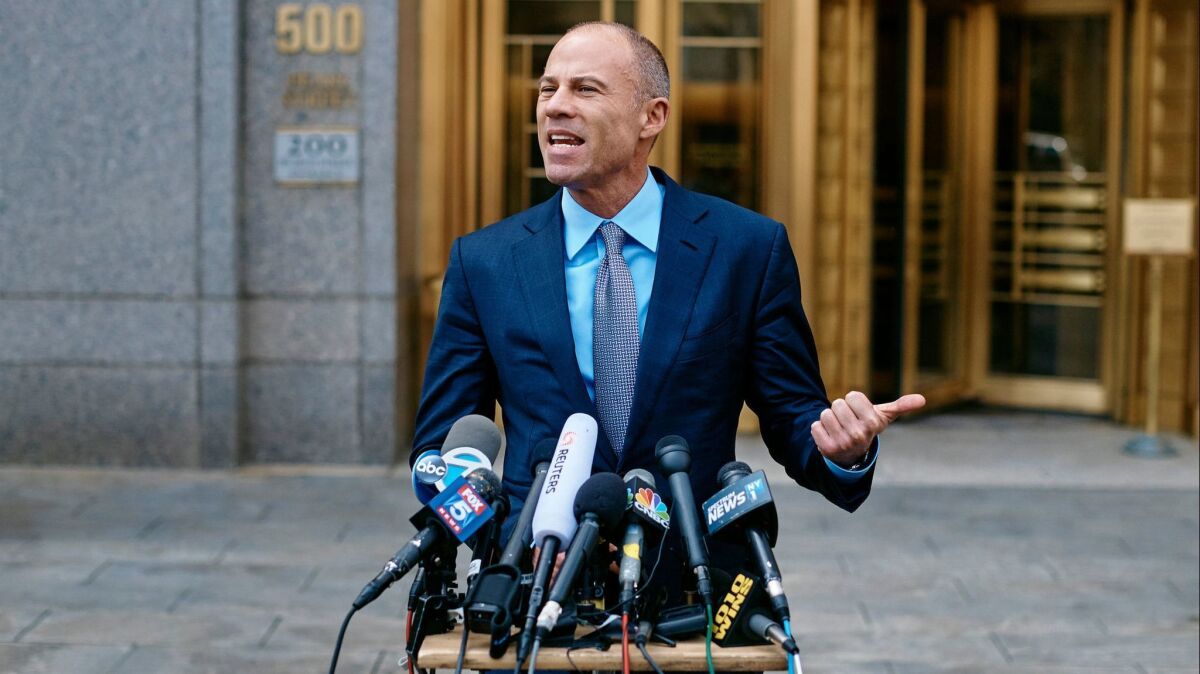 A federal judge said Friday that he was inclined to deny the request by Michael Cohen, President Trump's former personal lawyer, for a gag order to stop attorney Michael Avenatti from attacking him in the news media.
At a hearing in Los Angeles, U.S. District Court Judge S. James Otero said he was concerned about Avenatti's frequent attacks on Cohen. Avenatti has called Cohen "a dishonest thug" and predicted he would soon be indicted.
But Otero voiced skepticism about whether the court could impose "prior restraint" on Avenatti's comments to the media without violating his 1st Amendment right to free speech.
"I'm not sure you really appreciate the significance of the order that you're asking the court to issue," Otero told Brent Blakely, Cohen's attorney.
Otero, who gave no indication when he would rule on Cohen's request, is presiding over a lawsuit filed by porn actress Stormy Daniels to void the nondisclosure agreement that bars her from speaking publicly about what she says was a one-night stand with Trump in 2006. Avenatti is her attorney.
Cohen, who orchestrated the deal in the closing weeks of the 2016 presidential race, is under investigation by federal prosecutors in New York for — among other things — potential campaign finance violations involving his payment of $130,000 in hush money to Daniels, whose real name is Stephanie Clifford.
Otero said Avenatti had an "absolute right" to raise questions about Cohen's conduct in media interviews, admonishing Blakely for dismissing his adversary in court papers as a "small-town carnival magician."
"This is serious business," Otero said.
Blakely told Otero there were limits on free speech.
"You can't run into a movie theater and yell fire," he said.
Avenatti's rhetorical assaults threaten to prejudice potential jurors, Blakely argued.
Otero, citing more than 70 Avenatti interviews on CNN alone, said he shared concerns expressed by U.S. District Judge Kimba Wood in New York that Avenatti's attacks could threaten Cohen's right to a fair trial by tainting the jury pool.
But in the Los Angeles case, Otero said, the lawsuit simply seeks to void a confidentiality pact.
Avenatti told the judge that Trump lawyer Rudy Giuliani had called Cohen "a pathological liar" Thursday on CNN, suggesting it was the president's legal team that risked compromising Cohen's rights and questioning why the gag order targeted only Avenatti.
Otero responded that Giuliani was not involved in the L.A. lawsuit. He also questioned Cohen's accusation that Avenatti had violated rules of professional conduct for lawyers. Cohen, the judge suggested, might have broken the rules by secretly taping conversations with his own clients, including Trump.
"The irony of all of this does not escape me," Otero said.
After the hearing, attorneys for Cohen and Trump departed with no comment while Avenatti spoke to reporters on the courthouse steps.
"Americans deserve to know the truth about their elected leaders, what they knew, when they knew it and how they covered it up," Avenatti said. "And what you witnessed today was a continued effort by the president of the United States and Michael Cohen to silence me and to prevent the truth from being exposed."
Avenatti went on to predict that Cohen would be disbarred.
"This guy has no business having a law license," Avenatti said.
Twitter: @finneganLAT
---
Life is stressful. Our weekly mental wellness newsletter can help.
You may occasionally receive promotional content from the Los Angeles Times.