Congress approves $1.3-trillion spending bill, averting government shutdown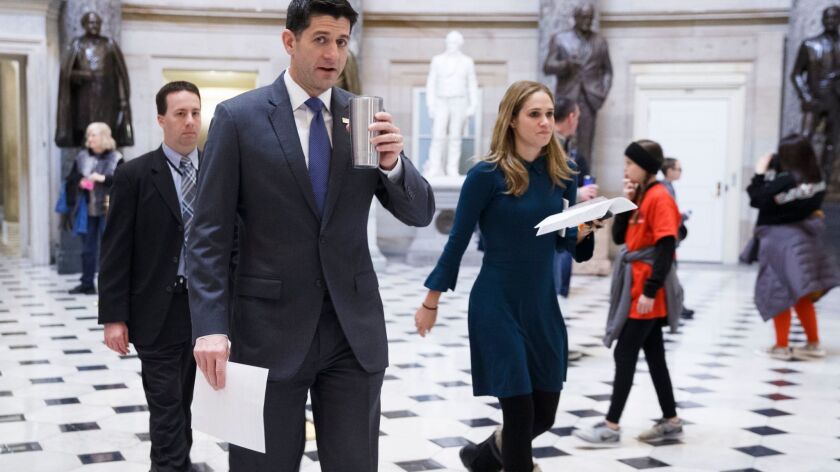 Reporting from Washington —
Congress approved a $1.3-trillion spending bill after hours of wrangling and a flurry of unsuccessful Democratic efforts to force legislators to take up a measure to protect young immigrants brought to the country illegally as children.
The vote — late Thursday morning for the House and early Friday for the Senate — came as legislators faced a Friday deadline for a government shutdown. It also came just hours after the release of the 2,232-page bill, meaning that few voting on the measure had a clear idea of what it included, as members openly admitted.
The measure, which passed 256 to 167 in the House and 65 to 32 in the Senate, will go to President Trump, who has promised to sign it. The Senate vote was delayed over objections from a number of senators including Sen. Rand Paul (R-Ky.), who complained leaders were trying to push through the bill.
Paul forced an hours-long shutdown in February over a similar complaint that leaders were ramming through a complicated bill.
Supporters of this bill, which will fund the government through the end of September, said it was the best possible outcome in the current partisan climate.
"It is no way a perfect bill," Rep. Pete Sessions (R-Texas), said as he introduced it as a bipartisan achievement. "That, I think I learned a long time ago, is hard to get through and signed by the president."
Before the House vote, Steny H. Hoyer (D-Md.) hefted a foot-tall stack of papers that, along with a second similar-sized stack, represented the bill and its backup documentation. He slammed them onto a table.
"I ask any member, any member of this House, to join me in the well if you've read this bill," Hoyer thundered as he demanded a delay in the voting. "No one is joining me. Ladies and gentlemen of America, I have not read this bill."
Democrats sought to derail the measure to force the House to vote on their long-delayed effort to protect the young immigrants known as "Dreamers" from deportation. They had been protected by an Obama administration program that President Trump canceled, but that has been kept operating under a temporary court order pending legal challenges.
But no deal acceptable to Democrats, Republicans and Trump could be put together by the deadline for inclusion in the massive spending bill. Republicans have refused a simple up-or-down vote on protections for Dreamers, and Trump has demanded full funding for his proposed border wall as well as cuts in legal immigration.
"When will they have their moment of opportunity, a reprieve from worrying, from looking over their shoulders every day?" asked Rep. Darren Soto (D-Fla.). "When will the Dreamers finally get to dream?"
House and Senate negotiators reached tentative agreement late Wednesday on a deal for the spending bill, which significantly boosts military and domestic spending even as it puts off several issues on which legislators could not find a compromise.
Among the spending was what Republicans described as the largest boost to the military in 14 years, as well as additional money for domestic programs such as school safety, transportation, education, science and the financing of efforts to blunt opioid abuse.
In a moment that was somewhat jarring given past Republican efforts to curb domestic spending, Rep. Tom Cole (R-Okla.) lauded the measure's inclusion of spending for child care programs, scientific research and other items.
"Money well spent," he said.
The appropriations bill followed a February deal in which leaders agreed to add tens of billions of dollars to military and non-military spending over the next two years. The new spending levels, if approved by both houses, will begin Saturday.
Republicans pushed the bill as a way to make up for military cutbacks under Obama-era budget deals. Senate Majority Leader Mitch McConnell (R-Ky.), introducing the bill in his chamber, noted that it included a 2.4% salary increase for service members.
"This has been a top priority on our side of the aisle," he said.
The measure also included a host of measures that gained ground after several recent mass shootings. They included strengthening the national background check system, financing efforts to train school officials to spot potential assailants before they act, and a statement that gives the Centers for Disease Control and Prevention permission to research the impact of gun violence. Since 1996, a spending measure had been interpreted as banning gun research.
Even as members lauded themselves for passage of the long-overdue measure — the funding year has already included five resolutions to keep the government running and two separate shutdowns — antipathy about both the process and the spending included in it was obvious.
"It's not what's in the bill that I have a problem with, it's what I don't know is in the bill," said Rep. Jim McGovern (D-Mass.) "This place is broken, this process stinks."
For some Republicans, the combination of heightened military spending and domestic funding demanded by Democrats was too much. Not only Democrats but some Republicans on Thursday noted that had the bill been put forth under Democratic control of Congress or the White House, Republicans would have reacted with disdain.
Sen. Bob Corker, a Republican from Tennessee who is retiring, said the spending bill could serve as evidence that the Republican Party had "lost its soul."
"It does have to be a wake-up call for people as to whether that's the case," he said. "I'm discouraged about where we are today. I'm discouraged that we continue to be engaged in generational theft."
Trump, whose proposed budget was largely ignored by the congressional negotiators, signaled through aides on Thursday that he would sign the measure once it is approved by the Senate.
"Is it perfect? No," said Mick Mulvaney, Trump's budget director. "Were we ever going to get that? No. That's not how the process works."
Los Angeles Times staff writer Noah Bierman in Washington contributed to this report.
For more on politics from Cathleen Decker »
Twitter: @cathleendecker
---
UPDATES:
9:50 p.m.: The article was updated with Senate passage of the bill and other details.
2:40 p.m.: The article was updated with reactions to the spending bill by Sen. Rand Paul (R-Ky.) and others.
The article was originally published at 10 a.m.
---
Get our Essential Politics newsletter
The latest news, analysis and insights from our politics teams from Sacramento to D.C.
You may occasionally receive promotional content from the Los Angeles Times.