Democrats heed Nancy Pelosi's call to back off impeachment — for now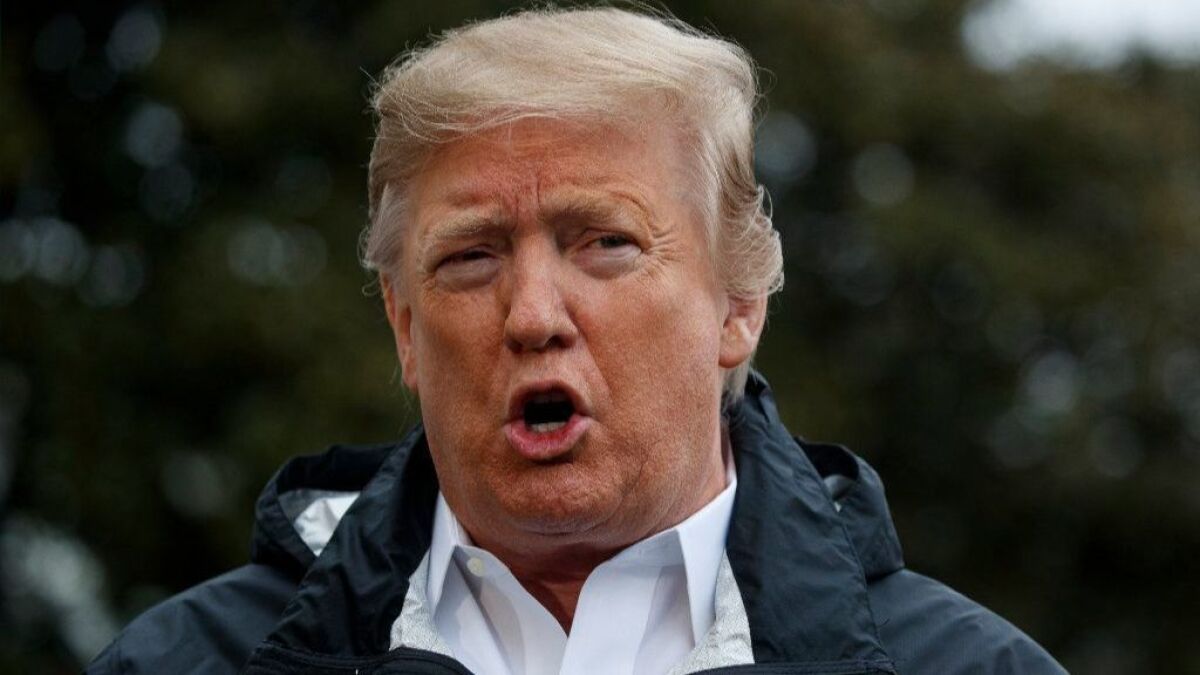 Reporting from Washington —
Months after taking control of the House on a promise to hold President Trump accountable, Democrats are signaling that they're unlikely to pursue impeachment, lowering expectations that the special counsel's report will spur an immediate attempt to unseat the president.
House Speaker Nancy Pelosi (D-San Francisco) said in an interview with the Washington Post released Monday that impeachment is too divisive to pursue "unless there's something so compelling and overwhelming and bipartisan."
On Tuesday, rank-and-file Democrats largely fell in line. Some said the House must first complete its own investigations to determine whether Trump committed impeachable offenses. Others said even if they determine he did, an impeachment process would be too harmful to the country unless the majority of Congress and the American people agreed.
Pelosi's remarks appear to be part of a larger strategy Democrats are pursuing to downplay special counsel Robert S. Mueller III's much-anticipated report and prevent Republicans from using the threat of impeachment to rally conservatives ahead of the 2020 presidential race.
The strategy — a milder version of which was deployed during the 2018 midterm campaign — is based partly on a fear that the Mueller report will not provide overwhelming proof of collusion with Russia or obstruction of justice, according to several Democrats who did not want to be identified discussing the party's game plan.
It's also an acknowledgment that the risk of failure or backfire is huge. Even if an impeachment measure got through the Democratic-controlled House, the Republican-controlled Senate is unlikely to convict Trump. And pursuing a partisan kamikaze mission would give Trump a convenient political foil for the 2020 election, many Democrats fear.
"He has committed impeachable offenses, undoubtedly. That is a guarantee at this point," said Rep. Katie Hill (D-Agua Dulce). "Really what it's about is if we're going to do anything with impeachment, we have to have Republican support.… For Republicans to move, we have to get the American people to move, and I think that's what we're seeing happen."
Looming large in the minds of veteran Democrats is the impeachment of President Clinton. The Republican-controlled House voted to impeach him, but the GOP wasn't able to get two-thirds of the Senate to convict him. Clinton's political contemporaries believed that the effort was viewed unsympathetically by the public and hurt Republicans in the next midterm.
House Democrats are also trying to refocus public attention on their own investigations, which just got underway. The House Judiciary Committee recently asked 81 people or organizations for documents related to the president and the Trump organization.
The Mueller report, expected in the coming weeks, is likely to dominate Washington, potentially blocking a laundry list of bills Democrats hope to approve this year.
The House will vote this week on a resolution to require that the report be made public amid concern that the Justice Department may sit on it or release only a heavily redacted version.
"The American people have been waiting two years to hear what Bob Mueller has to say, and we're going to fight to make sure they do get to hear that," said House Intelligence Committee Chairman Adam B. Schiff (D-Burbank).
By coming out against impeachment, Pelosi is putting herself between the party's more liberal voters and activists who are clamoring for impeachment and moderate Democrats — many of whom were just elected to their first term — who are more skeptical about impeachment. Those moderates, many of whom will go before voters next week at town hall meetings during the congressional recess, now can redirect some of that frustration to Pelosi, who has long been willing to take the heat for her rank-and-file lawmakers.
But announcing her opposition to impeachment even before Mueller has released his report is unlikely to sit well with everyone in the progressive wing of the party.
Rep. Al Green (D-Texas) still plans to pursue impeachment and potentially force a House vote. He forced a similar measure last year when the House was controlled by Republicans. Only 66 Democrats voted on a procedural measure in support of the articles of impeachment.
But for the most part, most Democrats appear in alignment with Pelosi's position. House Oversight Committee Chairman Elijah E. Cummings of Maryland, Conference Chairman Hakeem Jeffries of New York and even Rep. Alexandria Ocasio-Cortez (D-N.Y.), the highest-profile freshman and a progressive leader, said they are willing to tap on the brakes.
"I've always been very clear that I'm supportive and how I would vote in terms of impeachment," she said at a news conference in New York last week. "I understand that leadership may want to build a stronger case and subpoena more records or figure out what's happening, perhaps in the Mueller investigation."
She said she would "defer to party leadership."
Life is stressful. Our weekly mental wellness newsletter can help.
You may occasionally receive promotional content from the Los Angeles Times.