Pence casts tie-breaking vote to let states withhold federal funds from Planned Parenthood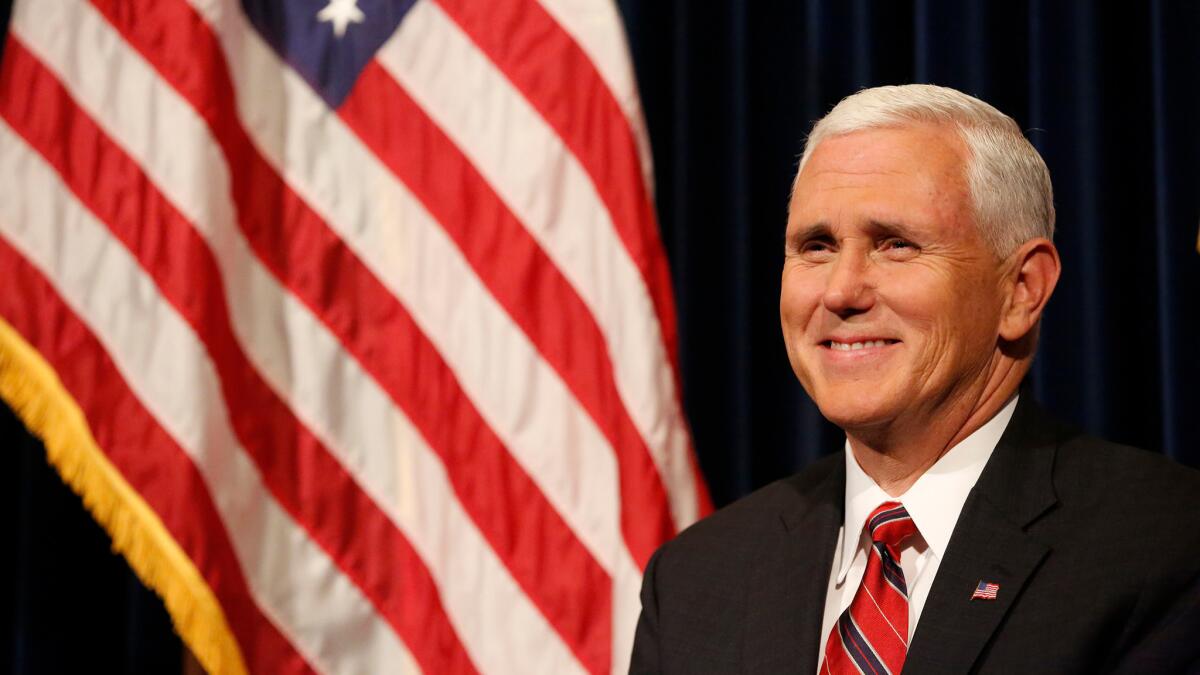 Reporting from Washington —
Senate Republicans needed Vice President Mike Pence to dash to the Capitol twice on Thursday to cast tie-breaking votes to pass legislation that will make it easier for states to restrict federal funds for Planned Parenthood and other providers of family planning services.
Calling in the vice president, a longtime opponent of abortion, was a remarkable moment for Republicans, who have a 52-seat majority in the Senate. After two female Republican senators objected to the bill, the party had to scramble to muster support for passage.
The measure is now headed to the White House for President Trump's signature.
"We just saw a historic moment," said Sen. Patty Murray (D-Wash.), one of several Democratic senators who spoke against the measure. "It is a sad day for the United States Senate."
The legislation rolls back an Obama-era regulation that was designed to protect clinics from attempts by conservative states to eliminate their funding.
Under long-standing practice, no federal funds can be used for abortions, except in cases of rape, incest or a threat to the mother. But federal family planning money can flow to clinics for other reproductive and healthcare services.
Some states in recent years had blocked the federal Title X family planning funds to health clinics, including Planned Parenthood, if they also provided abortion services.
The regulation issued in the final days of the Obama administration said that states were not allowed to withhold the funding unless the provider failed to meet standard healthcare criteria.
The attack was seen as a political strike at Planned Parenthood, one of the nation's largest providers of family planning services and abortions. The group is also a major recipient of Title X funding.
"There's a reason [Republicans] could barely get enough votes to get this bill through a procedural step: People are sick and tired of politicians making it even harder for them to access healthcare," said Dawn Laguens, executive vice president of Planned Parenthood Federation of America. "Four million people depend on the Title X family planning program, and this move by D.C. politicians would endanger their healthcare."
The legislation, which already cleared the Republican-controlled House on a largely party-line vote, is part of a series of bills being passed by Congress under the so-called Congressional Review Act, which allows federal regulations put in place during the final days of the previous administration to be undone by simple majority passage.
Pence motored to the Capitol first to cast the tie-breaking vote that pushed the measure past a procedural hurdle and then later for final approval after another 50-50 tie.
The vice president wasn't the only Republican to help salvage the effort in the face of opposition from the two Republican women, Sens. Susan Collins of Maine and Lisa Murkowski of Alaska.
Republicans also relied on recovering Sen. Johnny Isakson (R-Ga.), who has been home after surgery, to return to the Capitol in a wheelchair to provide support.
Sen. Joni Ernst (R-Iowa), the bill's sponsor, acknowledged on the Senate floor that she is no fan of Planned Parenthood, but said the measure "merely empowers states over a Washington-knows-best mentality. It ensures local control."
"I look forward to President Trump signing it," she said.
White House aides who wrote Trump's travel ban see it as just the start »
How the Senate's once-revered traditions are falling victim to partisan divide »
ALSO
Republican-led Congress starting to worry about its role in the Trump era
Silencing of Sen. Elizabeth Warren raises her profile as the Democratic alternative to Trump
Here's how Trump's gift for coining catchphrases could backfire
Get our Essential Politics newsletter
The latest news, analysis and insights from our politics team.
You may occasionally receive promotional content from the Los Angeles Times.