Stephen Moore nomination to Federal Reserve looking doubtful as Republicans balk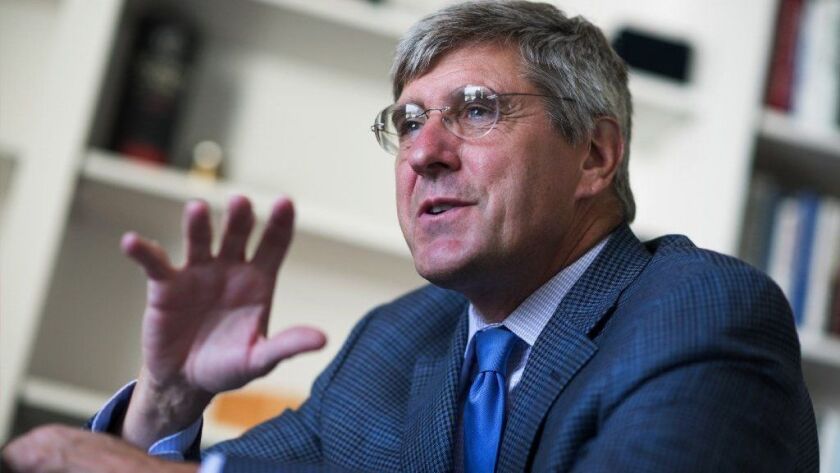 Reporting from Washington —
President Trump's expected pick to fill a seat on the Federal Reserve is running into significant trouble in the Senate, where Republicans have expressed skepticism over Stephen Moore's past writings and statements about women.
"It will be a very problematic nomination," said Sen. Lindsey Graham (R-S.C.), a close ally of Trump.
Moore, a conservative economist and commentator who served as a Trump campaign advisor, has not been formally nominated, though Trump has said he would be "great" on the Fed.
In recent days, closer scrutiny of Moore's previous articles and interviews has raised questions about his views on women, equal pay, child labor and equality in sports.
"Obviously I would have concerns about some of his writings on women, some of his economic policies and whether or not he believes in the independence of the Federal Reserve," said Sen. Susan Collins (R-Maine). "But I think this debate is premature until we see that the president is going to go through with the nomination."
Other Republicans were similarly careful to not draw a definitive line over Moore's nomination. Sen. Joni Ernst (R-Iowa), who is seeking reelection in 2020, perhaps went the furthest: She said she was "not enthused" about voting for Moore.
With a 53-seat Senate majority, Republicans can afford to lose only three votes to get Moore confirmed, assuming all Democrats vote against him.
If the White House decides not to follow through with Moore, it would mark the second time it has had to pull a candidate for the Federal Reserve, which is responsible for fostering a strong U.S. economy and moderating long-term interest rates. Just weeks ago, businessman Herman Cain said he would not pursue the post after four Republican senators indicated they would not support his nomination.
Moore has defended himself, saying some of his past remarks were ill considered and others were intended as humor. He has apologized for some of them but also described the release of the materials as a smear campaign. He has said that he would bow out if his nomination becomes a liability for vulnerable Republican senators.
"Why should we risk a Senate seat for a Federal Reserve board person, you know?" he told the Wall Street Journal last week. "I mean, that just doesn't make any sense."
The White House said Monday it was reviewing Moore's writings.
"Capital is pretty precious in a divided government," said Sen. Kevin Cramer (R-N.D.). "It's up to the White House how much capital they want to spend on getting Stephen over the finish line."
Still, while Cramer acknowledged that Moore's past positions were controversial, he questioned whether any candidate can live up to what he said is an increasingly high bar for nominations.
"I'm starting to get a little concerned about whoever is going to be qualified to serve in anything anymore unless we start raising robots to be Cabinet secretaries and undersecretaries and Fed governors," he said.
Moore has been an outspoken supporter of the Trump administration's economic agenda, including the GOP tax law. He's an advocate of supply-side economics, which argues that lower tax rates spur growth that will result in increased government revenue.
In addition to his writings, his background may prove problematic as well. According to media reports, there is a tax lien filed against him in Maryland, which his wife attributed to a mistake on a 2014 tax filing.
According to articles reviewed by CNN, Moore denounced women in sports as a "travesty" and said that women should not be referees — unless they were attractive. He has since apologized for those remarks.
In 2014, he questioned the implications for society if women earn more than men.
"We don't really know, but it could be disruptive to family stability," he wrote in the National Review. "If men aren't the breadwinners, will women regard them as economically expendable?"
He's also said he would support rolling back some child labor laws to allow children to work at "11, 12" years old.
---
Get our Essential Politics newsletter
The latest news, analysis and insights from our politics teams from Sacramento to D.C.
You may occasionally receive promotional content from the Los Angeles Times.