Congress proposes $81-billion disaster aid package, including funds for California wildfires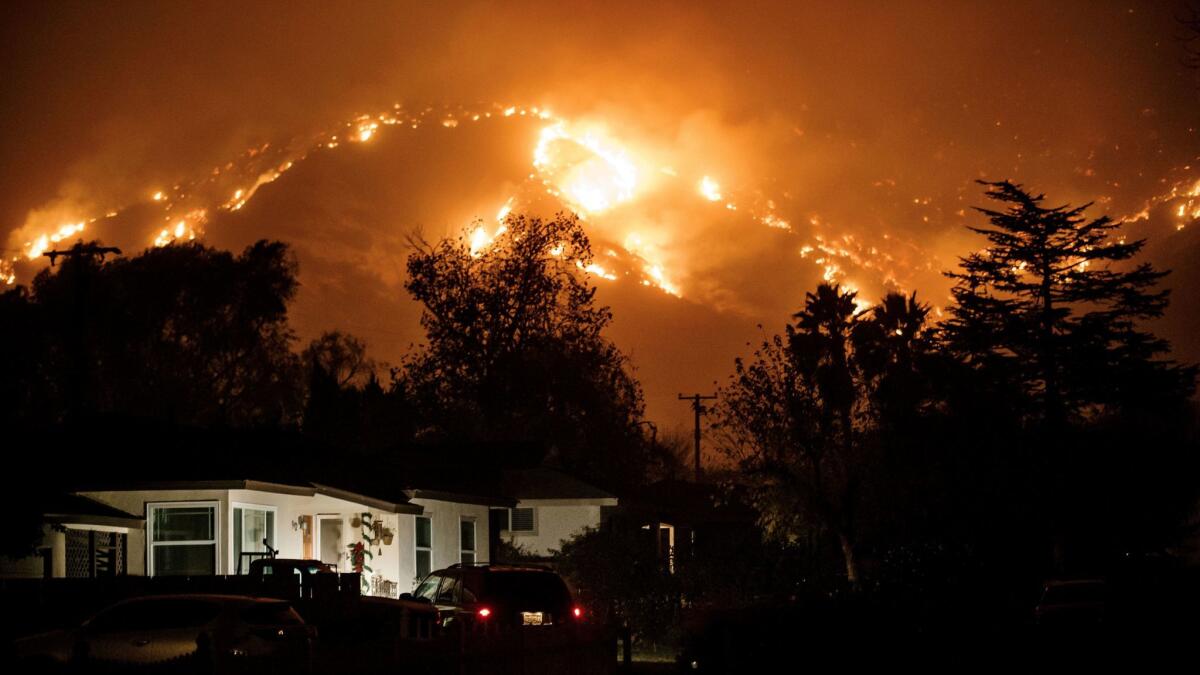 Reporting from Washington —
Congress is set to consider an $81-billion disaster aid package that includes wildfire recovery money for California and other Western states as well as hurricane relief with a price tag reflecting a year of record-setting natural calamities.
The legislation, the text of which was released late Monday, would provide almost twice as much as the $44 billion the White House sought last month to cover relief efforts along the Gulf Coast and in the Caribbean.
Republican congressional leaders added more money after California lawmakers objected that the administration had failed to include help for areas damaged by wildfires and Democrats protested that the overall amount President Trump asked for was insufficient.
House Speaker Paul D. Ryan (R-Wis.) promised Californians additional wildfire relief after the Thomas fire erupted in early December.
"I just want to say to the people in Southern California, we want you to know that we're thinking of you as you deal with these devastating fires that continue to tear through your region," Ryan said at the time. "We are here to help."
Precisely how much of the money would go to fire relief remained unclear Monday as House leaders did not release a detailed geographic breakdown of the spending.
If approved later this week, the package would bring to $130 billion the amount Congress has spent this year on a particularly destructive season of hurricanes that tore through Florida, Louisiana, Texas, Puerto Rico and the Virgin Islands and wildfires that are still burning in California.
Congress has approved two previous disaster aid packages this year, and included about $500 million for wildfire recovery efforts in those earlier bills.
By comparison, Congress approved about $60 billion in disaster aid funds after Hurricane Sandy did major damage to parts of the Northeast in 2013.
Scientists have warned the U.S. faces escalating costs for disasters in coming years as a warming climate makes severe weather more frequent and also aggravates droughts and fire hazards in the West.
As costs have mounted, passing disaster aid has become an increasingly difficult exercise for Congress. The latest package is expected to draw some resistance from conservative Republicans, and will probably need Democratic votes, particularly in the House, to ensure passage.
Democrats said they had little input in crafting the plan, and voiced criticism of its provisions as they began to study it.
The top Democrat on the House Appropriations Committee, Rep. Nita M. Lowey of New York, especially criticized the way the aid package dealt with Puerto Rico's needs.
"Had the majority worked with Democrats in a bipartisan way, these shortcomings could have been fixed prior to introducing the package," she said.
House Majority Leader Kevin McCarthy (R-Bakersfield) may bring the bill to the House floor as a stand-alone measure, without linking it to other year-end GOP priorities, to make getting Democratic votes possible.
The House is set to vote as soon as Wednesday, with the Senate expected to quickly follow before lawmakers leave town for the holiday recess.
One sticking point for many Republicans is likely to be whether the new spending needs to be offset with cuts elsewhere in the federal budget. Even before Republicans held the majority, conservatives often opposed disaster aid bills because of a lack of offsetting cuts.
Paying for disaster relief by cutting elsewhere is a preference now shared by at least some officials in the White House, including Mick Mulvaney, a former tea party congressman who is Trump's director of the Office of Management and Budget.
"The administration believes it is prudent to offset new spending," Mulvaney wrote when requesting funds from Congress in November.
In Congress, however, the desire to help constituents facing dire emergencies outstrips the willingness to consider more cuts in programs that many lawmakers feel already have been trimmed too far. The current package would not include offsets to the new spending, congressional officials said.
The White House declined to include additional money for fire relief in its most recent request to Congress, which was made Nov. 17, after Northern California was still recovering from the wine country fires but before the Thomas fire. Instead, Mulvaney had suggested Congress consider providing tax deductions to compensate people for property losses as a result of the fires.
That generated heated protests from California lawmakers.
"It's appalling the White House is choosing to ignore the victims of California's wildfires," California Democratic Sens. Dianne Feinstein and Kamala Harris said in a statement at the time. They called the funding "a completely inadequate response to all of the recent natural disasters, but it's particularly egregious that no money was included to help Californians rebuild."
Republicans have also resisted providing emergency funding for Puerto Rico, where residents continue to struggle without electricity after Hurricane Maria devastated the island.
The new aid package splits the money among various agencies, with $26.7 billion for the Federal Emergency Management Agency and $26.1 billion for Community Development Block Grants for disaster recovery.
Additionally, $12 billion would go to the Army Corps of Engineers for rebuilding, and other funds would help with education, small-business loans, economic development grants and other assistance.
"This legislation is the next step in helping our fellow Americans recover from multiple, back-to-back, devastating disasters, including some of the largest major hurricanes, wildfires and agriculture losses this country has ever seen," said Rep. Rodney Frelinghuysen (D-N.J.), chairman of the House Appropriations Committee.
"We have a commitment to our fellow citizens," he said. "We must provide the necessary resources for them to recover from these emergencies."
ALSO
Bannon's ouster could boost the powerful Koch network, which has surprising sway in Trump's White House
McCain's surprise vote doomed GOP healthcare bill, but did it open the door for Senate bipartisanship?
Is this small-town congressman from New Mexico tough enough to win Democrats the House majority?
More coverage of politics and the White House
---
UPDATES:
8:15 p.m.: The story was updated with reaction from House Democrats.
The story was originally published at 7:10 p.m.
Get our Essential Politics newsletter
The latest news, analysis and insights from our politics team.
You may occasionally receive promotional content from the Los Angeles Times.