Supreme Court suggests forcing lawyers to pay bar association dues violates their free speech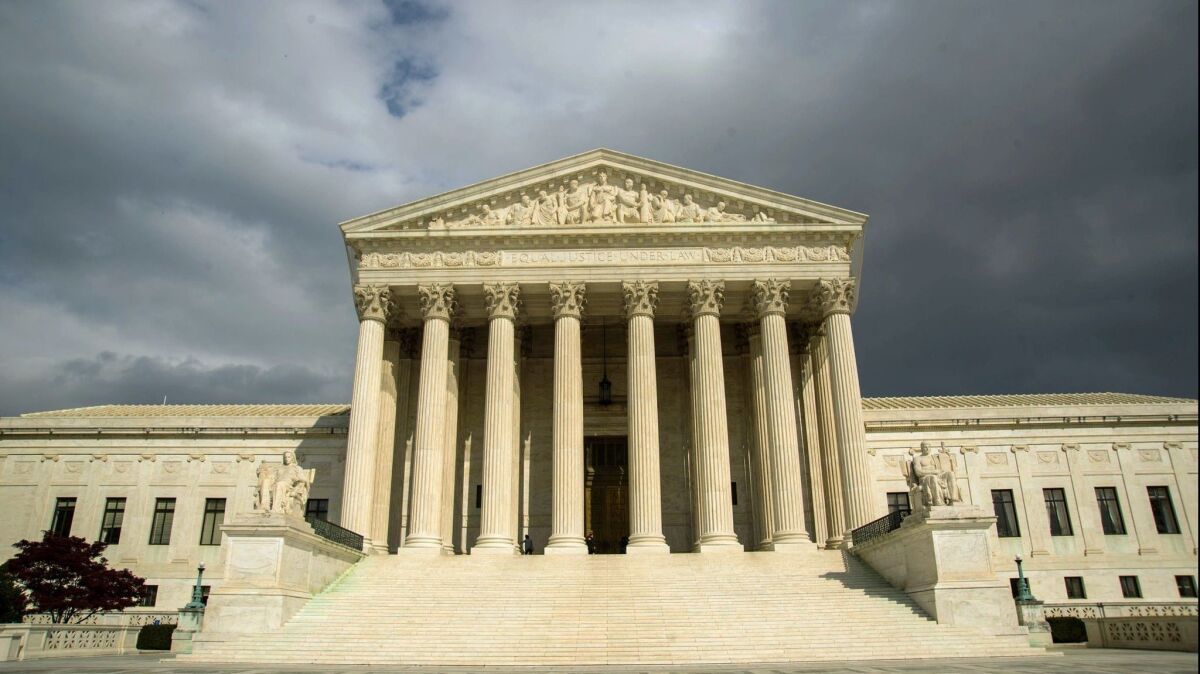 Reporting from Washington —
The Supreme Court cast doubt Monday on laws in at least 30 states that require lawyers to pay dues to bar associations.
In most states, the bar association regulates the legal profession by licensing lawyers and disciplining those who violate the rules. Lawyers in turn are required to pay dues to cover the cost.
But the more conservative high court may be on verge of upsetting this longstanding system on the grounds that forcing lawyers to subsidize a private organization violates the 1st Amendment.
Justice Samuel A. Alito in a recent opinion called it a "bedrock principle" that "no person in this country may be compelled to subsidize speech by a third party that he or she does not wish to support."
In June, Alito spoke for a 5-4 majority that struck down state laws in California and elsewhere that required teachers and other public employees to pay fees to support a union. In Janus vs. AFSCME, the court said that requirement violated the free-speech rights of employees who did not support the union.
That case proved helpful to lawyers challenging mandatory bar association fees based on the same principle. In a brief order on Monday, the court overturned a ruling last year by the U.S. 8th Circuit Court of Appeals that had upheld mandatory bar dues in North Dakota and sent the case back "for further consideration in light of Janus."
Although the decision is a not a final ruling, it suggests the court's majority now doubts the constitutionality of requiring lawyers to support a private bar association.
But it is not clear such a ruling would have a major impact in California, New York, Illinois or other states that regulate lawyers through a state agency that includes a state bar.
Lawyers for the Goldwater Institute in Phoenix who appealed the issue to the high court said their constitutional challenge was aimed at forced subsidies of private bar associations, not forced payments to cover the cost of state regulation.
But they are also challenging mandatory bar dues in states like California that make it hard for lawyers to "opt out" of subsidizing activities involving politics and lobbying.
The case began when Arnold Fleck, a North Dakota lawyer, sued his state bar association after he learned it had contributed $50,000 to oppose a state ballot measure. Fleck had contributed $1,000 to support the same measure. He objected to being compelled by state law to pay $380 a year to support the bar association.
A federal judge and the 8th Circuit, based in St. Louis, rejected his constitutional challenge to the forced dues, citing a 1990 high court ruling in Keller vs. State Bar of California that had upheld mandatory dues while also freeing lawyers from subsidizing political donations.
With the help of the Goldwater Institute, he filed an appeal petition with the high court in Fleck vs. Wetch and argued that the mandatory state bar "involves compelled association and compelled speech," as in the union fees case.
After considering the appeal over nine weeks, the justices opted to vacate the ruling of the lower court and told its judges to give the free-speech question a second look.
"This is a major victory, not just for Arnold Fleck but attorneys like him across the nation who have been forced to fund speech that they don't agree with," said Timothy Sandefur, a lawyer at the Goldwater Institute.
His appeal noted that 19 states, including New York, New Jersey, Colorado, Illinois and Pennsylvania, regulate lawyers without requiring them to support the bar association.
The State Bar of California has set an annual fee of $430 for active lawyers. A public information officer said the state bar "has no comment on this topic at this time."
More stories from David G. Savage »
Twitter: DavidGSavage
---
UPDATES:
3:40 p.m.: This article was updated with reaction from the Goldwater Institute and additional background.
This article was originally published at 7:50 a.m.
---
Life is stressful. Our weekly mental wellness newsletter can help.
You may occasionally receive promotional content from the Los Angeles Times.