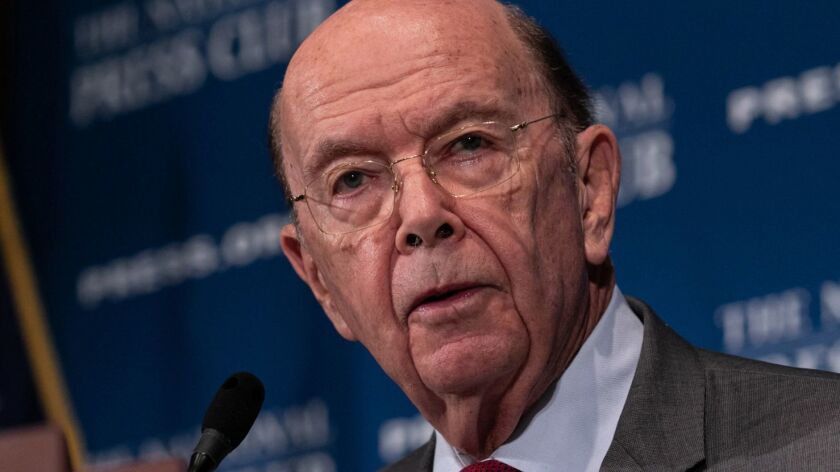 Reporting from Washington —
The Supreme Court granted an unusual appeal from lawyers for the Trump administration Friday and said it would weigh the politically charged question of whether the 2020 census will ask residents about their citizenship.
The justices in a brief order indicated they were ready to skip over the lower courts, but it was not clear exactly what they will consider.
They could decide to limit the scope of the legal battle currently working its way through lower courts over the census, or they may go further and decide themselves the larger question of whether to uphold the Trump administration's plan.
The outcome could have a political and financial impact that stretches over a decade.
Census data are used not only to divide up political power, but to drive the distribution of a huge amount of federal funds.
California and 17 other states have joined lawsuits contending that a new question on citizenship will deter some people from responding. That in turn will result in an undercount of the population in areas with large number of immigrants, they said.
The lawsuits say that a flawed census count could deprive the states, municipalities and school districts from receiving their fair share of federal funds.
The suits also point out the 14th Amendment to the Constitution says representatives in Congress "shall be apportioned among the several states according to their respective numbers, counting the whole number of persons in each state." In the past, government lawyers had argued this reference to "persons" meant the census should count all residents, not just citizens.
But last year, Commerce Secretary Wilbur Ross announced he had decided to add a citizenship question to the household survey for the first time since 1950. Since then, the government had collected citizenship data with a sample of the population.
Lawyers for the American Civil Liberties Union alleged Ross had given shifting answers as to why he added the question. He initially said the Justice Department had urged him to add the question, but he later conceded his office had in fact urged the Justice Department's intervention.
Last month, administration lawyers filed an emergency appeal that asked the high court to bar a district judge in New York from probing the "mental processes" of the Commerce secretary, including whether he had a political motive for adding the citizenship question. "All parties agree that finalizing the census questionnaire is time-sensitive," they added in urging the high court to intervene early in the legal battle.
The justices issued a tentative order that shielded Ross from answering questions under oath, but the New York trial was allowed to proceed.
Within days, U.S. Solicitor Gen. Noel Francisco filed an updated appeal, urging the justices to intervene further. That appeal was granted Friday.
The case to be heard before the high court arises from New York's lawsuit, not the separate suit in California.
Reacting to Friday's order, Dale Ho, director of the ACLU's Voting Rights Project, said the "Trump administration is terrified of having to explain on the record why it added a census citizenship question. All relevant evidence should be considered. The record is clear that the administration added the citizenship question to intimidate immigrant communities, not to enforce the Voting Rights Act."
Twitter: DavidGSavage
---