Judge pushes U.S. to explain why it's holding an American citizen in secret in Iraq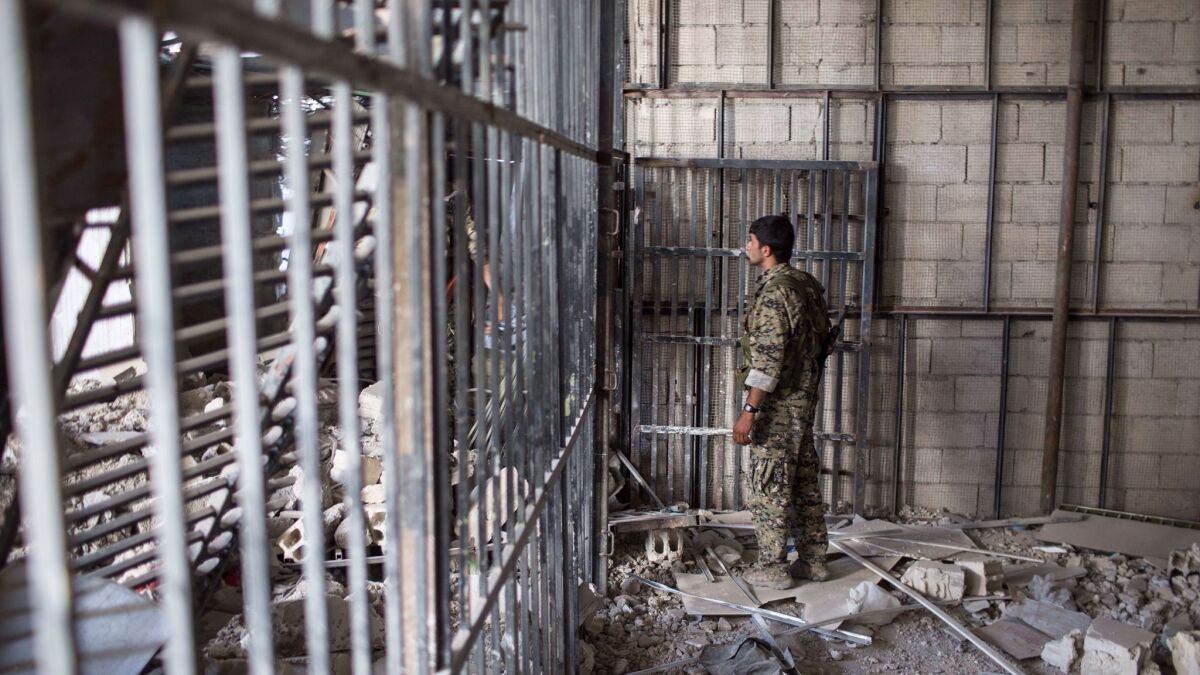 Reporting from Washington —
In a case that defense lawyers warned could create a "constitutional black hole," a federal judge expressed exasperation Thursday at the U.S. government's secret detention of an American citizen in Iraq for more than two months.
The American, who has not been publicly identified, allegedly fought for Islamic State in Syria and surrendered to a U.S.-backed militia on Sept. 14. He has not been charged or given access to a lawyer while in custody, as U.S. law normally requires.
For now, U.S. officials have designated the man as an "unlawful enemy combatant," the status used for foreign suspects held for years at the U.S. military prison at Guantanamo Bay, Cuba, while the Trump administration tries to figure out how to handle his case.
"This is the nightmare scenario, where the government has locked up an American citizen in secret," Jonathan Hafetz, a senior lawyer for the American Civil Liberties Union, said in court Thursday. The group has filed a habeas corpus petition, saying that holding an American without access to a lawyer is a violation of his constitutional rights as a U.S. citizen.
Since the Sept. 11 attacks in 2001, he argued, federal courts have consistently ruled that terrorist detainees should have access to courts to argue for their freedom. Hafetz said the only choice in this case is to allow the detainee access to a lawyer or to "create a constitutional black hole for American citizens."
U.S. District Judge Tanya S. Chutkan called the case unique in the legal challenges that have emerged in the U.S. war on terrorism.
No new prisoner has been sent to the controversial facility at Guantanamo Bay since 2008, and only 41 alleged terrorists remain of the hundreds once held at the site. Their military trials have been delayed for more than a decade. More than 600 people have been successfully prosecuted on terrorism-related charges in federal courts, however.
In this case, the American stopped talking to investigators after he was informed of his right to keep silent, the government said Thursday. And absent a confession, the FBI apparently has struggled to collect enough evidence to charge him with a crime.
That leaves the administration with unhappy options — letting the man go, keeping him in military detention at Guantanamo Bay or elsewhere, or seeing whether another country wants to prosecute him. A Justice Department lawyer, Kathryn Wyer, said officials hadn't decided what to do.
Wyer urged Chutkan to dismiss the ACLU petition, arguing that there's no evidence the American wants to see a lawyer or that he wants the ACLU to handle his defense.
But Chutkan grew impatient with what she described as the government's "circular reasoning," noting that the American has been held in secret so there's no way to obtain that evidence.
Saying she didn't want to rely on news reports, Chutkan repeatedly pressed Wyer to declare whether the American has been advised of his rights to keep silent and see a lawyer and whether he wants a lawyer to challenge his detention in Iraq.
Wyer said she would have to ask the Pentagon before she could give an answer. She acknowledged that the man had constitutional rights, but said U.S. law gave the government a "reasonable period of time" to detain him without charges.
"He's a U.S. citizen, and it's been two and a half months, and you can't tell me whether he's been advised of his rights?" asked Chutkan, who was named to the bench by President Obama. "I would like to know how long you think you get to do this to an American citizen."
She ordered the administration to say by 5 p.m. Thursday whether the man had been advised of his rights and whether he had asserted his right to see an attorney.
In a subsequent filing, the government said the American "stated he understood his rights, and said he was willing to talk to the agents but also stated that since he was in a new phase, he felt he should have an attorney present. The agents explained that due to his current situation, it was unknown when he would be able to have an attorney, and the individual stated that it was OK and that he is a patient man."
"The individual then asked whether when he saw the agents next with his attorney, would it be at his current location or somewhere else. The agents told him they were uncertain when they would see him again. No further questioning of the individual for law enforcement purposes has taken place."
In accordance with international rules of war, the prisoner has twice been visited by the International Committee of the Red Cross, on Sept. 29 and Oct. 23. But the group has declined to provide any details of what the man said, citing a policy of strict confidentiality.
President Trump and Atty. Gen. Jeff Sessions have endorsed the idea of sending terrorist suspects to the prison at Guantanamo Bay. But detaining a U.S. citizen there would present a steep legal challenge for the administration.
The lone U.S. citizen who had been detained there, Yaser Esam Hamdi, was sent to Guantanamo Bay because U.S. officials didn't know at first that he was an American. His court appeals established that the detainees had legal rights under U.S. law. Hamdi eventually was sent to Saudi Arabia after he renounced his U.S. citizenship.
Twitter: @jtanfani
---
UPDATES:
3:30 p.m.: The story was updated with the government's response to the judge's order.
The story was originally published at 11:55 a.m.
Life is stressful. Our weekly mental wellness newsletter can help.
You may occasionally receive promotional content from the Los Angeles Times.