A testy Donald Trump lashes out at news media and says, 'I'm not changing'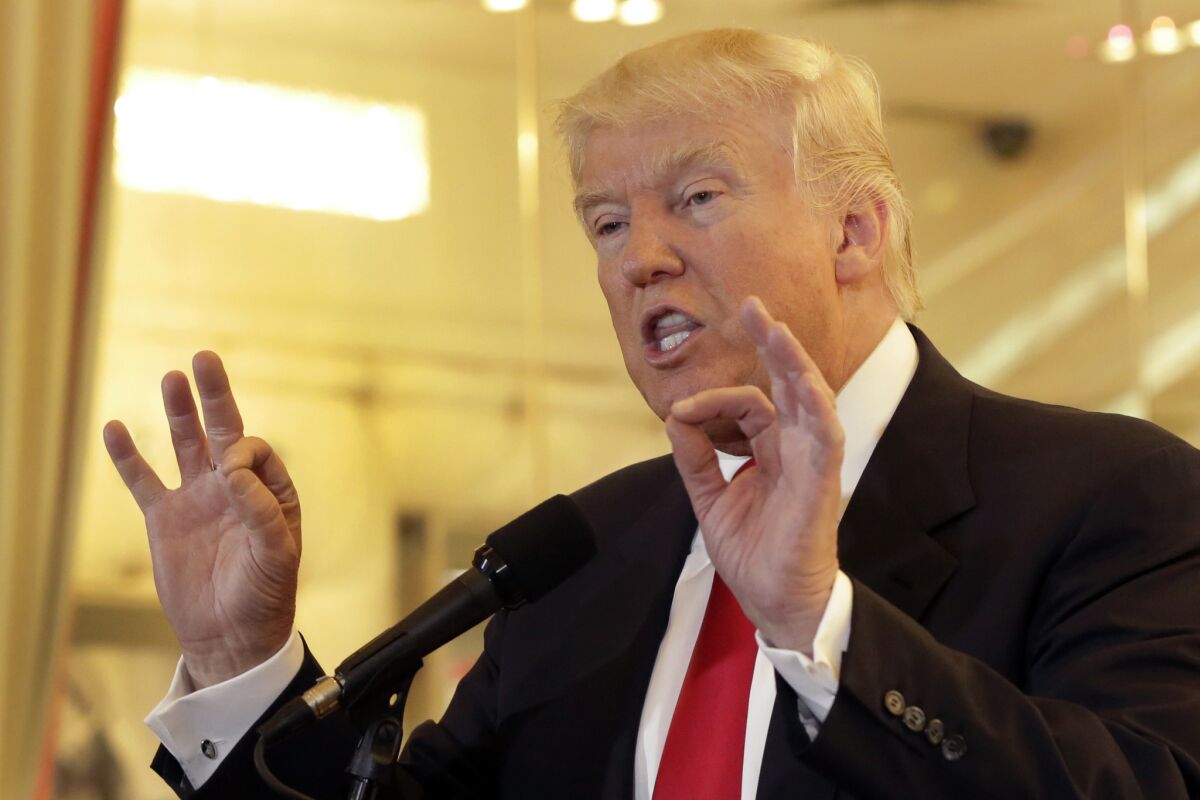 Reporting from Washington —
Donald Trump repeatedly lashed out at the media, conservative opponents and Republican foes in a testy news conference Tuesday that he had called to answer criticism over his contributions to veterans' charities.
Trump reeled off a list of charities that he said had received a total of $5.6 million he had raised. The list came after weeks of questions from reporters and remained short of the $6 million he had promised during a veterans event in January on the eve of the Iowa caucuses.
But the attempt to protect the reputation of his charitable efforts was at least partially eclipsed by his extensive airing of personal grievances, during which he called one reporter "a sleaze" and labeled a prominent conservative pundit "a loser."
Trump's advisors have been saying for weeks that he would begin to act more "presidential" and above the fray as he attempts to unite the Republican Party and broaden his appeal for the general election. But he clearly has other ideas.
"You think I'm going to change? I'm not changing," Trump said during the 45-minute news conference at Trump Tower.
That was mere seconds after calling Mitt Romney "a fool" and renewing his complaints that New Mexico's Republican governor, Susana Martinez, was "not nice" in her comments about him.
The message: Those who criticize or scrutinize Trump — including reporters and fellow Republicans — will be hit back hard.
The formula worked well for Trump during the primaries. Many of his core supporters have long been suspicious, even contemptuous, of the media and the GOP establishment and have enjoyed watching Trump take them on. But like every aspect of Trump's campaign and persona, his grievance-fed approach has not yet been tested among general-election voters.
You think I'm going to change? I'm not changing.
— Donald Trump
Tuesday's fiery exchanges also served as a preview of what a Trump administration media briefing might look like.
"Yeah, it is going to be like this," Trump said in response to a question from a reporter who called Tuesday's news conference "a new bar for contentiousness with the press corps."
The attention Trump gave to calling out enemies, large and small, and the related questions he received from reporters, left little time for other issues that might typically emerge during a presidential campaign.
Trump, for example, gave a lengthy response to a question about William Kristol, the conservative magazine editor and former White House official who is trying to recruit a third-party candidate to run in the general election.
Trump warned that the balance of the U.S. Supreme Court is at stake in the election, but also called Kristol a "loser" and took a shot at his "failing" magazine, the Weekly Standard.
He interrupted a question from CNN's Jim Acosta to lob a sarcastic remark at the reporter: "Excuse me, excuse me. I've watched you on television, you're a real beauty."
Election 2016 | Live coverage on Trail Guide | Track the delegate race | Sign up for the newsletter
The news conference came amid pressure on Trump to explain contradictions in the statements that he and his campaign aides have made about the money he has claimed to have raised for veterans.
The promised donations had either yet to materialize, were smaller than expected or came only after prodding from journalists.
On Tuesday, Trump said he was disbursing less than originally promised, while insisting more money may come. He blamed the delays on the need to vet more than two dozen charities receiving the money.
See more of our top stories on Facebook >>
"The press should be ashamed of themselves," Trump said. "I have never received such bad publicity for doing such a good job."
Trump, who has repeatedly boasted of his donations to charity, insisted several times that he was trying to keep a low profile.
"I didn't want the credit for it," he said repeatedly. "I don't want the credit for it, but I shouldn't be lambasted."
The controversy over the donations has been one of the few during the past year that has kept Trump on the defense. Trump's difficulties with it have reinforced Democrats' hopes of portraying him as more bluster than follow-through.
The questions about the donations fit a narrative, like Trump's failure to release his taxes, that has allowed opponents to question whether his claims about his money hold up to scrutiny.
"I like scrutiny, but you know what," Trump said. "When I raise money for the veterans, and it's a massive amount of money. Find out how much Hillary Clinton's given to the veterans — nothing."
Clinton's campaign did not respond to emailed questions about her charitable giving.
Trump held his veterans event Jan. 28 in Iowa after he backed out of a Fox News debate. During the event, Trump said he raised $6 million for veterans groups, including a personal donation of $1 million.
But when reporters from the Washington Post, CNN and other organizations recently contacted veterans organizations that Trump's campaign said had received the money, they could not account for all of it, including the money Trump pledged.
A CNN report last month, for example, found $2.9 million disbursed to 27 veterans organizations. The Washington Post found $3.1 million had been given out as of last week, not including Trump's $1-million pledge.
Earlier this month, Trump's campaign manager, Corey Lewandowski, told the Post the campaign had actually raised $4.5 million. A week later, Trump told the paper the sum was $5.5 million, while disputing that he had ever promised $6 million.
After a Post reporter began posting questions on Twitter about Trump's personal pledge, the candidate promised last week to give the entire $1 million to a single organization.
Clinton and veterans groups supporting her campaign were eager to pounce, blasting out a statement before Trump's news conference began that contrasted her record on veterans with his.
There is a "difference between what Donald Trump says and what Donald Trump does," Clinton said during a call to CNN later in the day.
"It took a reporter to shame him into actually making this contribution and giving the money to veterans," she added. "I don't know he should get much credit for that."
Other veterans groups also weighed in Tuesday.
"Donald Trump is a walking, talking fraud," Jon Soltz, an Iraq War veteran and chairman of VoteVets.org, a liberal group, said in a statement.
But Trump, who claimed that protesting veterans outside his news conference were Clinton plants, has his own supporters.
Gina Franano, executive director of Connected Warriors, said in a phone interview that she appreciated the $75,000 her group got from Trump and the attention he has given to veterans.
Al Baldasaro, a New Hampshire state representative and Trump backer who heads one of the charities receiving some of the donations, stood next to Trump during Tuesday's news conference and at one point approached the lectern to denounce the "liberal media."
"Get your head out of your butt," Baldasaro said. "Focus on the real issues."
Times staff writers Chris Megerian and Jill Ornitz contributed to this article.
Twitter: @noahbierman
MORE FROM POLITICS
Clinton and allies step up California efforts as primary draws near
Why Gov. Brown just endorsed Hillary, despite a bitter history with the Clintons
Libertarians hope voter frustration with Trump and Clinton will create a 'perfect storm'
---
UPDATES:
2:37 p.m.: This article was updated with additional background on Trump's statements, a response from Hillary Clinton and comment from veterans groups.
This article was originally published at 9:28 a.m.
---
Life is stressful. Our weekly mental wellness newsletter can help.
You may occasionally receive promotional content from the Los Angeles Times.