His exact words: What did Donald Trump mean with his 2nd Amendment comments?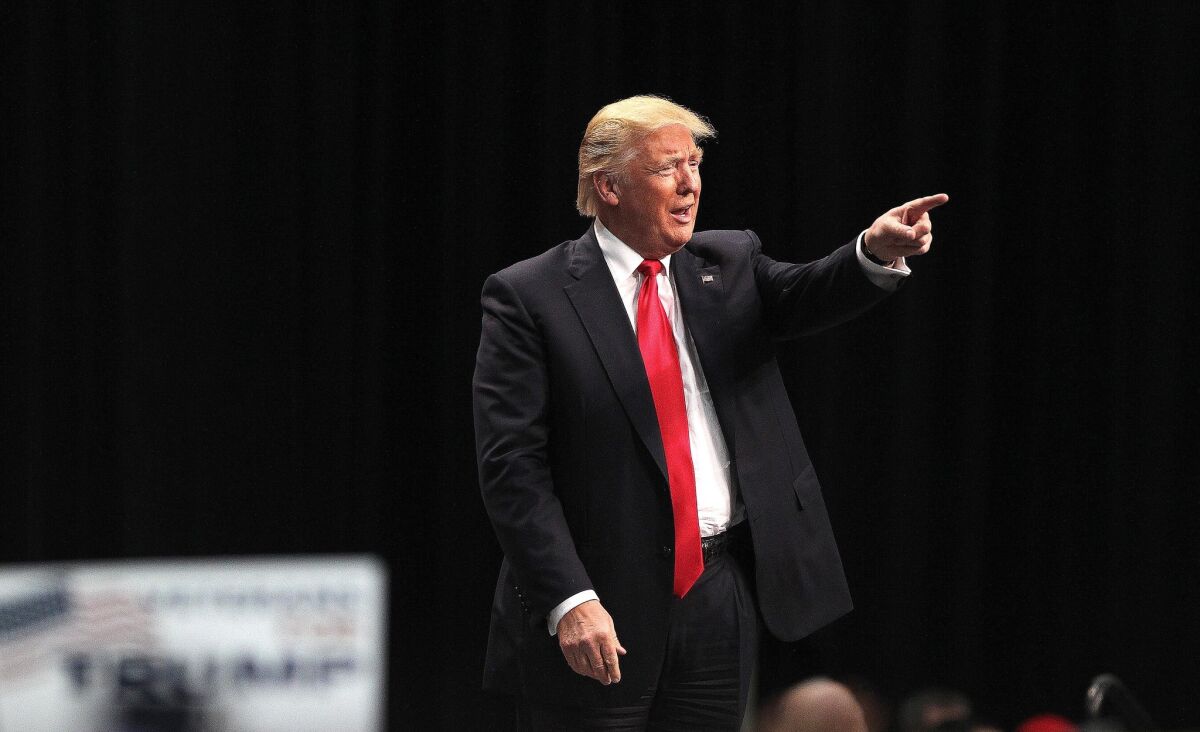 Donald Trump's comments at a campaign rally in North Carolina on Tuesday quickly went viral and sparked outrage in some circles. Is the issue subject to interpretation? Here's a look at what the Republican presidential nominee said, how he said it, and potential implications of the remarks.
What Trump said
"Hillary wants to abolish — essentially abolish — the 2nd Amendment.
By the way, and if she gets to pick, if she gets to pick her judges, nothing you can do, folks. Although the 2nd Amendment people — maybe there is, I don't know.
But — but I'll tell you what, that will be a horrible day. If, if Hillary gets to put her judges — right now we're tied. You see what's going on. We're tied 'cause Scalia — this was not supposed to happen."
How he said it
Like a lot of things Trump has said or done over the course of the campaign, there is a benign interpretation and a malignant one.
The left's response
"This is simple — what Trump is saying is dangerous. A person seeking to be the President of the United States should not suggest violence in any way," Clinton campaign manager Robby Mook said in a statement.
Connecticut Sen. Christopher S. Murphy, a Democrat who led the Senate filibuster for stricter gun control legislation in June, called Trump's comments "an assassination threat."
---
Trump team's response
"It's called the power of unification — 2nd Amendment people have amazing spirit and are tremendously unified, which gives them great political power," Trump campaign communications advisor Jason Miller said in a statement. "And this year, they will be voting in record numbers, and it won't be for Hillary Clinton, it will be for Donald Trump."
The National Rifle Assn. also defended the candidate it has endorsed.
---
Unanswered questions
Trump has not explained exactly how he defines "2nd Amendment people," but told Fox News' Sean Hannity on Tuesday night that his audience understood he was suggesting people get politically active, and "there can be no other interpretation" for what he meant.
It also is difficult to hear what supporters were shouting as Trump gave his remarks and whether he may have riffed based on what they were saying.
Could Tuesday's furor hurt his candidacy, given his history of often retaining popularity in the midst of controversy? Trump already has been seeing declining poll numbers following a bounce from his nominating convention.
Follow me: @Jill_Ornitz
ALSO
Follow our USC Dornsife/Los Angeles Times daily presidential tracking poll
---
UPDATES:
6:30 p.m.: This article was updated with comments from Trump.
This article was originally published at 3:35 p.m.
---
Life is stressful. Our weekly mental wellness newsletter can help.
You may occasionally receive promotional content from the Los Angeles Times.