Election day is five weeks away, but voters already are casting ballots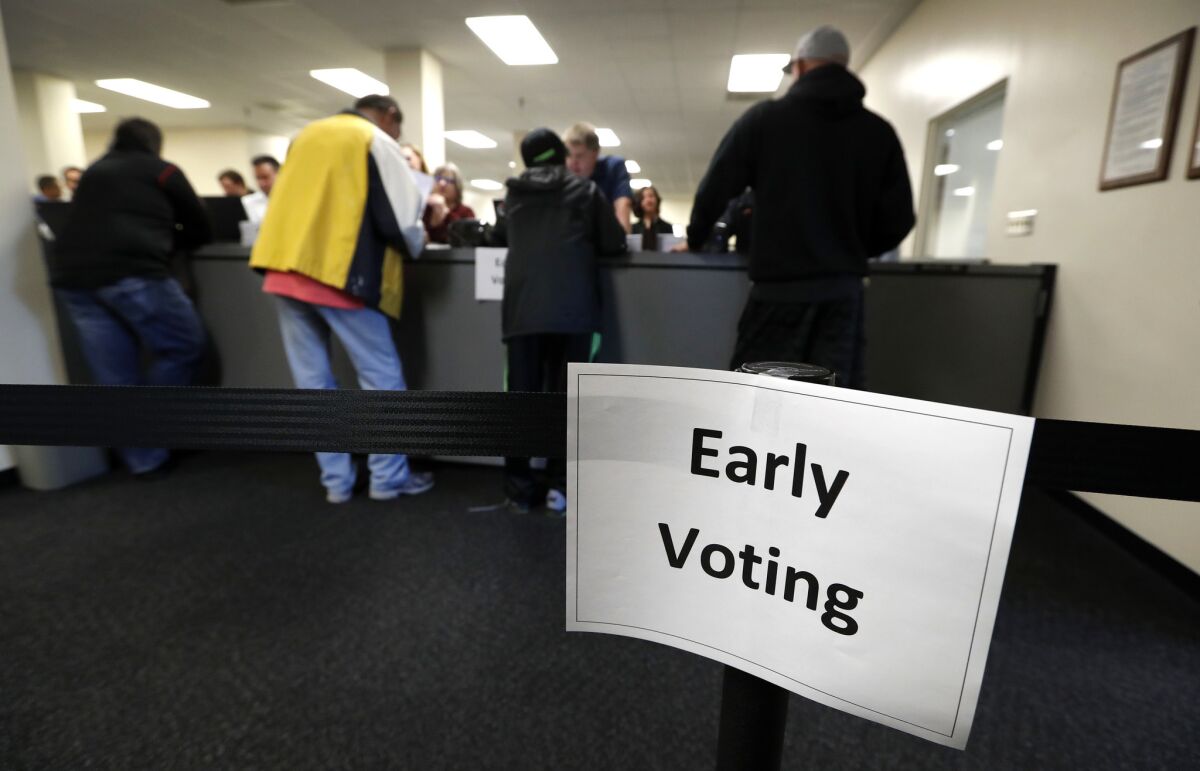 Reporting from Washington —
There may be three more debates ahead, including Tuesday night's vice presidential contest, and countless more campaign rallies and television ads to air. But their impact on the electorate will diminish with each passing day; early voting has already begun.
More than a dozen states already are collecting ballots either through absentee votes by mail or in-person early voting, and there could be some early clues as to the outcome.
A database maintained by University of Florida professor Michael McDonald in conjunction with the Associated Press Election Research Group finds that 96,024 votes have been cast nationwide.
Election 2016 | Live coverage on Trail Guide | Sign up for the newsletter | The race to 270
The Iowa secretary of state, who publishes a daily accounting of how many ballots are being requested and returned in its early voting period, says that 26,980 votes have been cast, with 57% coming from registered Democrats and 26% from Republican voters.
To put it into perspective, Donald Trump earned more than 45,000 votes in the 2016 Iowa caucuses, good for a strong second-place finish in the critical leadoff nominating contest.
Hillary Clinton's campaign has been particularly focused on maximizing its early vote program, focused on key states like Iowa, where a sizable percentage of ballots will come before Nov. 8.
Mike Pence and Tim Kaine face off on the debate stage for the first time Tuesday tonight. Here's what to expect.
In Florida, it is Republicans with a very early advantage in the early vote — with 48% of early votes received coming from GOP voters and 32% from Democrats, as of Monday.
Still, those totals are a small fraction of what the overall early vote looked like in 2012.
On election day in 2012, just 16% of Colorado voters cast ballots. Fewer than a third did in Nevada, while 38% did in North Carolina.
But that's not true everywhere. In 2012, Pennsylvania accounted for the highest percentage of election day voting, with only 4% of votes coming early by mail. But Democrats are still working aggressively to register new voters by the deadline there next week.
For more 2016 campaign coverage, follow @mikememoli on Twitter
ALSO
Their debate might not matter much, but Mike Pence and Tim Kaine would be key White House players
The most famous moment in a vice presidential debate almost didn't happen
Get our Essential Politics newsletter
The latest news, analysis and insights from our politics team.
You may occasionally receive promotional content from the Los Angeles Times.