New York's security headache: Trump and Clinton will be about a mile apart when results come in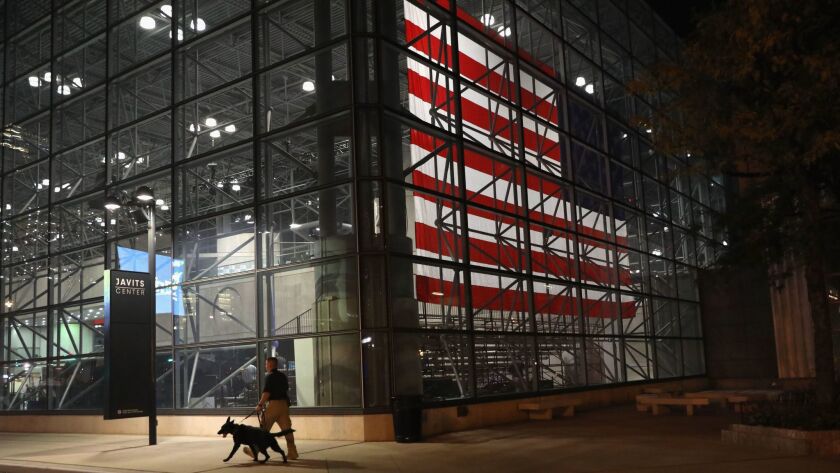 Reporting from New York —
It is a rare celestial crossing that has both Hillary Clinton and Donald Trump spending election night not only in the same city, but barely more than a mile apart in midtown Manhattan — and it is creating unprecedented security headaches for New York City.
Not since they sparred with each other on the debate stage have the Clinton and Trump orbits overlapped in this way.
Clinton is planning a big bash in a symbolically significant glass-roofed atrium that is part of the Javits convention center. Trump will be ensconced in a Hilton a mere 15 blocks away.
"Tomorrow, election day, brings with it a unique set of challenges. For the first time in modern memory, both major party candidates will monitor the results here in New York and will have election night parties in midtown Manhattan,'' New York Police Commissioner James O'Neill said Monday.
More philosophical about the election was New York Mayor Bill de Blasio, a Democrat. "It has been in many ways a challenging and painful year," he told reporters. "It stained our democracy. Tomorrow is the day when we get to make it right, when democratic process comes alive and people choose.''
The last time two presidential candidates were from New York was 1944, when Franklin D. Roosevelt won his fourth term, prevailing over New York Gov. Thomas Dewey, but celebrations were subdued because of World War II. Clinton and her husband, former President Bill Clinton, live in the suburb of Chappaqua, where they moved in 1999 so that she could run for U.S. Senate. The Queens-born Trump lives in a penthouse condominium atop the Trump Tower on Fifth Avenue.
The election night jitters come in the midst of a heightened terrorism alert. A bomb that exploded in the Chelsea neighborhood in mid-September injured 29 people. Federal officials have said they have received intelligence warnings of a terrorist threat from the Al Qaeda militant group. Islamic State has also called on its supporters to attack election targets.
"Currently the credibility and the sourcing of that information is under investigation and ongoing with no new information since last week," said James Waters, head of the Police Department's counter-terrorism bureau.
Since last year, New York City has tripled the size of what it calls its Critical Response Command, a counter-terrorism unit that grew out of the Sept. 11, 2001, attacks on the World Trade Center. Police officials said they would have more than 5,000 police officers out on election night, uniformed and plain-clothed, as well as bomb-sniffing dogs, and what they called "long gun trained" special forces.
Up until now, the largest deployment of security in New York City was during Pope Francis' visit last year, which coincided with the U.N. General Assembly, attended by President Obama and 170 other world leaders.
It is not just the threat of terrorism that is causing a headache. The polarizing presidential election has elicited strong, occasionally destructive passions. High-rise buildings in Manhattan bearing the Trump name have been pelted with eggs repeatedly. In Staten Island, the borough where Trump is most popular, a gigantic sign erected on the lawn of a supporter was set on fire in August.
"You have two things going on at once,'' De Blasio said. Besides the competing election night parties, he said, "this campaign has generated particular passion and concern. NYPD has taken into account the historic nature of this night … and has really prepared with tremendous force levels at the right locations.''
Huge crowds are expected at Times Square, where people often watch election results in much the same way that they gather on New Year's Eve. Another key location is the 58-story Trump Tower, which has become the epicenter for protests for and against Trump's candidacy.
On Sunday, competing crowds tried to drown each other out under the gold marquee of the building as police struggled to keep the sidewalks clear. A man wearing nothing but bikini underwear with the word "Trump" written on it strummed a guitar. A Filipino American nurse yelled, "God bless America. Vote for Trump,'' and a man walking by yelled back at the Trump supporters, "You drank the Kool-Aid!"
Clinton appears to be planning the larger, more lavish party at the sprawling Javits Center, which occupies a city block along the Hudson River and can accommodate as many as 85,000 people. Her campaign also received a permit for a fireworks display over the river, but the plan has been called off, according to a police official, who said he did not know the reason.
According to the New York Post, if Clinton wins there will be an after-party at the Peninsula Hotel, just one block away from Trump Tower.
Heavy security was already in place over the weekend at the Javits Center and television vans with satellite dishes were parked out front. On Sunday, the scene was quieter in front of the Hilton, where the only evidence of an impending election event was a sign that read "No Parking on Tuesday."
ALSO
Clinton and Trump churn across swing states in final blitz of campaigning
On eve of election, questions build about fairness at the polls
---
Get our Essential Politics newsletter
The latest news, analysis and insights from our politics teams from Sacramento to D.C.
You may occasionally receive promotional content from the Los Angeles Times.