Elizabeth Warren rallies in Glendale in a nod to California's early primary
Democratic presidential hopeful Elizabeth Warren brought her message of "big structural change" to California on Monday, including a preview of a sweeping proposal for universal childcare.
The Massachusetts senator pitched government-funded childcare and early learning to a raucous crowd at the Alex Theatre in downtown Glendale that was filled to its 1,400-person capacity, with hundreds more waiting outside.
The Golden State stop is unorthodox at this point in the campaign cycle; the other 10 candidates have spent most of their time in traditional early nominating states such as Iowa and New Hampshire. But Warren's travel to the West Coast could portend a new wave of attention from 2020 contenders, thanks to California moving its primary to early March of next year.
The audience got a sneak peek of the early childhood plan that Warren will formally release on Tuesday. The initiative would cover childcare and early learning for American children younger than 6 and, Warren acknowledged, would carry a substantial price tag.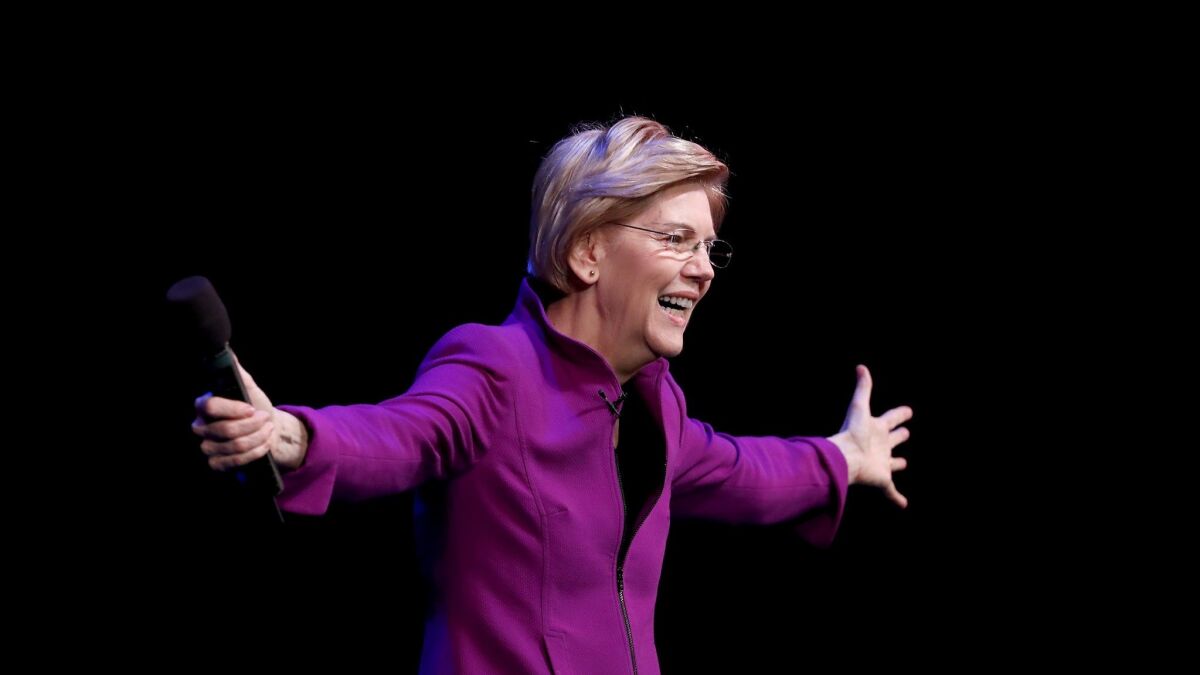 "This will be about four times more than we have invested in our children," Warren said. "But that's exactly what we need to do. We need real change."
Warren said the money would come from her proposed 2% tax on the ultra-rich — those with more than $50 million in assets.
"We can pay for universal childcare and a whole lot more if we just ask the one-tenth of 1%to pay a fair share," she said.
Family was a theme right at the outset, when Warren's 13-year-old granddaughter Lavinia took the stage to introduce her "Gammy."
Warren — who was propelled to national prominence by her rhetorical battles with Wall Street — immediately targeted the culture of Washington, D.C.
"Our government in Washington is corrupt," she said. "And every issue we care about — everything — intersects right through that."
Many in the crowd arrived at the theater hours in advance; some said they were happy to see a presidential candidate so early in the contest, after feeling neglected in past elections.
Char Manley, a healthcare worker from Huntington Beach, said she's so far undecided on her favorite Democratic candidate. But Warren has at least one attribute that Manley says is crucial: her gender.
"There are so many extraordinary women in the field," Manley said. If there were no female representation on the Democratic ticket, she added, "it would be a slap in the face."
The controversy that has dogged Warren's nascent campaign — her past claims of Native American ancestry — got little mention at the event, save for a single protestor holding a mocking sign at the theater's entrance.
Laura Pettit, a gun safety activist from Sherman Oaks, had a warning for any of Warren's rivals who may be tempted to echo President Trump's disparagement of her background.
"It's so important that we don't turn on each other," Pettit said. "Anybody that talks about Pocahontas on stage — they're off my list."
Twitter: @melmason
---
Life is stressful. Our weekly mental wellness newsletter can help.
You may occasionally receive promotional content from the Los Angeles Times.