Will Trump's pick to run the EPA office in San Francisco show up for work?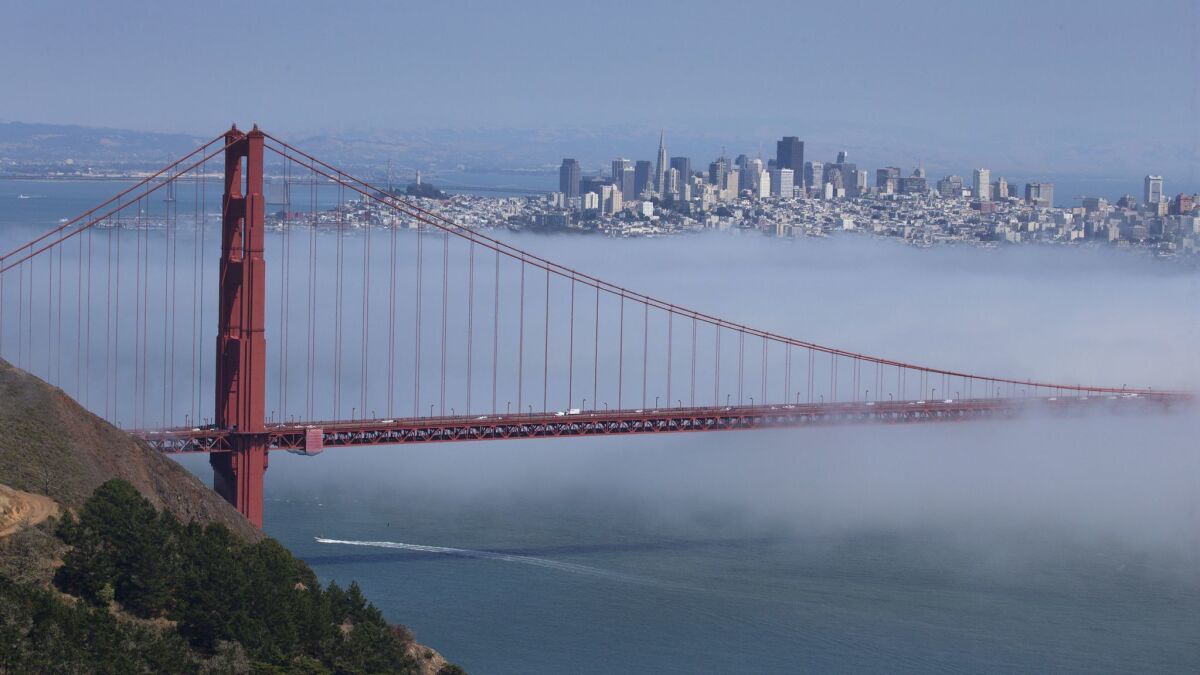 Reporting from Washington —
The White House has finally found someone to take on the stress of overseeing President Trump's fossil fuel-friendly environmental agenda in the heart of hostile territory: California and nearby states.
But there's one glaring problem.

For the record:
2:25 p.m. May 18, 2018A previous version of this story misspelled Carpinteria as Carpenteria.
The guy who will lead the Environmental Protection Agency's headquarters in San Francisco doesn't appear to want to live anywhere near San Francisco.
That didn't stop the administration from hiring Santa Barbara County GOP stalwart Mike Stoker, a politico well positioned to annoy the powers that be in California.
He credits himself with conceiving the "lock her up" chant that Trump rallygoers shouted in their rage against Hillary Clinton. He was the spokesman for one of the state's most embattled oil companies. He questions the scientific consensus on climate change.
None of those things are disqualifying, even if some in California think they should be. But Stoker's refusal to work in the liberal City by the Bay has put the administration in a pickle. Instead he wants to oversee the 700 or so enforcement officers, scientists, researchers and others guiding environmental protection in California and nearby states from a small, sparsely staffed Los Angeles satellite office.
That's a big ask in an agency already reeling from investigations into the travel habits of its leaders, including the taxpayer-funded flights back home to Oklahoma by EPA chief Scott Pruitt, some of which were in the first-class cabin.
California Sen. Dianne Feinstein fired off a letter to Pruitt on Thursday warning of the consequences of allowing Stoker to be an "absentee" chief of EPA Region 9. The Democrat demanded to know how the arrangement could possibly work, and what costs taxpayers would bear.
The EPA weeks ago alerted Stoker allies in Santa Barbara that his appointment was imminent. But the official announcement came only Friday, after his backers, including EPA political appointees, scrambled to figure out how he can run a large San Francisco-based bureaucracy without showing up there, according to staffers inside the agency who spoke on condition that their names not be used. Some career officials at the EPA are deeply skeptical, and warn such an arrangement could create yet more ethics troubles for the agency.
The last time a regional EPA chief tried juggling work at the San Francisco headquarters with trips home to Southern California, federal investigators discovered some $69,000 in flights they said may have been inappropriately billed to taxpayers. That was during the late years of the George W. Bush administration. Feinstein reminded Pruitt about that investigation, and questioned if his EPA is heeding the lessons learned from it.
Stoker, a former Santa Barbara county supervisor who made his entry into politics in the 1980s as a strident opponent of a ballot measure limiting offshore oil development, did not return calls and emails. A statement from the EPA said only, "Mike Stoker's duty station is San Francisco." Officials did not respond when asked multiple times if that is where he would be working.
Environmental groups joined Feinstein in expressing bewilderment that the region chief may keep living in Carpinteria, which is hours from even the Los Angeles office.
"You can't do that job without face-to-face contact with the scientists, engineers, lawyers, and other professionals in Region 9's office who do the heavy lifting," said Eric Schaeffer, a former chief of civil enforcement at EPA who now runs the nonprofit Environmental Integrity Project. "Phoning it in is not going to work."
Finding a leader for Region 9 was vexing for the Trump administration. One ally of industry after another rejected its overtures to lead the feisty office of career professionals who have little enthusiasm for the Trump agenda. The pay hardly compares to what potential recruits are making in the private sector, the cost of living in San Francisco is crushing and the neighbors are not particularly hospitable to folks carrying the "Make America Great Again" torch.
For such reasons, Stoker is a good fit. A Trump delegate at the 2016 Republican National Convention who delights in mocking liberals on social media, Stoker is a rare commodity on the California coast: a resilient Republican. Pruitt said he "understands the environmental challenges facing the region and will bring a wealth of experience and expertise to EPA."
"He's a bull wrangler, and that's exactly what we need," said Andy Caldwell, executive director or the Santa Barbara County Coalition of Labor, Agriculture and Business. He said Stoker is skilled at brokering deals among disparate interests.
Not all Stoker's fellow Republicans are as impressed. Dale Francisco, a former chair of the Santa Barbara County GOP, wrote several senators in March to urge they reject Stoker's appointment for a different high-level job in the administration, running the Federal Mediation and Conciliation Service. Francisco said in an interview that Stoker has never managed a major organization.
"You can be the world's most wonderful guy, but without any management experience, you should not be managing as large an organization as EPA Region 9. Period," Francisco said in an interview. "How is he going to manage this agency in a state where elected leadership is utterly opposed to Trump and get anything done?"
Other Republicans attributed Francisco's attacks to bitterness over Stoker's role advising the local GOP party in its dispute with Francisco's girlfriend, who was fired as the party's executive director. The woman brought her complaints of discrimination and retaliation to state labor investigators, who declined to take any action.
Stoker's record suggests he will be an unflinching champion of the rollbacks of fuel economy standards, air quality rules and other federal environmental protections that are riling California's leaders.
He criticized lawsuits that California municipalities filed against the oil industry for their role in climate change, telling the Santa Barbara News-Press last year that they ignore "the conflicting evidence about global warming, and as we all know, there is conflicting evidence."
One of the oil companies in the area most despised by environmentalists, Santa Maria-based Greka Oil & Gas, which has a history of regulatory troubles, spills and violations at its California facilities, was represented by Stoker.
That company, now known as HVI Cat Canyon Inc., has been in a years-long legal fight with the EPA and federal prosecutors over pollution from its operations. In 2011 the Department of Justice filed suit alleging a series of spills at the company's California facilities violated state and federal environmental laws. Last month, the company was hit with a $12.5-million fine by state regulators over violations at an oil field in Orange County.
Stoker's alignment with forces long at odds with the EPA makes him a particularly troubling pick for environmentalists. "Once again," said Linda Krop, chief counsel of the Environmental Defense Center in Santa Barbara, "it's putting someone in charge who actually opposes the mission of the agency."
More stories from Evan Halper »
---
UPDATES:
May 18, 1:05 p.m.: This article was updated with the official announcement of Mike Stoker's appointment to lead the San Francisco EPA office and a statement from the agency.
This story was originally published May 17, 5:20 p.m.
---
Life is stressful. Our weekly mental wellness newsletter can help.
You may occasionally receive promotional content from the Los Angeles Times.