Far ahead in the polls, Feinstein is in no hurry to campaign during August recess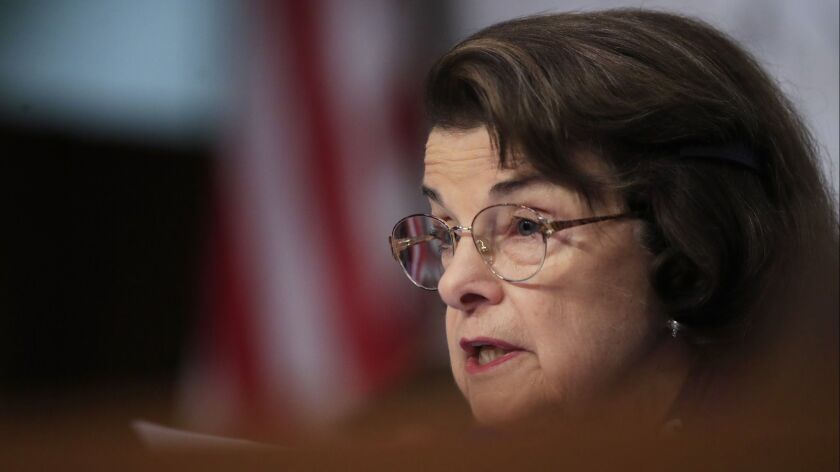 Reporting from Washington —
For senators facing reelection in November, the August recess is typically a frantic dash to squeeze in last-minute campaigning back home. And this year the window is even narrower because the summer break is shorter than usual.
But California's Sen. Dianne Feinstein isn't hosting any public campaign events during the 13-day break.
Such is the benefit of being 20 points ahead in the polls. Many of Feinstein's colleagues don't have that luxury.
Democratic Sen. Heidi Heitkamp hurried back to North Dakota for public meetings on opioid addiction and campaign stops. Democratic Sen. Joe Manchin of West Virginia met with voters about health insurance coverage of preexisting conditions and natural gas storage. Republican Sen. Ted Cruz is barnstorming across Texas, challenging his Democratic rival to a debate and asking the president to help with his unexpectedly tough reelection bid.
Meanwhile, Feinstein spent two days at Lake Tahoe at a conference she attends nearly every year in the August break, an official event paid for by taxpayers through her Senate office. There she also met with Cal Fire director Ken Pimlott. On Friday she'll hold a news conference through her Senate office about the South San Francisco Bay Shoreline Project in San Jose.
Her campaign pointed to two events she's attending during the break: a private interview with the editorial board of the San Diego Union Tribune on Thursday and helping San Francisco Supervisor Catherine Stefani open her campaign office Saturday.
"Sen. Feinstein is busy doing her job and has a mix of official and campaign activities this week," said campaign consultant Bill Carrick.
The Senate returns for votes Wednesday.
USC political science professor Ann Crigler said most Californians aren't paying attention to the race yet anyway. "It's August. It's a little early," Crigler said.
And Feinstein's low-key recess plans may reflect strategy rather than apathy, Crigler said, adding that campaigning would only draw attention to her opponent as the media strives to balance coverage. "She doesn't really need to draw attention to that because she has a comfortable lead," she said.
Feinstein's opponent, state Sen. Kevin de León, is running a scrappy, underdog campaign. De León doesn't have sufficient cash to compete in advertising and he has crisscrossed the state for the last few weeks trying to do the kind of retail politics that's daunting in a state of nearly 40 million people. During these recess weeks his campaign said he's holding fundraisers, speaking with local Democratic clubs and campaigning with congressional candidates.
De León's spokesman Jonathan Underland said "Feinstein is wrongly treating her seat in the U.S. Senate as an entitlement. We know Californians are frustrated by her lack of interest in discussing the issues of the day in their communities, and by her refusal to participate in a debate for almost 20 years."
It's not unusual for an incumbent to use the so-called "Rose Garden" strategy and rely on the trappings of the office — such as presidents appearing in the White House Rose Garden — or images of them actively doing their job in place of what most people would see as campaigning.
During the first week of the break, Feinstein's Senate office issued multiple news releases calling for more information and archived records about President Trump's Supreme Court nominee Brett Kavanaugh and his work in the George W. Bush White House.
While Feinstein is leading De Leon by a large margin in the polls, she didn't clear 50% against her more than 20 primary opponents, and she has yet to get more than 50% in any poll conducted so far.
Feinstein will likely take a more visible role on the campaign trail closer to the election, Crigler said, "just to show her vitality and to solidify the base of the party."
More stories from Sarah D. Wire »
Follow @sarahdwire on Twitter
Read more about the 55 members of California's delegation
---
UPDATES:
11:25 a.m.: This article was updated with Friday's event in San Jose.
This article was originally published at 9:35 a.m.
---
For reporting and exclusive analysis from bureau chief John Myers, get our California Politics newsletter.
You may occasionally receive promotional content from the Los Angeles Times.