Richard Gates, former top campaign aide to Trump, pleads guilty in Russia investigation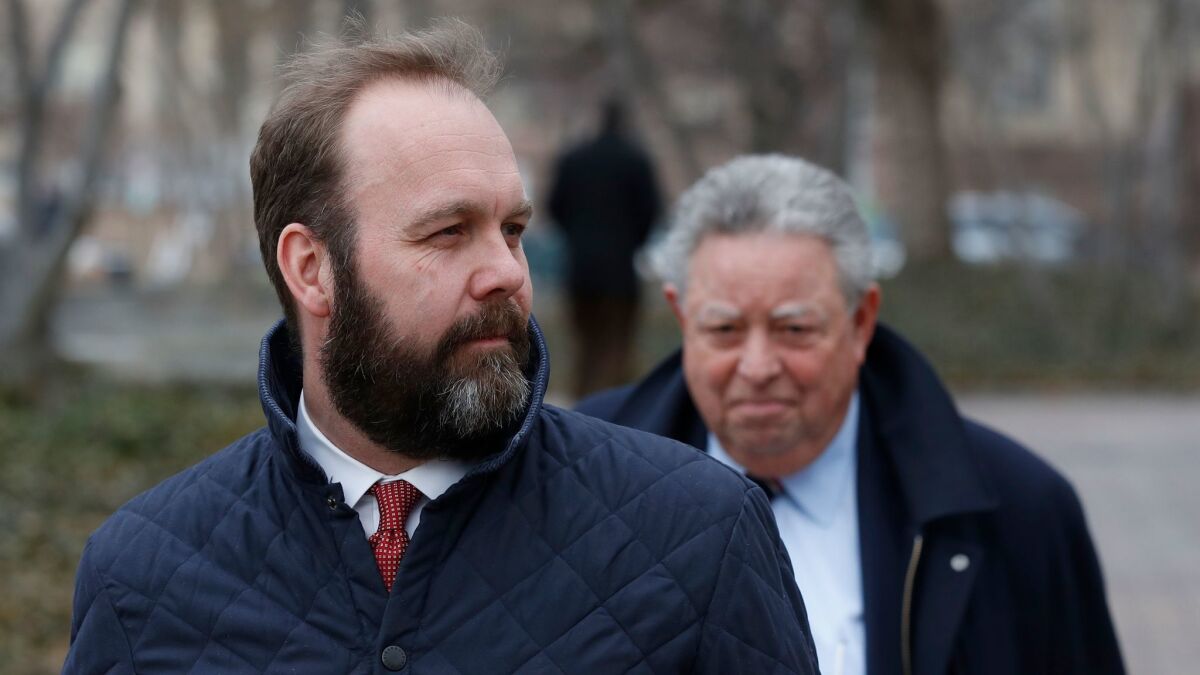 Reporting from Washington —
Richard W. Gates III, who helped manage Donald Trump's presidential campaign after making millions of dollars advising Ukraine's pro-Kremlin government, pleaded guilty Friday to conspiracy against the United States and lying to federal agents, becoming the latest former Trump aide to cooperate with prosecutors in the sprawling Russia investigation.
The guilty plea is unusual because court papers reveal that Gates lied to special counsel Robert S. Mueller III and the FBI as recently as Feb. 1, when he already was negotiating with prosecutors about the raft of criminal charges he was facing.
Gates' original three lawyers applied to withdraw from the case the same day, a hint of a behind-the-scenes personal drama that preceded Friday's denouement. Gates, 45, looked haggard, with dark circles under his eyes, when he appeared in court before U.S. District Judge Amy Berman Jackson.
Gates is the fifth person to plead guilty to charges stemming from the Mueller probe, and the first to confess to more than one criminal charge. While Gates could face more than five years in prison on the two charges, he is expected to be sentenced to about 18 months, according to a person familiar with the plea negotiations.
Mueller has proven adept at securing cooperation from Trump's former associates as he investigates Russian meddling in the 2016 election, and whether anyone in the Trump campaign assisted in that operation or committed other potential crimes, including obstruction of justice while in the White House.
Gates' plea poses the biggest immediate risk to Paul Manafort, who was Trump's campaign manager and Gates' longtime business partner.
Prosecutors had filed several dozen charges against Manafort and Gates, including tax evasion, bank fraud and conspiracy, mostly stemming from their alleged attempts to hide more than $30 million from their consulting and lobbying work for the Kremlin-backed government in Ukraine.
They both pleaded not guilty when the first indictment was unveiled on Oct. 30. Gates now is expected to testify against Manafort, who said Friday that he is innocent of the charges.
"Notwithstanding that Rick Gates pled today, I continue to maintain my innocence," Manafort said in a statement. "I had hoped and expected my business colleague would have had the strength to continue the battle to prove our innocence. For reasons yet to surface he chose to do otherwise. This does not alter my commitment to defend myself against the untrue piled up charges contained in the indictments against me."
Several hours later, the special counsel's office unveiled a superseding indictment against Manafort that also accused him of secretly paying former European politicians to advocate for Ukraine, part of an undisclosed effort to lobby members of Congress and the Obama administration.
None of the charges against Gates and Manafort cite Russian meddling in the presidential election, which was the impetus for Mueller's investigation. But the allegations extended through 2017 and thus overlapped with the pair's work in the top ranks of the Trump campaign, according to court documents.
It's unknown whether Gates has more to offer beyond testimony against Manafort. He served as a senior advisor to the Trump campaign after Manafort stepped down as campaign manager in August 2016, helped organize Trump's inauguration in January 2017, and had access to the White House as an outside advisor in the early weeks of the administration.
Gates' guilty plea marks an emphatic fall for the married father of four. The son of a career Army officer, Gates had maintained an appearance of wealthy prestige while living in an upscale neighborhood of Richmond, Va.
After breaking with his original three lawyers, Gates was represented by Thomas C. Green, who negotiated the plea deal with two prosecutors, Andrew Weissmann and Greg D. Andres, from Mueller's team. The Times first reported an expected deal on Sunday.
Gates is scheduled to return to court on May 14 for a status hearing.
Gates' guilty plea for lying to investigators stems from his account of a dinner discussion on March 19, 2013, between Manafort and Rep. Dana Rohrabacher (R-Costa Mesa), who has been a strong advocate for better U.S. relations with Russia.
Three weeks ago, as he was negotiating his plea deal, Gates told the FBI that Manafort and an unnamed lobbyist had told him they didn't talk to Rohrabacher about Ukraine.
But, according to a court filing Friday, Gates had helped Manafort prepare a report that "memorialized for Ukraine leadership the pertinent Ukraine discussions that Manafort represented had taken place at the meeting."
Last year, Manafort and Vin Weber, a former Minnesota congressman and a partner in the Mercury Public Affairs firm in Washington, filed belated reports to the Department of Justice under the Foreign Agents Registration Act, listing the Rohrabacher meeting as part of their lobbying work on behalf of Ukraine government interests.
Rohrabacher acknowledged to The Times in an interview last year that he had discussed Russian and regional issues at what he called "a nice little dinner" at the Capitol Hill Club. Three days after the meeting, Manafort contributed $1,000 to Rohrabacher's reelection campaign.
Rohrabacher declined to comment when contacted by a reporter on Friday, saying, "I can't do any interviews off the cuff" before hanging up.
Weber did not immediately respond to requests for comment. A statement from Mercury said Gates lied to the firm about the Ukraine effort, adding that it's cooperating with prosecutors and "confident [they] have acted appropriately throughout."
Rohrabacher spokesman Ken Grubbs said Friday that Ukraine only came up "in passing" because the men "reminisced and talked mostly about politics."
"As the congressman has acknowledged before, the meeting was a dinner with two longtime acquaintances — Manafort and Weber — from back in his White House and early congressional days," Grubbs said in an email. "It is no secret that Manafort represented [then-Ukrainian President] Viktor Yanukovych's interests, but as chairman of the relevant European subcommittee, the congressman has listened to all points of view on Ukraine. We may only speculate that Manafort needed to report back to his client that Ukraine was discussed."
The Podesta Group, a firm with high-level Democratic connections, also last year reported doing lobbying work for the Ukraine interests under Manafort's direction. Tony Podesta, whose brother John Podesta was the chairman of Hillary Clinton's 2016 presidential campaign, left the firm after the initial indictment of Manafort and Gates last year. The firm disbanded soon after. A spokesman for Tony Podesta declined to comment.
Follow live coverage of the Trump administration on Essential Washington »
In two major indictments, prosecutors painted a detailed picture of how Manafort and Gates used offshore accounts to illegally funnel tens of millions of dollars into the United States to purchase real estate and finance luxury lifestyles.
Their income dried up after political unrest forced Yanukovych to flee to Russia in 2014, and the indictment says they turned to fraud to obtain more than $20 million in loans.
Mueller was appointed last May and has already scored several notable successes.
Former White House national security advisor Michael Flynn pleaded guilty on Dec. 1 to lying to investigators about his communications with a Russian diplomat during the presidential transition. He admitted to discussing sanctions that former President Obama had implemented to punish Moscow for meddling in the campaign.
George Papadopoulos, a former campaign foreign policy advisor, also pleaded guilty to lying last year. He had falsely denied contacts with Russians who claimed to have "thousands of emails" on Democratic presidential candidate Hillary Clinton.
Alex van der Zwaan, a former attorney at a prominent U.S. law firm who worked on a report on behalf of Ukraine's pro-Russia government, pleaded guilty on Tuesday. He had lied to investigators about his communications with Gates.
A separate indictment from Mueller's team last week charged 13 Russians and three Russian companies with illegally using social media, stolen IDs and other tactics in an effort to sway U.S. voters to support Trump and vote against Clinton.
Richard Pinedo, a California resident, pleaded guilty to identity theft as part of that investigation.
Times correspondent Sarah D. Wire contributed to this report.
Twitter: @chrismegerian
Twitter: @DWillmanNews
Twitter: @jtanfani
ALSO
For Trump's national security team, addressing the threats means ignoring the tweets
Russia investigation leads to guilty plea for lawyer linked to Trump's former campaign aides
---
UPDATES:
4:30 p.m.: This article was updated with details from the court hearing.
1:35 p.m.: This article was updated with details about Gates' lying to the FBI.
12:05 p.m.: This article was updated with a statement from Manafort.
11:45 a.m.: This article was updated with Gates pleading guilty.
This article was originally published at 9:35 a.m.
Get our Essential Politics newsletter
The latest news, analysis and insights from our politics team.
You may occasionally receive promotional content from the Los Angeles Times.