If the polls are any indication, these key governor's races will be very close on Tuesday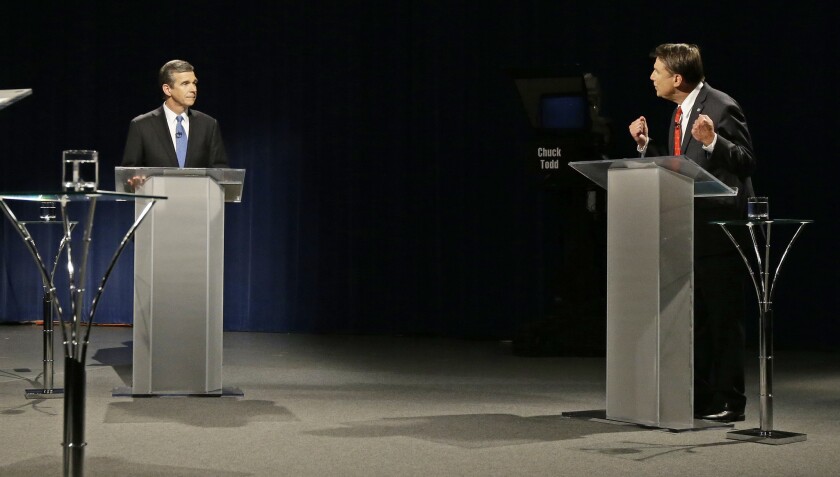 Reporting from RALEIGH, N.C. —
North Carolina Gov. Pat McCrory was in a fight for his political life. His ardent defense of House Bill 2, a controversial law deemed so discriminatory by some sports leagues that they pulled more than a dozen championship events from the state, had left him with strongly unfavorable ratings from moderates. With one month left before Election Day, the sitting governor trailed his Democratic opponent by nearly double digits.
Then, the remnants of Hurricane Matthew brought record river levels to parts of the state. In all, at least 22 people died.
McCrory's constant presence on television screens across North Carolina for twice-daily press conferences during the flooding helped his poll numbers greatly — especially concerning his favorability ratings, which jumped from 39% in late August polls to 49% this week.
Democrats hope they can hold onto as many as eight governorships in this election and take two more from the GOP, including McCrory's seat. In all, there are 12 governorships up for grabs. The Obama years, especially since the emergence of the Tea Party wing of the Republican Party in 2010, have been brutal for the Democrats; during that time they lost 59 out of 94 gubernatorial races.
In late summer, two Democrats had healthy leads that, by fall, have thinned out to nearly even races. Roy Cooper, McCrory's opponent in North Carolina, and Chris Koster in Missouri now find themselves in tight contests with their Republican opponents in an unpredictable election season for states' highest offices.
If Republicans win in toss-up races, they would tie their own record for the most postwar governorships held by one party. They currently hold 31 governorships across the country; Democrats hold 18, and Alaska's Bill Walker is an independent.
Six sitting governors have recently left office due to term limits, retirement, unpopularity, or runs for federal office. Their open seats make for the most competitive gubernatorial races in the country.
Here's a rundown of close races to watch.
North Carolina
After trailing by more than nine points in late August polling, McCrory has pulled into a statistical dead heat with his Democratic opponent, Atty. Gen. Roy Cooper, according to a Monmouth University Poll conducted Oct. 20-23. But McCrory remains so unpopular in urban and suburban parts of the state that Democrats in down-ballot races have tied their opponents to McCrory in negative ads, an unusual position for a sitting incumbent to find himself in.
Indiana
When Gov. Mike Pence dropped out to become Donald Trump's GOP presidential running mate in July, Republican Lt. Gov. Eric Holcomb had to hurriedly step in, giving his opponent, Democrat John Gregg, an early advantage. Gregg's lead is tightening in conservative Indiana, where Holcomb trailed by six points in a poll released Oct. 31. With Gregg leading, the Democrat's fundraising disadvantage apparently didn't hurt him. Holcomb out-raised Gregg, $7.7 million to Gregg's $4.5 million in the third quarter, but Gregg maintained about $2 million more in cash on hand.
Vermont
In Vermont, an unpopular outgoing governor gave way to two political veterans whose race will be decided by independent voters. Early polling showed three-term Republican Lt. Gov. Phil Scott and Democrat Sue Minter in a dead heat, but Scott has since appeared to take the lead. Minter, who was most recently Vermont's transportation secretary, has sought to distance herself from deeply unpopular outgoing Gov. Peter Shumlin, also a Democrat, while aligning with Sen. Bernie Sanders, the state's most popular politician. Independents have been breaking significantly toward Scott, with 54% to Minter's 12%.
Missouri
One of the most famous ads of the political season came from Missouri, where a Senate candidate assembled an AR-15 while blindfolded to demonstrate his Second Amendment bona fides. That candidate, a Democrat, demonstrated the lengths candidates must go in the Show Me State to assure voters of their commitment to traditional conservative principles.
Democratic gubernatorial nominee Chris Koster is no different, making clear to prospective voters that he supports a bill that eliminates training requirements to carry a concealed weapon. His predecessor, Democrat Jay Nixon, vetoed the bill. Koster also checked another conservative box with his support of a bill requiring a government ID to vote. But Koster's double-digit lead over the summer has thinned considerably. Now, Koster is tied with retired Navy SEAL Eric Greitens, a Republican, 46%-46%, in a Monmouth poll released in late October.
New Hampshire
The race for governor of New Hampshire has stayed close, with the Republican and Democratic candidates trading a slight lead back and forth late in the election season. New Hampshire Gov. Maggie Hassan, a Democrat, left her seat to challenge a vulnerable Republican opponent in the U.S. Senate. In her place, Republican Chris Sununu held a six-point lead over Democrat Colin Van Ostern this summer. Sununu, the son of a former Republican governor, and Van Ostern are both members of New Hampshire's Executive Council, which along with the governor approves spending in the state.
By the fall, however, Sununu's lead had weakened slightly, and a Monmouth University telephone survey found Van Ostern leading. By early November polls, however, Sununu had recaptured a slim lead in both a Boston Globe poll and one by WBUR.
West Virginia
In West Virginia, Democrats appear to have a lead in spite of the national party's perception in the state.
Democrat Jim Justice, a former coal executive, held an 11-point lead over Republican Senate President Bill Cole in an Oct. 12-17 poll by MetroNews West Virginia. Cole's camp responded that its own internal polling showed the candidates in a dead heat.
The Obama administration's arms-length treatment of coal has left state voters deeply suspicious of national Democrats. Justice has worked past Clinton and Obama's unpopularity in the state by ignoring them completely in his campaign, instead focusing on the business success that has made him West Virginia's only billionaire.
Montana
Montana's incumbent governor is another Democrat studiously avoiding comparisons to the national party while fending off a Republican challenger.
Sitting Democratic Gov. Steve Bullock maintains a lead over Republican Greg Gianforte, a Bozeman businessman. A Montana State University Billings poll found support for Bullock at 44% to Gianforte's 32%, but a Mason-Dixon Polling and Research poll commissioned by Lee Newspapers found Bullock with just a two-point lead, within the poll's margin of error.
Like Missouri, candidates here must prove their adherence to conservatism, regardless of party. The same MSUB poll found voters were slightly opposed to recreational marijuana while judging the Affordable Care Act as a failure for the state. They strongly rejected a ban on trapping animals on public lands.
And here are the races that are considered safe for their respective parties:
Delaware
The lone state to lose its sitting governor but avoid a competitive race, Delaware remains solidly blue in polling. A University of Delaware poll found Democrat John Carney leading Republican Colin Bonini, 54% to 25%.
North Dakota
No polling has been done in North Dakota, where Republican Gov. Jack Dalrymple is retiring and Republican Doug Burgum is expected to replace him. Burgum, a businessman and former Microsoft executive, is considered a safe bet to defeat Democrat Marvin Nelson.
Oregon
Former Oregon Gov. John Kitzhaber's reign ended last year in scandal. Into the fray stepped Kate Brown, the Secretary of State and a Democrat, who is running in a special election. A Republican hasn't won the governorship here since 1983, and that streak is expected to continue against little-known Republican Bud Pierce.
Utah
The surprising news out of Utah comes in the presidential race, where the state's Mormon population has turned against Republican presidential nominee Donald Trump. The governorship here, however, is business as usual. Republicans dominate the Beehive State, and that is expected to continue this year with incumbent Gary Herbert, who faces no real threat from Democrat Mike Weinholtz.
Washington
Washington state's sitting governor, Democrat Jay Inslee, maintains a double-digit lead over Republican Bill Bryant, 51% to 39%, according to pollster Stuart Elway. The liberal state is pulling slightly more for Inslee than it did during the summer, even though his overall approval ratings have been low for most of his term.
Follow Nigel Duara on Twitter: @nigelduara
---
Life is stressful. Our weekly mental wellness newsletter can help.
You may occasionally receive promotional content from the Los Angeles Times.