Trump goes a different direction in his choice of Health and Human Services secretary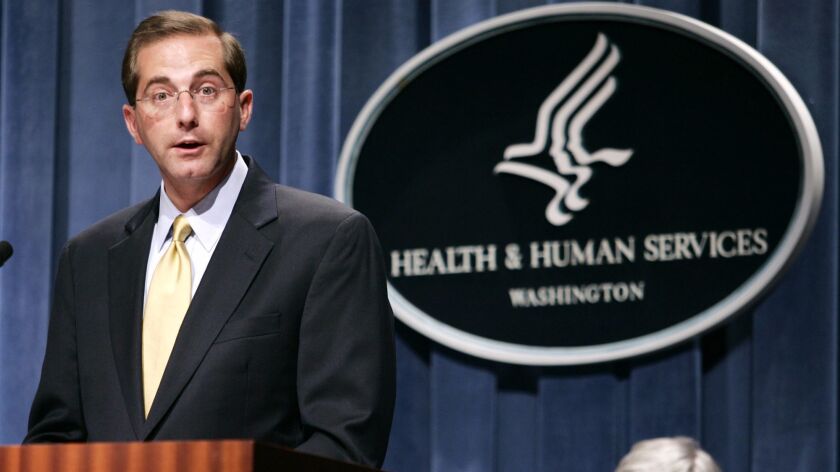 Reporting from Washington —
Donald Trump's first Health and Human Services secretary, Tom Price, was an ideological warrior, bent as the president is on repealing and replacing Obamacare, the signature domestic achievement of the former president. Even though he was steeped in healthcare policy, Price was an outsider to the agency he was sent to run.
The second time around, Trump went in the opposite direction, on Monday nominating as Price's replacement Alex Azar, a former pharmaceutical executive and a high-ranking Health and Human Services official during George W. Bush's second term.
If confirmed by the Senate, Azar would replace Price, who resigned under pressure on Sept. 29 after a series of stories in Politico documented his repeated use of private jets and government aircraft instead of commercial planes, at a cost of more than $400,000. Investigations into Price's actions are ongoing.
Price, a Republican who represented a Georgia district in Congress before he was named to the Cabinet, also presided over the failure of the president's effort to make good on a campaign promise to eradicate Obamacare.
Azar served as deputy secretary of Health and Human Services from 2005 to 2007. He later served at the drug company Eli Lilly and Co. as director of managed care and, from 2012 to early this year, as president.
In announcing the appointment, Trump suggested that Azar's tenure at the drug company would give him insight into how to trim prescription costs, historically a major healthcare complaint.
"Happy to announce, I am nominating Alex Azar to be the next HHS secretary," Trump said. "He will be a star for better healthcare and lower drug prices!"
Democrats on the committees that will oversee Azar's nomination expressed some skepticism, in part because of his years at Eli Lilly.
The top Democrat on the Senate Finance Committee that will vet the nominee, Sen. Ron Wyden of Oregon, said he would ask for Azar's "commitment to faithfully implement the Affordable Care Act and take decisive, meaningful action to curtail the runaway train of prescription drug costs."
Sen. Patty Murray of Washington, the top-ranking Democrat on the health committee, used the nomination of Azar to blast the man he would replace. She said Price "sabotaged families' coverage, tried time after time to jam Trumpcare through Congress, eroded women's access to reproductive care, and more."
"In considering Mr. Azar's nomination I will seek to understand whether he is willing to stand up to President Trump and his administration to ensure the needs of all patients and families are put first," she said. "I am also interested in how, given Mr. Azar's professional background, he believes he can fairly execute any significant effort to lower drug prices for patients."
Republicans lauded the nomination.
Sen. Lamar Alexander of Tennessee, the Republican who heads the Senate's health committee, said Azar had "the qualifications and experience to get results" and said the committee would "promptly" set a date for hearings.
Sen. Orrin G. Hatch (R-Utah), the Finance Committee chairman, used the announcement to criticize the Affordable Care Act and said he looked forward to hearing Azar's "plan to restore our faith in our nation's healthcare system and get it back on track."
But among many of those those well-versed in healthcare policy, Azar's pick was seen as heartening.
Andy Slavitt, who oversaw Medicare, Medicaid and insurance markets during the Obama administration, said that while he differed with any Trump pick over "political values…realistically, it could have been a helluva lot worse."
"He's somebody who has been a career civil servant; he has a lot of respect for the people in the department and that's a good start," Slavitt said.
But he said Azar's impact, assuming he is confirmed, will rest more on whether he will stand up to the president "when Trump is outlandish" and whether he will reach across the aisle to encourage bipartisan solutions to healthcare issues.
Murray and Alexander have been working on a bipartisan plan to shore up healthcare coverage, but it has been cast aside repeatedly as Republicans sought party-line votes on rescinding Obamacare.
Dr. Georges Benjamin, executive director of the American Public Health Assn., said Price came into the department "with very, very strong ideological views" and declined to meet with his group. Azar, he said, has not been among those openly fighting to repeal the Affordable Care Act, and by reputation is less partisan.
"He's smart, practical, listens to all sides," Benjamin said, adding, "We've got somebody whose heart is in the right place."
He said he was not bothered, at this point, by Azar's affiliation with Eli Lilly: "He knows the inside of the way the industry works; maybe he comes up with clever solutions."
Robert Weissman, president of the left-leaning advocacy group Public Citizen, strongly disagreed, suggesting in a written statement that Azar was complicit in "price gouging" by the nation's pharmaceutical companies.
"If Alex Azar's nomination is confirmed, then Big Pharma's coup d'etat in the health care sphere will be virtually complete," he said.
Twitter: @cathleendecker
ALSO:
Ex-intelligence chiefs blast Trump over Russia comments
Trump's agenda at stake as sexual assault allegations against Roy Moore turn Alabama senate race into a toss-up
Updates on California politics
---
UPDATES:
4:50 p.m.: This article was updated to focus on the contrast with Tom Price.
1:55 a.m.: The article was updated with reaction to the nomination.
This article was originally published at 10:55 a.m.
---
For reporting and exclusive analysis from bureau chief John Myers, get our California Politics newsletter.
You may occasionally receive promotional content from the Los Angeles Times.