Unlikely Democratic House candidates are gaining momentum, even in GOP strongholds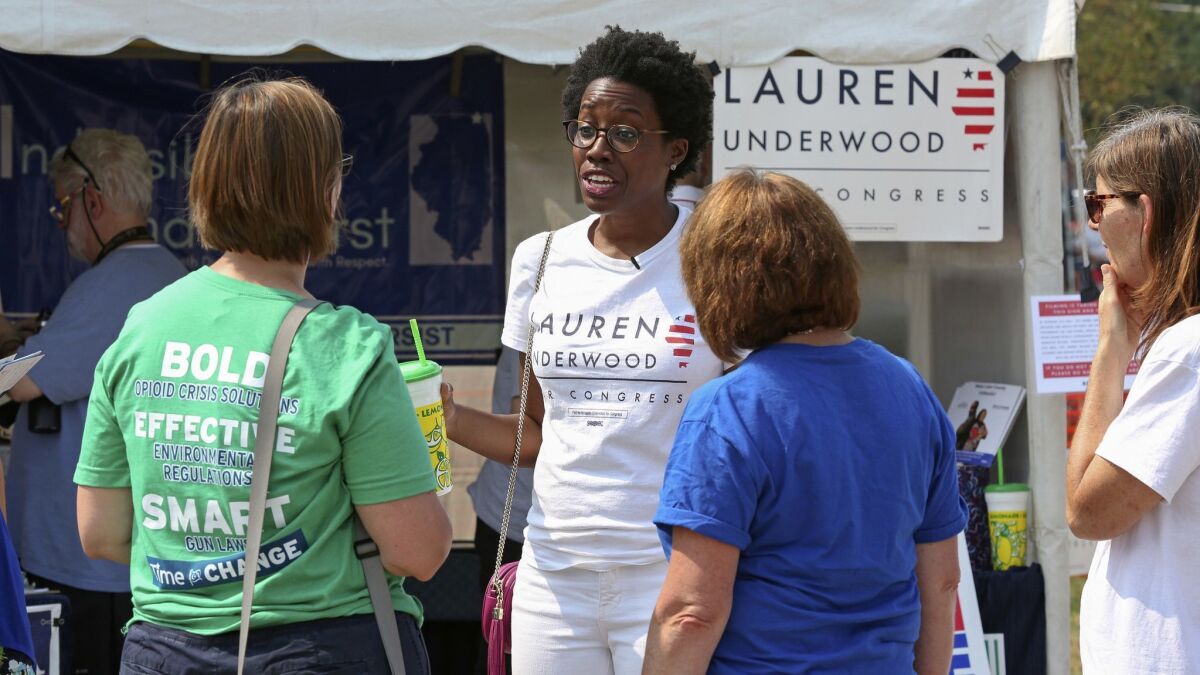 Reporting from WAUCONDA, Ill. —
Democrats' path to seizing the House may very well run through small, suburban wine bars such as the one in downtown Wauconda, Ill., 50 miles outside of Chicago, where a group of mostly white, middle-aged women gathered last week to meet a millennial, African American woman running for Congress in a district that Donald Trump won two years ago.
Between sips of artisanal reds and after the monthly open-mic storytelling night at Bliss Wine and Gifts, first-time Democratic candidate Lauren Underwood, 32, impressed and energized the room.
Cecilia Carman, a 50-year-old nurse who lives in nearby Lake in the Hills, said she was drawn to Underwood's support for the Affordable Care Act and climate change policies. But President Trump wasn't far from her mind. She relished the idea of electing Underwood to a Democratic House majority that would stand up to the president.
"If someone's going to impeach Trump, I want a black woman to do it, not a white man," Carman said. "Having her run, it means the world to me."
In past years, Underwood — or any Democrat, really — wouldn't be a formidable challenge to Rep. Randy Hultgren, a four-term Republican incumbent who won his last race in this suburban-rural district by nearly 20 percentage points. But this election cycle, opposition to Trump is allowing Democrats to compete in places once far out of reach.
Political forecasters and the few public polls in the race suggest the contest is a toss-up, with an edge in Hultgren's favor given that Republicans outnumber Democrats in the district.
But there are reasons for Democrats to be hopeful: Underwood has raised about four times as much money as Hultgren. She has more ads on TV. And her supporters packed the only public meeting of the two candidates earlier this month.
Both national political parties have put up radio and television ads in recent weeks, a sign they view it as competitive. Former Vice President Joe Biden is stopping by this week to hold a rally with Underwood. Trump appeared with Hultgren and two other endangered GOP House incumbents in southern Illinois last weekend.
Underwood worked for the Obama administration on implementing the 2010 healthcare law and responding to crises such as Ebola. She moved home to Illinois after the administration ended and said she was spurred to run by Hultgren's 2017 vote to repeal Obamacare. When she was a child, she was diagnosed with a heart problem — a preexisting condition that would have once made it expensive or impossible for her to obtain health insurance until Obamacare ended such practices.
"I decided: You know what? It's on. I'm running," she told the wine bar crowd on historic South Main Street in this well-heeled community. "You can imagine, being very upset and moved to action and [having made] this big decision running for Congress and it's like, 'Oh God, how do I do this?'" she said to laughter in the room.
Nationwide polls suggest Democrats have an opportunity to flip the 23 GOP-held seats they need to obtain control of the House, particularly in districts that Democratic presidential candidate Hillary Clinton won in 2016, such as the neighboring suburban home of Republican Rep. Peter Roskam. But Democrats hope that the "blue wave" is even bigger than that, reaching once reliably GOP districts such as the one Underwood hopes to win.
"The blue wave was never going to be double-digit wins. It was going to be close races tipping the way of Democrats," said Rep. Katherine Clark (D-Mass.), vice chairwoman of recruitment for House Democrats. "We always anticipated these would be tight races playing on a field where Democrats haven't been successful in a long time."
They're pinning their hopes on white, educated, independent or Republican-leaning women who have turned on Trump and could be encouraged to vote for a Democratic congressional candidate this year.
The 14th Congressional District of Illinois — which spans the well-kept lawns of high-income professionals in the far northern and western suburbs of Chicago as well as Illinois's corn and soybean farms — is exactly that kind of place. The median household income here is $92,000, and 48% of adults have college degrees — far outpacing national averages.
Underwood says she was one of those women spurred to action by opposition to Trump. She participated in the January 2017 Women's March in Washington. Women make up the campaign's core volunteers and donors.
Underwood could also be buoyed by GOP voters who are frustrated or even angry with their own party.
Chris Hennessey, a 34-year-old registered Republican, has voted for Hultgren four times since 2010 but plans to support Underwood. Hennessey said he's frustrated that his congressman has not spoken out more against Trump administration policies, particularly the separation of children and parents at the southern border.
Hennessey said he's discouraged with what he's "seeing from our current Congress," comparing the debates on Capitol Hill to the temper tantrums of his two small children. "My hope is Lauren Underwood would go and be able to, as a freshman congressman, influence that conversation," he said.
In a nod to the district's GOP leanings, Underwood is not tacking too far to the left. She said she doesn't support a Medicare-for-all plan until she sees how it would be paid for and said she hasn't determined whether she would vote for House Democratic Leader Nancy Pelosi as speaker.
Hultgren, who is facing his most serious challenge since he was first elected in a GOP wave in 2010, predicts the Democrats' blue wave will crest outside of his district.
"We've sensed for a long time that the other side was going to be engaged. … The question was whether both sides would be. And I think that's what we're seeing — both sides are going to vote. I feel good about that," he said in an interview.
Hultgren defended getting outraised by Underwood and said he didn't overlook the potential for a Democratic wave, as some Republicans have done. He suggested national Republicans waited too long to provide help.
"I felt like it was a toss-up all along. I felt like it was a voter-turnout election. So when it was kind of getting ignored for a while, I didn't like that."
Hultgren is running on the strong economy, low unemployment and national security — the first points he mentioned in his joint appearance with Underwood earlier this month at a packed historic courthouse in Yorkville, Ill.
Some of Hultgren's supporters say they wish he were more aggressive, like Trump.
"I wanted him to be a lot more combative, but that's not his way," said Elsie Campbell Morrissey, who lives in Sandwich, Ill. and is knocking on doors for Hultgren. "He just can't call people liars even though they are."
Hultgren has embraced Trump's policies — in addition to the repeal of Obamacare, he voted for the tax bill and an anti-opioid bill — but says he objects to some decisions, such as the family separations at the southern border. And he doesn't like the president's "tone."
But Hultgren — as well as fellow Illinois GOP Reps. Rodney Davis and Mike Bost — happily accepted the president's visit and endorsement during a rally Saturday in Bost's southern Illinois district.
Davis and Bost, like Hultgren, are fending off Democratic candidates who in other years would have been unlikely to pose a significant threat.
Rep. Cheri Bustos (D-Ill.), a rising Democratic leader, traveled to Davis' district this week to help the Democratic candidate there, Betsy Dirksen Londrigan, 47, another first-time candidate trying to oust a Republican who hasn't faced a serious challenge in recent years.
Londrigan, like Underwood, has said she was motivated to run to stop GOP attacks on Obamacare protections, pointing to a life-threatening illness in 2009 that nearly killed her son.
But in the final days of the campaign, attitudes about Trump remain at the forefront.
"Do you remember what you felt like when you woke up the day after the election in November 2016?" Bustos asked students at an Illinois college campus this week. "And then if you think about what then has happened over the last two years? You have the power to make sure we don't have that feeling again in November 2018."
jennifer.haberkorn@latimes.com
Twitter: @jenhab
---
Life is stressful. Our weekly mental wellness newsletter can help.
You may occasionally receive promotional content from the Los Angeles Times.