Mueller more than doubles criminal charges against Manafort and Gates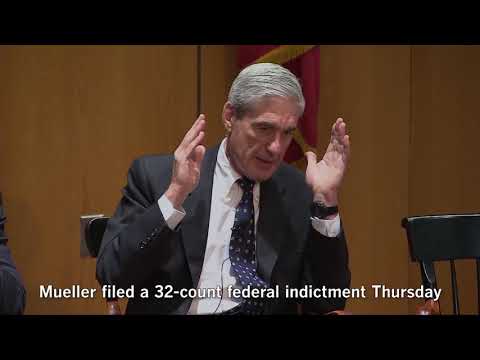 Special counsel Robert Mueller more than doubled criminal charges against Paul Manafort and Richard Gates
For years, Ukraine was a lucrative source of income for Paul Manafort and Richard Gates, two high-powered American political consultants who made tens of millions of dollars wielding their talents on behalf of the pro-Moscow government in Kiev.
But the cash dried up when political unrest forced their patron, President Viktor Yanukovych, to flee to Russia in 2014. So, according to a 32-count federal indictment filed Thursday by special counsel Robert S. Mueller III, Manafort and Gates turned to fraud.
The indictment dramatically expands the legal jeopardy that Manafort, President Trump's former campaign manager, and Gates, Manafort's longtime business partner and Trump's former deputy campaign manager, now face in court. They were previously charged with 12 counts of fraud, conspiracy and money laundering on Oct. 30, and they pleaded not guilty.
The new indictment includes 16 counts related to false individual income tax returns, seven counts of failure to file reports of foreign bank and financial accounts, five counts of bank fraud conspiracy and four counts of bank fraud.
The alleged scheme began in 2006 and continued "through the present," the indictment says. It does not mention their work in 2016 helping to run Trump's campaign or any collusion with Russians attempting to influence the U.S. presidential race, the impetus for Mueller's investigation.
But the 37-page document describes an intricate scheme intended to evade U.S. taxes and finance luxury lifestyles.
When Manafort and Gates were working for Yanukovych, money was funneled into offshore accounts and used to buy U.S. real estate, the indictment says. Manafort is charged with not reporting more than $13.7 million in accounts hidden offshore.
After Yanukovych was ousted, Manafort and Gates obtained more than $20 million in loans secured by the properties, the indictment says, "allowing Manafort to have the benefits of liquid income without paying taxes on it."
"Manafort and Gates defrauded the lenders in various ways," by submitting phony income statements, "lying about their debt and lying about Manafort's use of the property and the loan proceeds," the indictment says.
Prosecutors say Manafort's real estate dealings sometimes included multiple frauds for a single property.
In 2012, for example, Manafort bought a condominium in the SoHo neighborhood of Manhattan with $2.85 million in cash, sent through accounts in Cyprus, a banking secrecy haven. He used it as an investment property, generating thousands in payments from Airbnb, the indictment said.
In late 2015, applying for a mortgage, he claimed that his daughter and son-in-law were living there and told his son-in-law to lie to the bank appraiser. He also concealed his debts and filed a false insurance statement, the indictment says.
Not every attempt at fraud worked, according to the indictment. When Manafort wanted to buy a property in Bridgehampton, N.Y., Gates offered the bank a phony invoice for a "democratic development consulting project" worth $2.4 million, the indictment says. The loan was denied.
Jason Maloni, a spokesman for Manafort, said his client "is innocent of the allegations set out in the newly filed indictments and he is confident that he will be acquitted of all charges."
The new charges come as Gates' legal strategy and defense team are in flux.
His three lawyers have asked to leave the case, a request that Gates is not opposing. The details of those discussions remain sealed beyond a court filing that said they involve "highly sensitive matters" that would "potentially be prejudicial to [Gates] as well as embarrassing."
Another lawyer, Thomas Green, notified the court on Thursday that he would be representing Gates. The Times reported Sunday that Gates was planning to plead guilty and testify against Manafort. Green did not respond to a request for comment about the new charges, and neither did Manafort's spokesman.
The new indictment follows a guilty plea on Tuesday from Alex van der Zwaan, a former lawyer at a premier law firm that also worked on behalf of Yanukovych's government. Van der Zwaan admitted to lying to investigators about his contacts with Gates.
Get our Essential Politics newsletter
The latest news, analysis and insights from our politics team.
You may occasionally receive promotional content from the Los Angeles Times.