Woolsey fire devastation gives 2020 contender Jay Inslee a climate-centered backdrop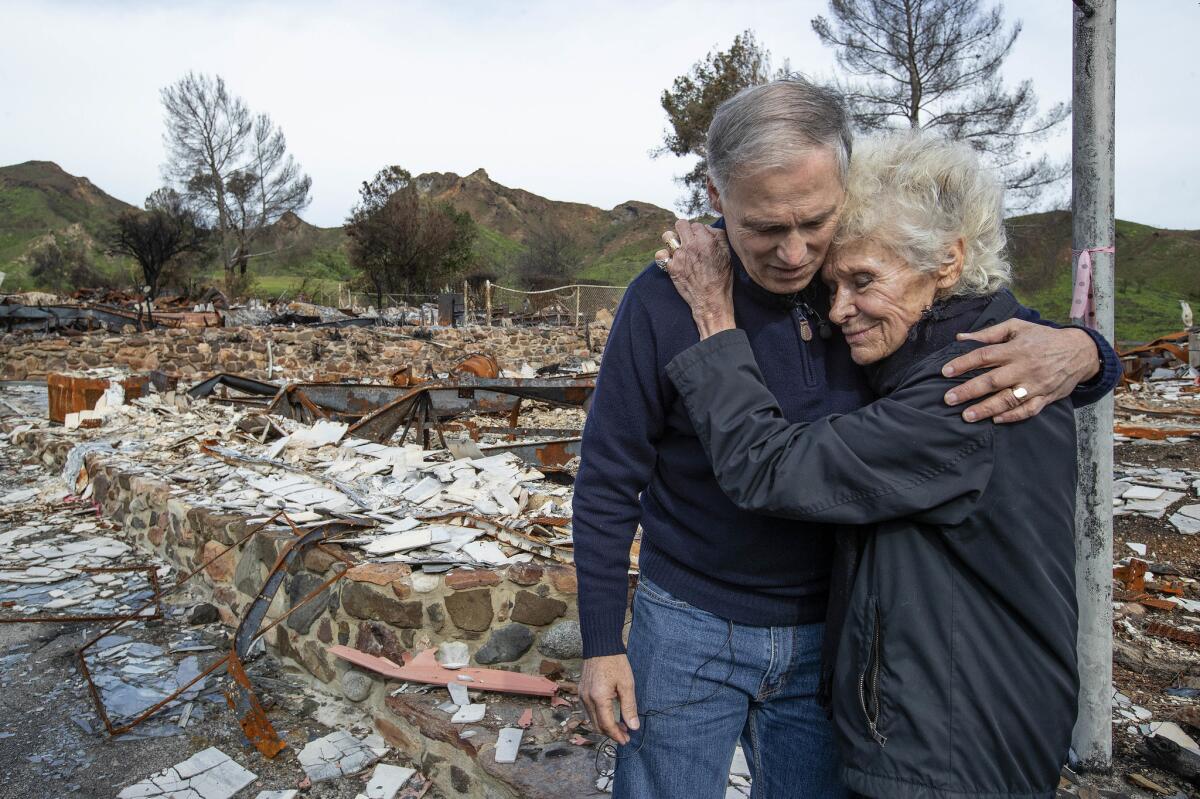 Democratic presidential contender Jay Inslee on Monday toured the scorched remnants of homes destroyed in November's Woolsey fire, portraying the devastation as emblematic of the risks posed by climate change.
The Washington governor, who jumped into the 2020 fray this month, is running a single-issue campaign trained on global warming, and betting the issue will resonate in California, which has been battered by destructive wildfires, mudslides, drought and flooding that have been exacerbated by the changing climate.
"To think we have homes being routinely now burned to the ground, and not have the protection of the president of the United States — it's absolutely unacceptable," Inslee said as he toured the charred detritus of the Seminole Springs mobile home park in Agoura Hills, where nearly 100 homes were lost in the Woolsey fire.
In addition to touting an economic platform centered on clean energy jobs, Inslee laced into President Trump for ignoring scientists' warnings on the likelihood of increased fires. He also mocked the president for suggesting California could prevent fires by raking its forests.
"Trying to stop these forest fires just with raking the leaves is like trying to turn back the rising tide with a spoon," Inslee said.
Doers versus talkers: Governors compete with senators in Democrats' 2020 field »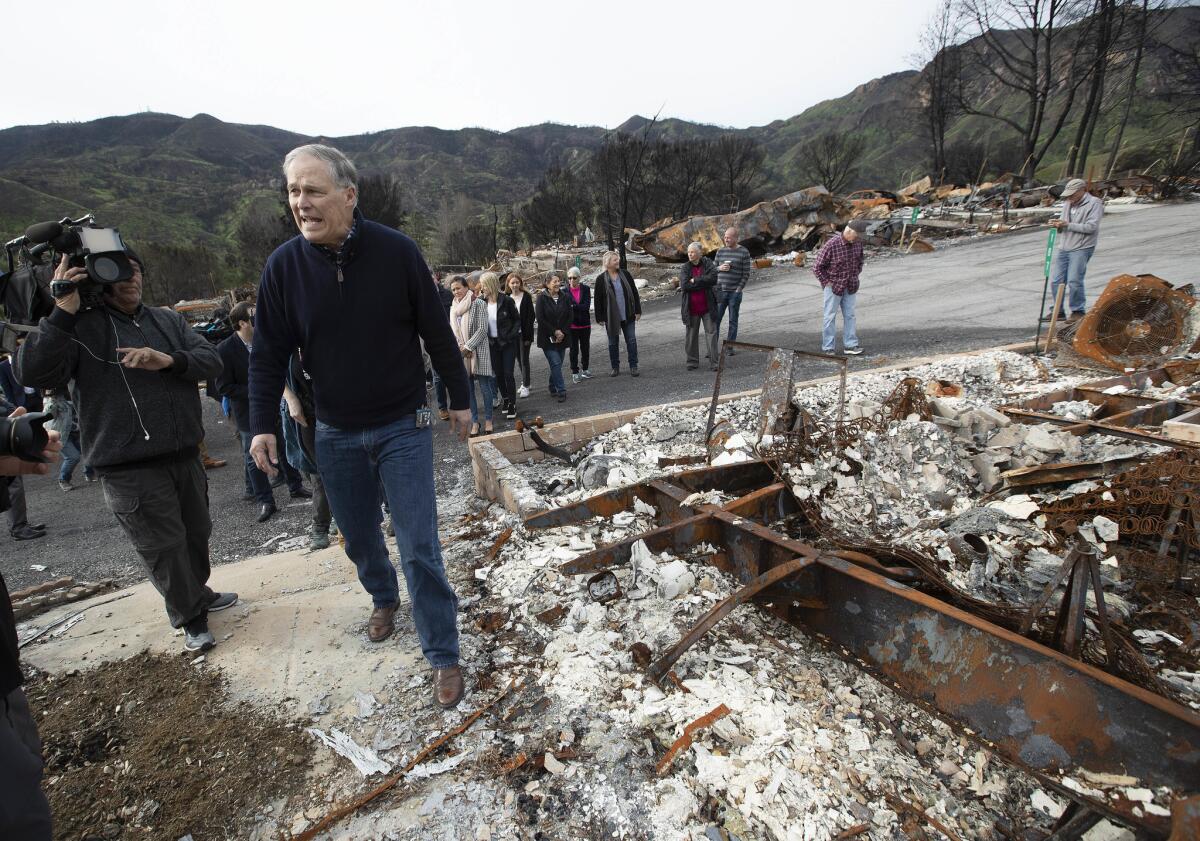 He also said he supported eliminating the Senate filibuster, under which major legislation effectively needs 60 votes for passage. Some in the party's left flank have advocated doing away with the rule, arguing that proposals such as "Medicare for all" or sweeping climate action would be unlikely to pass under current practice.
"It is very clear to me that this is an antebellum, antiquated vestige that is not democratic and stands in our way and stops cold any meaningful progress on climate change," Inslee said.
The promise of filibuster reform impressed R.L. Miller, an environmental activist whose nearby home was threatened by the fire.
"That shows to me that he understands the depth of both the climate crisis and the political obstacles," Miller said. "You can call it a physics problem, you can call it a chemistry problem, you can call it an economic problem — but really, the solution is political."
Recovery has been slow for the Seminole Springs community, parts of which remain uninhabitable four months after the Woolsey fire ignited on Nov. 8. Residents showed Inslee the wreckage of their former homes, navigating around broken glass and rusted metal as they shared stories of pre-dawn evacuations amid columns of flames.
"It just grabs you in your heart and in your gut," Inslee said during the intimate tour. "But the thing that is troublesome to me is I've seen this exact movie time after time after time in the western United States."
Theresa Cavalleri, a 62-year-old account manager whose home of 22 years was destroyed, said it was "fabulous" that Inslee was incorporating her community into his larger presidential campaign pitch.
"This is a good example, I suppose, of climate change — the drought situation creating these horrible conditions," she said.
Trevor Neilson, a 46-year-old investor, said climate change vaulted to the top of his political priorities after he and his family had to evacuate their Malibu home during the fire. Their home was spared, but the ordeal has made Neilson an enthusiastic Inslee backer.
"We need the president of the United States deploying a national emergency and leading us through a transition of the type we went through doing World War II, where we responded to a dangerous threat to our nation by mobilizing," Neilson said. "If this isn't a dangerous threat to our nation — charred cars and destroyed lives — I don't know what is."
Get our Essential Politics newsletter
The latest news, analysis and insights from our politics team.
You may occasionally receive promotional content from the Los Angeles Times.